Bethesda released the latest DLC for the Elder Scrolls Online; Wolfhunter, just a few days ago. However, the studio has already debuted the first demo of the next upcoming DLC, Murkmire, at QuakeCon; the second of the two DLCs which were announced earlier this year at E3. While Wolfhunter is a smaller DLC, Elder Scrolls Online: Murkmire is a major region expansion.
The Elder Scrolls Online Murkmire Demo
The QuakeCon demo of The Elder Scrolls Online: Murkmire was presented by the game's creative director, Rich Lambert, as reported by PC Gamer. After a brief walk around the hub city of Lilmoth, which is one of the DLC's largest settlements, the demo showcased one of the upcoming quests. The quest came from a new faction which will debut with the DLC; the Cyrodiilic Collections Agency. This scholarly organisation is similar to a museum, and collects important relics and curios for historical study. In Murkmire, the Agency is interested in ancient Argonian artifacts.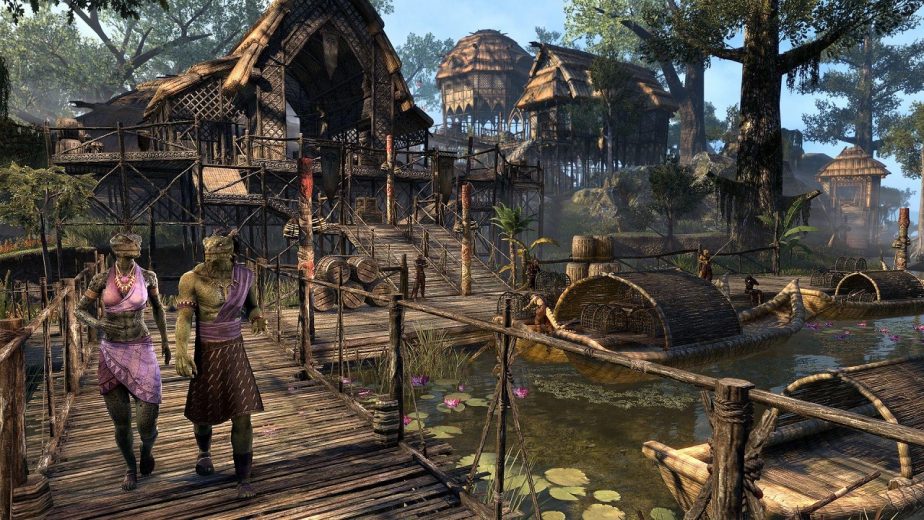 The players in the demo set out after a missing agency team sent out on an expedition by the faction's curator. The quest led the players to a dungeon in the jungles; one filled with aggressive flora, traps, and a number of sliding puzzles. A new feature for Murkmire, the puzzles are, according to Lambert, not especially challenging; "We don't want them to be so hard, [players] have to go look for the solution online," he explained; "we want you to be able to figure them out either through brute force or by paying attention to your surroundings". The dungeon ended with a boss encounter featuring a new enemy called a Voriplasm.
Following the demo, Lambert stated that Murkmire wouldn't be quite as larger as the Summerset DLC. "It is equivalent to Clockwork City in terms of DLC size. It's a story DLC, it's about fifteen to twenty hours or new story content; there's dailies, there's two bosses, there's a new dungeon that's coming along with it as well."