Bethesda has now launched the latest DLC for The Elder Scrolls Online on both PC and Mac; the Wolfhunter DLC. Wolfhunter is the first of two announced DLC which were unveiled at E3 earlier this year. Murkmire, a larger region DLC, will release later this year. Wolfhunter may be a smaller content expansion, but it still boasts a good deal of new content for ESO players. Along with Wolfhunter, ESO's Update 19 has also launched, bringing major changes to the game's PvP modes.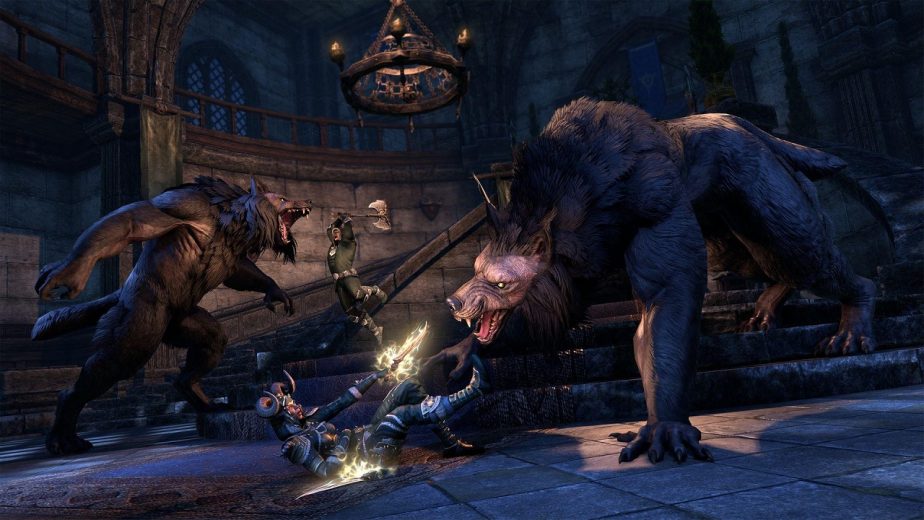 The Wolfhunter DLC & Update 19
Wolfhunter may not add any new regions, but it does include two major new dungeons. Moon Hunter Keep and March of Sacrifices are both themed around werewolves, and include a new faction called the Silver Dawn; an order of werewolf hunters. Players can also become a werewolf, of course, and Wolfhunter completely overhauls the existing werewolf mechanics and Skill Tree. The Wolfhunter DLC is free for all subscribers of the ESO Plus scheme. Non-members can purchase it as normal for 1500 Crowns from the in-game Crown Store. Update 19, on the other hand, is a free patch available to all players of The Elder Scrolls Online.
Also available in the Crown Store is the "Wolfhunter Collector's Bundle". Available for a cost of 4,000 Crowns, the bundle contains the Wolfhunter DLC, an exclusive Silver Dawn Argent Charger mount, a Silver Daenian Werewolf Tracker pet, and five Crown Experience Scrolls. The bundle can be found in the Crown Store's Featured section.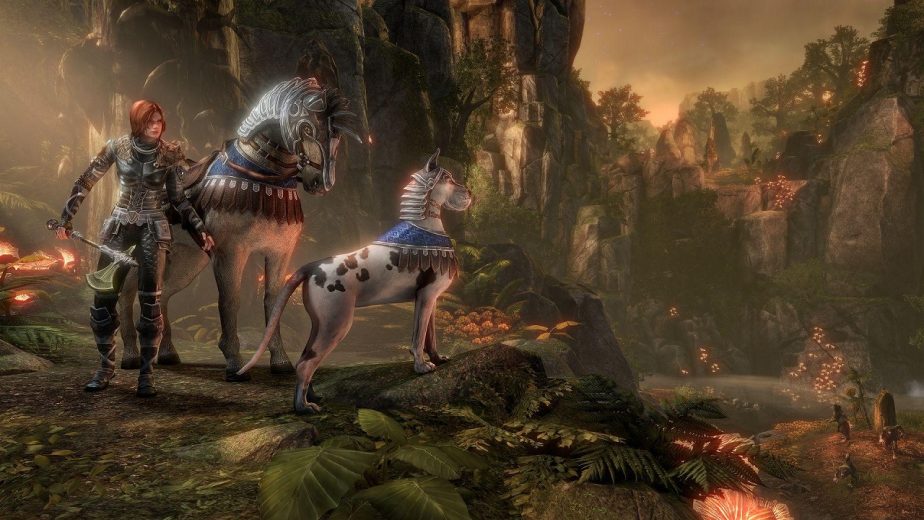 The current release of Wolfhunter and Update 19 is on PC and Mac only. As normal, The Elder Scrolls Online's console versions are a few weeks behind. The new DLC and free patch will be available on the Xbox One and PlayStation 4 later this month, on the 28th of August. Update 19 adds a new Battlegrounds map called Istirus Outpost to the game, along with a swathe of PvP changes across many different game modes. It also includes the overhauled Werewolf Skill Line, so even if you don't buy Wolfhunter, you'll still have access to the new Skill Line if you become a werewolf in the normal fashion. Finally, it includes "Respec 2.0". This new system changes the Skill Respecification mechanics to allow players to change individual abilities one at a time.