Call of Duty: Black Ops Cold War Season One, the first post-launch season of the newest Call of Duty title, is now live across both the core title and Call of Duty: Warzone. The launch may very well be the single biggest post-launch content release for any Call of Duty game in recent memory.
New Content in Black Ops Cold War Season One
The headline feature of Black Ops Cold War Season One is actually the part that's coming to Warzone; Rebirth Island. This is Warzone's first-ever new map, featuring more than 30 weapons and more brought across from Black Ops Cold War. The launch features new modes for Warzone too, as well as new Gulag arenas for both Verdansk and Rebirth Island. Of course, there is a wealth of new content coming to Black Ops Cold War itself as well.
Among the multiple new game modes coming to Black Ops Cold War (and new Zombies modes like Jingle Hells) during launch week is Gunfight; the hugely popular 2v2 mode which first launched in Call of Duty: Modern Warfare. Gunfight has, of course, launched with a selection of new maps sized specifically for 2v2. Prop Hunt, another fan favourite mode, is also coming to the game during the Season One launch week, together with the new Combined Arms: Hardpoint. A fourth mode, Dropkick, will be coming later in the season.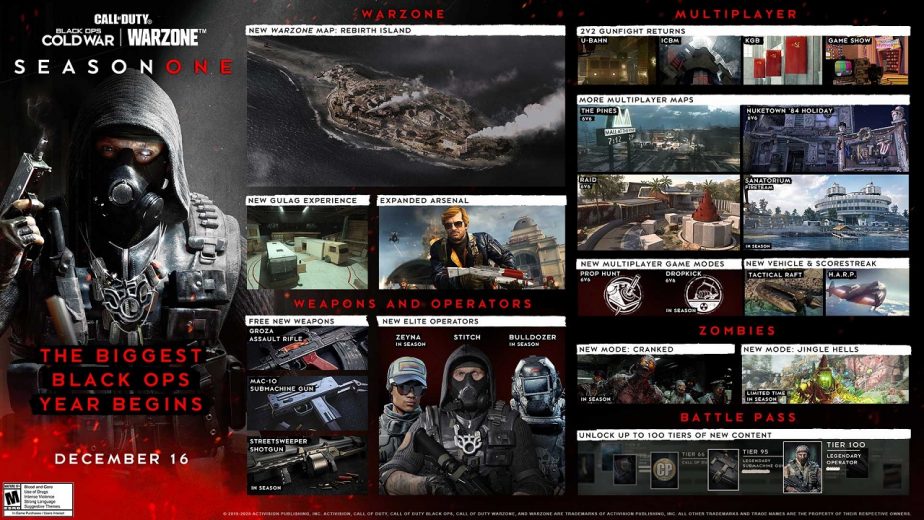 The new season is also bringing no less than five new weapons to both Black Ops Cold War and Warzone. The MAC 10 SMG and Groza assault rifle are both available in the free tiers of the Season One Battle Pass. Later in the season, Treyarch will be releasing the Streetsweeper shotgun, along with the Sledgehammer and Wakizashi melee weapons. New Operators are available too, including Viktor "Stitch" Kuzmin, who featured in the season's opening cinematic.