Ahead of the first upcoming Beta weekend, Infinity Ward has released a new "Road to Launch" schedule. This schedule includes five events which will take place between now and the release of Call of Duty: Modern Warfare. In addition to the two Open Beta weekends, it teases details about crossplay, as well as two upcoming premieres; one for the Modern Warfare campaign and one for 'Special Ops'.
The Upcoming Call of Duty: Modern Warfare Campaign Premiere and More
The first event coming up on the Road to Launch schedule is the first Open Beta weekend. This event starts on the 12th of September and continues through to the 16th. During this period, PlayStation 4 users will be able to access the game's Open Beta. You can find more details on this and the second Open Beta weekend here. According to the schedule, fans will get to see new details about crossplay for Call of Duty: Modern Warfare during the week following the end of the first Open Beta; the week beginning on the 16th of September. It's unknown when exactly these details will be released, however.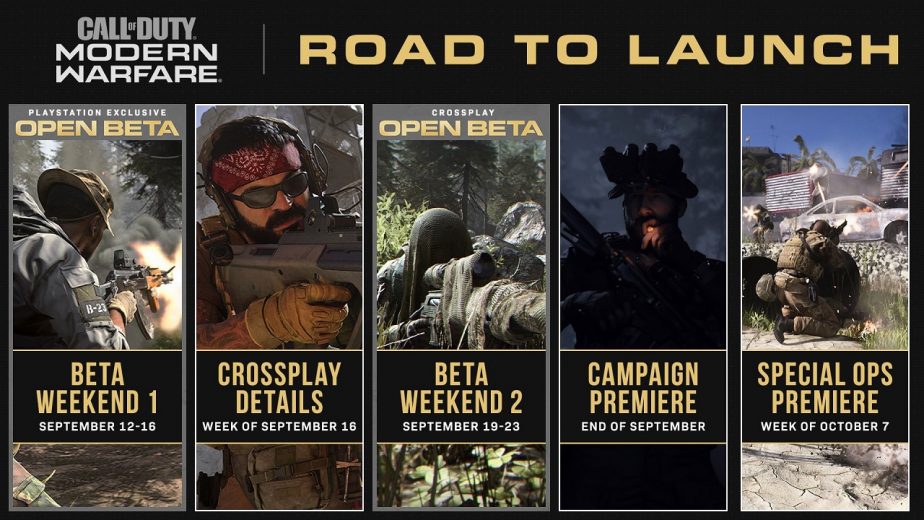 The second Open Beta weekend, which is available on PS4, Xbox One, and PC, will begin on the 19th of September. Featuring crossplay, this event will conclude on the 23rd. That's also the final event on the Road to Launch schedule with a firm date. According to the schedule, fans can look forward to a Call of Duty: Modern Warfare Campaign Premiere sometime at the end of September. Given that it will come after the second Open Beta, that suggests it will be unveiled sometime between the 24th and 30th.
Following that campaign premiere, which is likely to include a trailer but could also include gameplay footage or a livestream, will be a second premiere. This will be for the game's Special Ops mode. This premiere will take place sometime during the week starting on the 7th of October. As we get closer to launch, there will no doubt be additional trailer releases and extra details given out by Infinity Ward. However, these two premieres are likely to be larger events; certainly ones to look forward to for fans of the series.