Destiny 2's Black Armory expansion is available today as part of the game's Annual Pass. True to its name, Black Armory adds a bunch of exciting new weapons to the existing Destiny 2 loot pool. The final trailer for the expansion puts those weapons front and center, showing just how much havoc they can wreak.
Destiny 2 Black Armory Weapons Trailer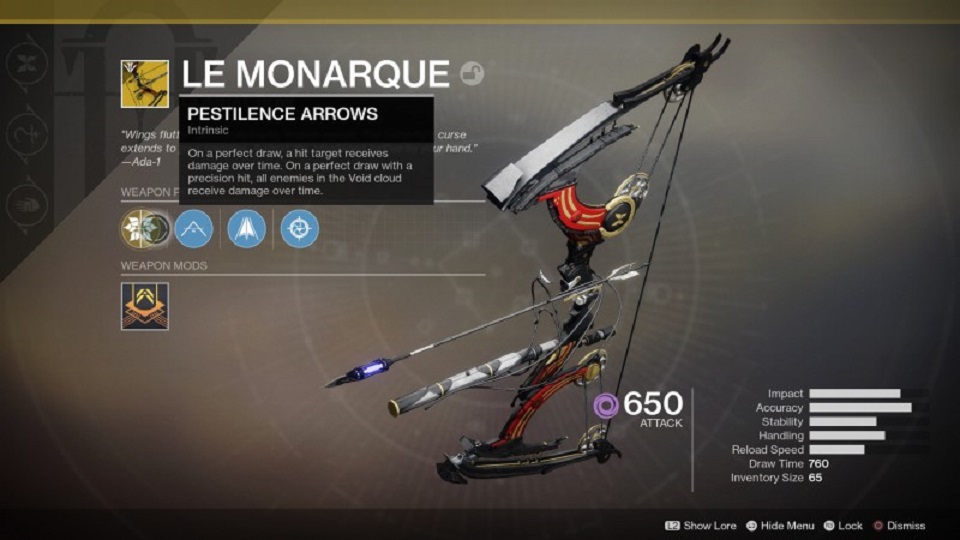 Some of the armaments shown in the trailer are weapons we've already seen, like the four new forge Exotics. Others, however, are being shown off for the very first time. These new weapons run the gamut from hand cannons to machine guns and come equipped with some interesting weapon perks. A complete roundup of the Black Armory weapons shown in the trailer can be found below:
Izanagi's Burden – An Exotic sniper rifle with a unique 'Honed Edge' perk. Honed Edge allows a user to combine all four rounds from the weapon's clip into a single ultra-powerful shot.
No Feelings – A Legendary scout rifle which fires Arc rounds.
Le Monarque – An Exotic bow which mimics the functionality of the Destiny weapon Thorn. Precision kills create a poison energy cloud which can damage nearby enemies.
Hammerhead – A Legendary machine gun with a Void damage attunement.
Jotunn – An Exotic fusion rifle that fires exploding Solar slugs. The slugs create persistent pools of flame at the site of impact.
Kindle Orchid – A Legendary hand cannon with a very high rate of fire.
Threat Level – A Legendary shotgun that comes equipped with the Trenched Barrel perk. This allows the weapon to function in a similar fashion as the beloved Ikelos shotgun.
The very end of the trailer also confirms the return of another Destiny Exotic. On January 29, Black Armory expansion owners can begin a new Exotic quest called 'The Draw.' Those who finish the quest are awarded a Destiny 2 version of the Last Word Exotic hand cannon.
For more on Destiny 2's Black Armory expansion, be sure to consult our in-depth information roundup.