If you've been keeping up with Destiny 2's Invitations of the Nine, the newest bounty available is called The Tower. This latest bounty sends players to the Tangled Shore for another Strike completion and more metaphysical sample gathering. However, due to a technical error, the bounty can't actually be completed until Bungie issues a fix.
Destiny 2 The Tower Invitation of the Nine Bounty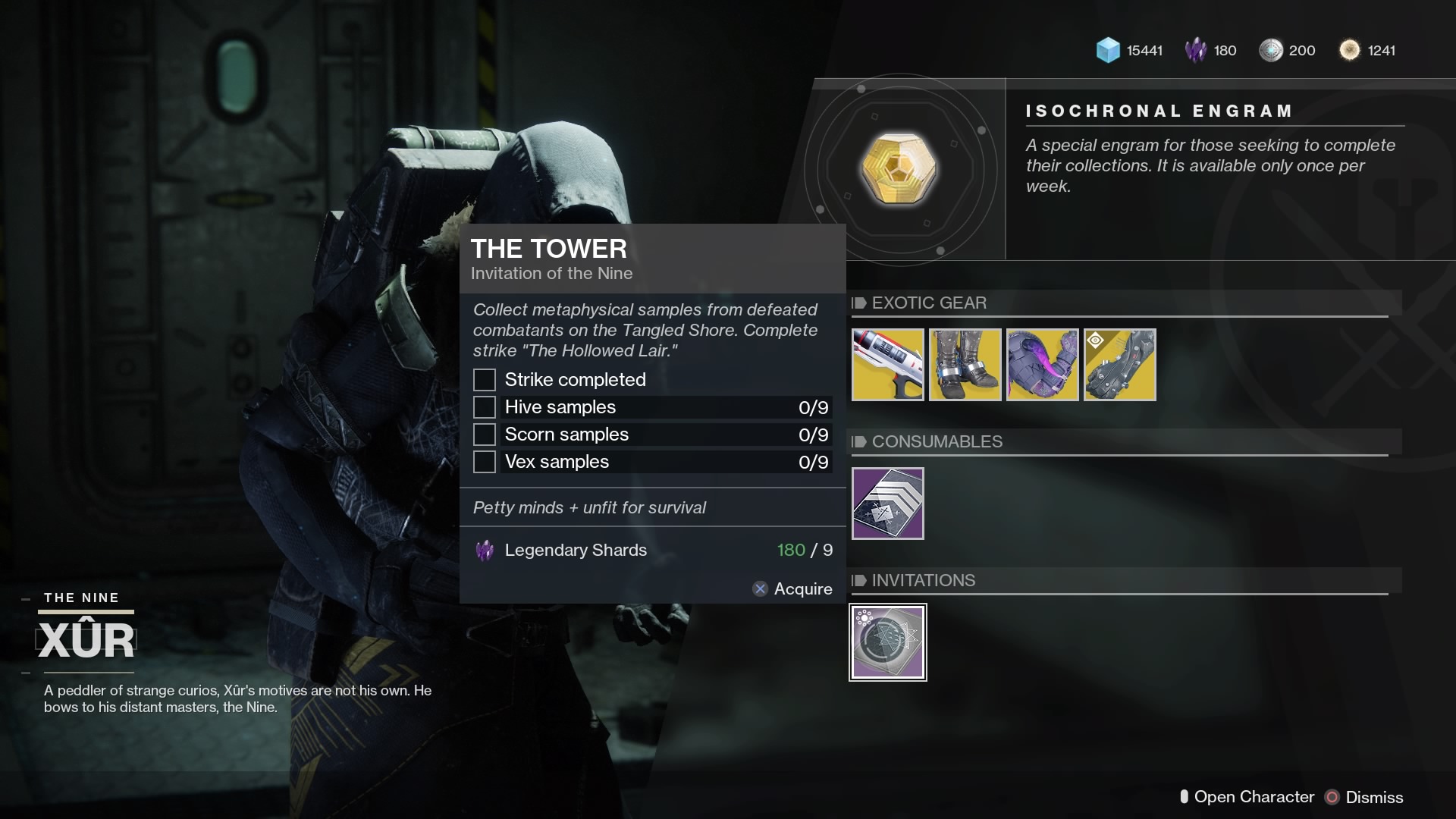 As with previous bounties, The Tower is available from Xur for nine Legendary Shards. The bounty's Strike component requires completion of the Tangled Shore's Hollowed Lair Strike. Completing the Strike should also fulfill one of the bounty's other requirements, gathering nine metaphysical samples from Scorn enemies.
The bounty also requires metaphysical samples from two other enemy types, Hive and Vex. However, there's just one problem with that scenario: there are no Vex on the Tangled Shore. It would seem someone at Bungie goofed up, as the studio itself admits in this weekly blog post.
It's true that Vex do technically appear in the Warden of Nothing Strike on the Tangled Shore. However, for some unknown reason, the game considers Warden of Nothing to be an EDZ Strike. This means that, since samples only drop from enemies in the specified region, The Tower bounty cannot currently be completed.
Bungie says it's working on a fix, though it hasn't given a timeframe for when the fix will be deployed.
Sample Gathering
Ideally The Tower will auto-complete once the fix is implemented, assuming a player has cleared the other steps. If you still need Scorn samples after the Hollowed Lair, head to Thieves Landing and/or the Kingship Dock Lost Sector. For Hive samples, you can run the Broodhold Strike if you're on PS4. Otherwise, head to the Jetsam of Saturn and Sorik's Cut outdoor areas.
If you need walkthroughs for the previous Invitation of the Nine bounties, we've got you covered. Head here for The Twins bounty and here for the Strength bounty.