We're rapidly approaching the end of Destiny 2's Invitations of the Nine series, but there's still a few weeks left. For the latest bounty, players are heading to Mars to take down some Cabal and Hive enemies. In this guide, we'll detail how to complete The Twins Invitation of the Nine bounty.
Destiny 2 The Twins Invitation of the Nine Bounty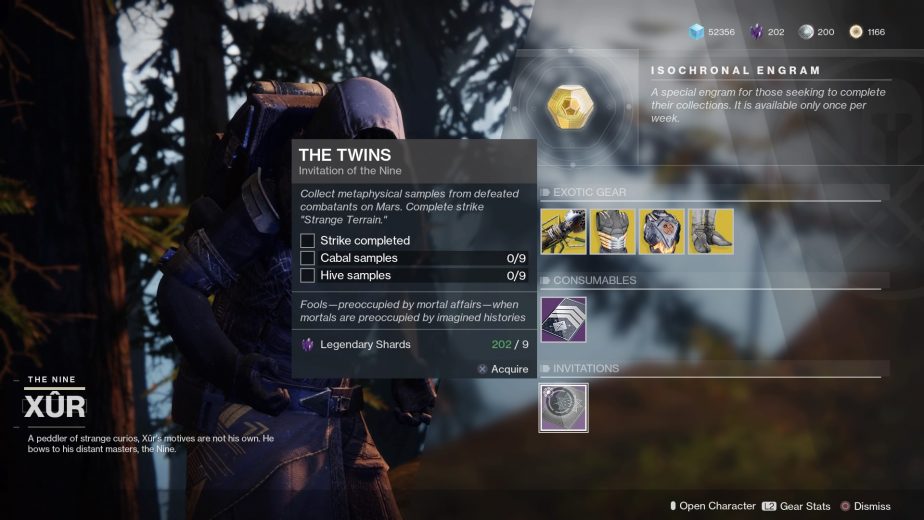 As usual, this new bounty is available as part of Xur's weekend inventory for nine Legendary Shards. Thankfully, The Twins isn't as drawn out or complex as some previous bounties like last week's Strength bounty. There are only three objectives you need to complete and they're as straightforward as they come:
Collect nine metaphysical samples from Hive enemies
Collect nine metaphysical samples from Cabal enemies
Complete the Strange Terrain Strike
All three objectives are situated on Mars, and as usual we recommend doing the Strike first. Strange Terrain is a Hive-themed Strike so completing it should award all the Hive samples you need. If not you can just slay Hive outdoors, participate in Hive-themed Public Events, or run the Core Terminus Lost Sector.
Cabal Samples
For the Cabal samples you have a few potential strategies to utilize. Again, you can take down Cabal enemies in the patrol zones and run Cabal Public Events if you find any. You can also run the Ma'Adim Subterrane Lost Sector for a steady stream of Cabal enemies to kill. Based on our experience, though, only one to two samples drop during each Ma'Adim Subterrane run. Your luck might be better, and the Lost Sector itself isn't that long regardless.
One final thing to note is that only enemies slain on Mars will drop the metaphysical samples you need. Thankfully, Hive and Cabal are the only two enemy factions that appear on Mars, and they're both quite plentiful. You won't have to go hunting around in obscure areas to find samples for either enemy type.
As of this writing, Destiny 2's Revelry event is also live. During the event, players can earn the wholly unique Arbalest Exotic weapon.