When it comes to Materials in Destiny 2, players are always complaining about the max capacity. Everything has a capacity in Destiny 2 mostly. When it comes to Glimmer, in Destiny 1, we were able to stack up to 25,000 Glimmer (don't know how we managed everything in Destiny 1 with so less Glimmer). But when Destiny 2 was launched in 2017, Bungie bumped the Glimmer Capacity to 100,000. From Legendary Shards to Solstice Key Fragments, everything has a certain number in Destiny 2.
Solstice of Heroes was launched on July 30, 2019, on Tuesday. Since then, players have been grinding their way to get the Majestic Armor Set before the event ends. It's quite a grind, to be honest. You need to complete several challenges for each tier of armor in order to get to the next tier.
Renewed Armor's challenges are by far the most annoying and time taking ones in the game. Defeating 100 mini-bosses in European Aerial Zone (soon-to-be 50), completing 10 Gambit matches or collecting 1500 Elemental Orbs, it all takes hours to complete (unless you know this method).
Solstice Key Fragments in Destiny 2
Every time you complete a run of EAZ or complete Solstice Bounty, you'll get Solstice Key Fragments which are used to open Solstice Packages. This player has farmed over 10,000 Solstice Key Fragments (10,019 to be exact) in Destiny 2.
Just like everything else, Solstice Key Fragments have a maximum capacity of 9,999. Meaning you can stack up against these key fragments up to 9,999. Take a look: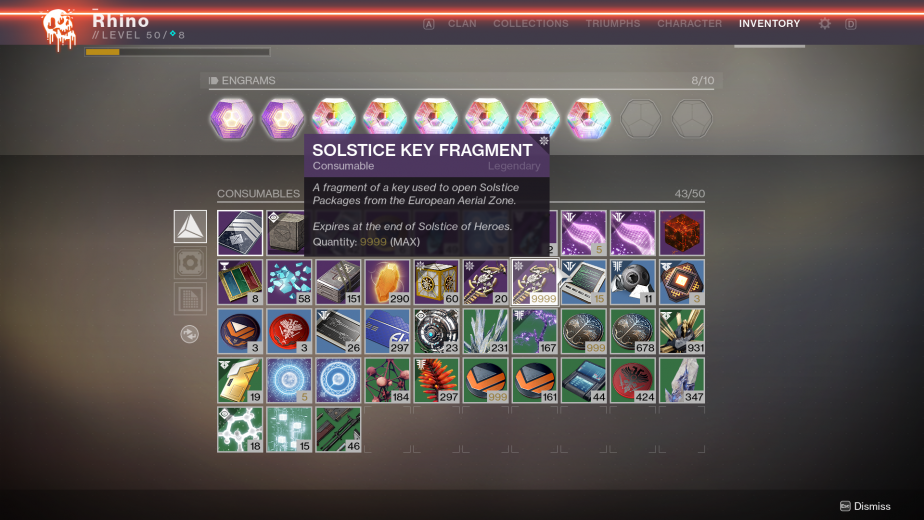 Cross Save in Destiny 2 will be going live on August 21, 2019, if you have any questions, make sure you check out our FAQ article. Other than that, Bungie will be hosting a Live Stream later this week to show off the new Armor 2.0 system coming this fall with Shadowkeep.
Destiny 2: Shadowkeep will be hitting PlayStation 4, Xbox One and PC on October 1, 2019, and later in November on Google Stadia.