With Friday's NBA 2K20 MyTeam pack release, all-time greats Dirk Nowitzki and Tracy McGrady got glitched. Both players have new Galaxy Opal cards featured in the new Flash Pack 7. Those cards not only feature some impressive attributes, ratings, and badges, but the ability to play at positions they normally might not. Here are more details on the new content release.
New NBA 2K20 Galaxy Opals for Dirk Nowitzki, Tracy McGrady
This isn't the first time we've seen a special card for former stars Dirk Nowitzki or Tracy McGrady and won't be the last. However, today's release gives them new Glitched Galaxy Opals for NBA 2K20 MyTeam. It's part of the new Flash Pack 7 release featuring several limited availability players inside the packs or boxes.
With Tracy McGrady, his new Galaxy Opal has him able to play at point guard so he can run the team, giving a 6-8 floor general capable of scoring lots of points. T-Mac has 98 Outside Shooting, 96 Athleticism, 95 Defending, 95 Playmaking, 93 Inside Scoring, and 84 Rebounding. McGrady also brings a total of 53 HOF Badges and 12 Gold Badges with his new card.
Dirk also gets a Glitched GO and it has him playing shooting guard or small forward. While the card attributes are nice, many gamers won't like that he's not at PF/C. Dirk's Opal has 98 Outside Scoring, 97 Rebounding, 92 Inside Scoring, 91 Athleticism, 90 Defending, and 88 Playmaking.
He's also got a whopping 49 Hall of Fame Badges including just about anything you can imagine. Some of them are Cross-Key Scorer, Deep Hooks, Clutch Shooter, Clamps, Intimidator, and Defensive Leader.
One other player received a Galaxy Opal as one half of the Splash Brothers gets a new item. We previously saw Klay Thompson in Prime Series II and Buzzer Beater packs. He's now available in his best form yet for Flash 7.
His new item features 97s for Outside Scoring and Defending along with 95 Athleticism, 93 Playmaking, 84 Inside Scoring, and 77 Rebounding. Klay's card is normal in that he can play SG/SF. See details about Klay's card at MTDB along with other player items.
Flash Pack 7 packs, boxes, and card costs
Gamers can pick up a five-item Flash Pack 7 pack for 7,500 VC or 10,500 MT. A 10-pack box is going for 67,500 VC, while a 20-pack box is 135,000 VC right now. Each of the packs brings a chance at getting the players listed below along with other things such as shoes, jerseys, contracts, or other items. By the way, these packs are available for one week.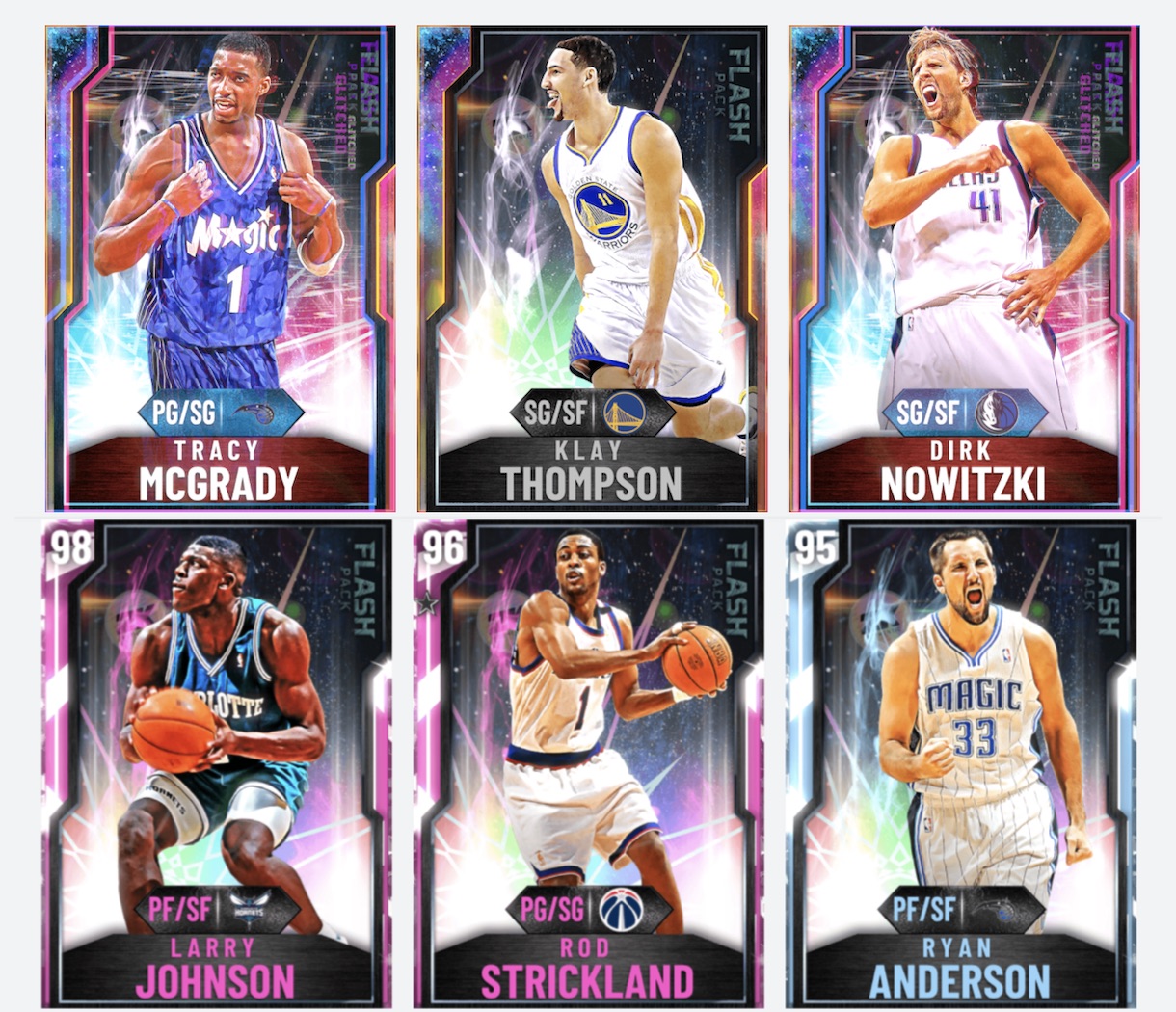 Available Flash Pack 7 cards:
Klay Thompson (Galaxy Opal)
Dirk Nowitzki (Galaxy Opal)
Tracy McGrady (Galaxy Opal)
Larry Johnson (Pink Diamond) 98 OVR
Wes Unseld (Pink Diamond) 98 OVR
Rod Strickland (Pink Diamond) 96 OVR
Ryan Anderson (Diamond) 95 OVR
Zhou Qi (Amethyst) 92 OVR
You can also use the Auction listings area for bid on or "buy now" options with the player cards. T-Mac listings are pushing 1.15 million MT on the PS4 listings. Dirk is going for over 200,000 MT, which isn't too bad for those who want him to play those positions. Meanwhile, Klay Thompson listings are at 160,000 to 200,000 MT and you'll get him for his actual positions to knock down those big shots.
Will you be picking up any of the players above for your collection or sticking with your current MyTeam roster?
Visit our NBA 2K news page for more of the latest game updates.