Many of the biggest sports games on the planet are revealing their end-of-season teams of the year. These have included Madden 19 for NFL and FIFA 19 for soccer. Now mixed martial arts is part of the mix, as the EA Sports UFC 3 Team of the Year is official. Among the heavy hitters and submission stars are Daniel Cormier, Stipe Miocic, and Amanda Nunes. Here's the breakdown of who's on the team.
EA Sports UFC 3 Team of the Year roster revealed
A total of 16 top-level EA UFC 3 fighters are part of the official Team of the Year for 2018. That includes most of the current UFC Champions. Welterweight Champion Daniel Cormier, Women's Bantamweight Champion Amanda Nunes, and Featherweight Champion Max Holloway are all part of the group. Flyweight Champion Henry Cejudo and Middleweight Champion Robert Whittaker are also included. They currently rank among the top of their particular divisions with the titles, so it makes sense.
Here's a look at the 16 UFC fighters revealed for the Team of the Year, courtesy of EA's tweet.
Some of the notable omissions also make sense. They are fighters who may be among the "best" but aren't necessarily in the UFC's good graces after this past year. That includes Lightweight Champion Khabib Nurmagomedov and his infamous opponent Conor McGregor who aren't shown above. Light Heavyweight Champion Jon Jones is also not on the pictured roster above.
The upper echelon of UFC contenders for the various titles is also represented. That includes Cyborg, Brian Ortega, Dustin Poirier, and Yoel Romero. Some of the lowest-ranked fighters on UFC's website to make the cut include No. 8 Lightweight fighter Anthony Pettis and No. 13 Featherweight fighter Chan Sung Jung.
EA Sports UFC 3 Team of the Year adds new moves for fighters
In addition to the fighters shown for EA UFC 3 Team of the Year, there are also new move items available for most of the fighters, as shown off below. Some of those moves include roundhouse kick for Whittaker, Jab punch for Holloway, and a Flying Knee for Sung Jung. Notice below that Demetrious Johnson has a new Leg Kick move even though he's moved on to a different organization.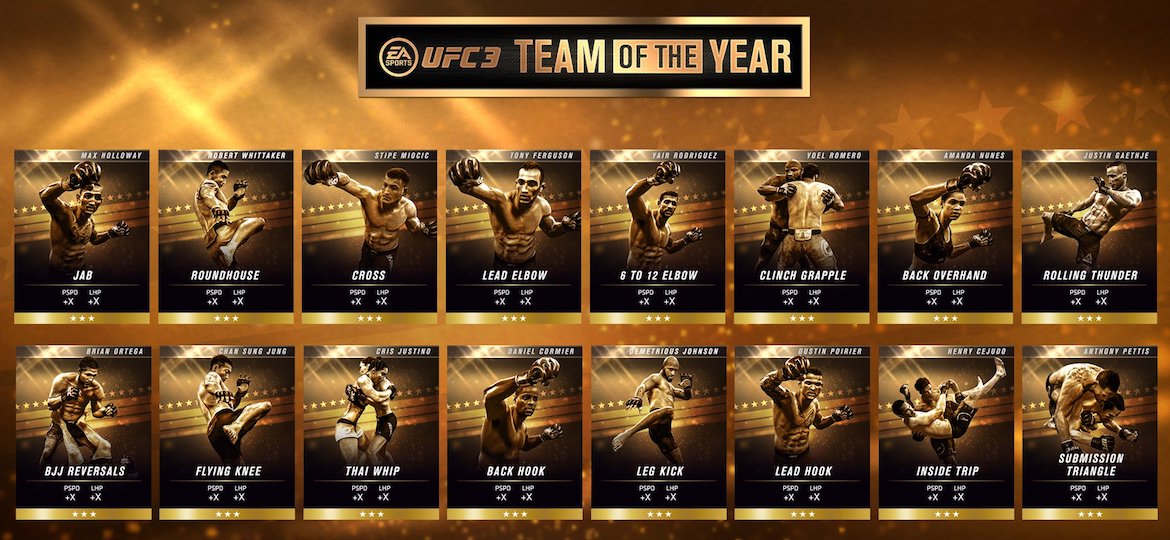 The new EA UFC 3 Team of the Year and fighter moves are now available in the Ultimate Team part of the UFC 3 game. They'll last for just over a month as the TOTY promotional event ends on February 21, 2019.
Which fighter(s) do you think were snubbed for the TOTY? Also, which of these TOTY fighters are you looking to add?
Check out more of the latest information, how-to guides, and video game stories at the VGR news page.