Epic Games never fails to surprise fans and players of Fortnite. This time, the surprise is the release of the very first ever Fortnite Overtime Challenges. These are a unique type of challenges that we haven't seen in the game before. They are meant to, basically, act as the overtime for season seven that was supposed to end very soon.
But actually, season seven is still going on with the Fortnite Overtime Challenges. We won't even see the release of season eight until like the end of this month so players have the chance to gain even more rewards in the meantime. The best part is that the Fortnite Overtime Challenges have some very awesome rewards that you won't want to miss.
Fortnite Overtime Challenges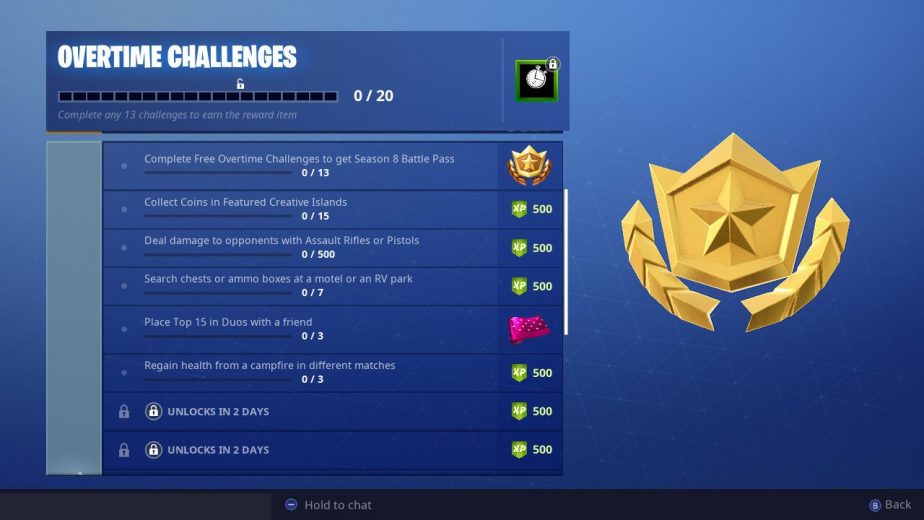 Until the release of season eight, it looks like the Overtime Challenges are here to fill the gap. While they are sort of like the previous limited time event challenges, they are more akin to special extra weekly challenges. There are some this week with more on the way Saturday and then even more next week.
For the most part, the Fortnite Overtime Challenges are pretty standard. There are your typical deal damage challenges, search ammo boxes, and so on. However, there are also unique ones like collecting coins in Fortnite Creative. They each reward you with various things but mostly experience. This isn't too bad if you are still needing some more tiers to reach tier 100 in season seven.
For those of you don't need it, though, there are other rewards like wraps and such. But the big reward for completing at least 13 of the Fortnite Overtime Challenges is getting yourself a free season eight battle pass. This is a super awesome reward that we don't think has like ever happened before in the history of Battle Royale.