Fortnite Battle Royale players are used to seeing many interesting in-game events. Epic Games has set the bar high with the rocket launch event in season 4, and ever since then, there have been numerous events in the popular video game. The latest patch indicates that the game developer is preparing another big Fortnite event.
The patch v6.10 was released on the morning of October 16 and it has brought some great things. While most players are interested in the Fortnite tournaments, Epic Games has added many more other things to the game. Additionally, data miners have discovered another potential event which could happen very soon.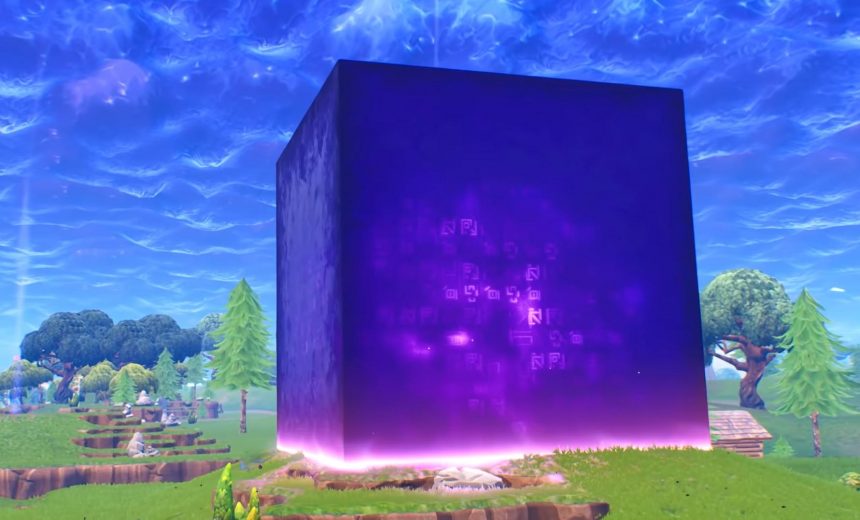 Upcoming Fortnite event
The mysterious cube, which appeared in late August, is still in the game. The cube supports the floating island that keeps moving over the map, and the upcoming event will be about it. The event may give us the answer on what happens when the cube activates all the runes.
According to the game files, the cube will perform five actions during this event: open, focus, pulse, beam, and close. At the moment, no one knows what these actions mean, but we should find out more info soon. Considering that the island is moving quickly over the map, we could get this event very soon.
*CUBE EVENT "MUSIC"*

Thoughts…? And yes, this is ONE sound file.@HappyPower @TheCampingRush @insider_fortn pic.twitter.com/lkBR6zm2xA

— 👻Sudanym👻 (@Sud4nym) October 16, 2018
In addition to this, data miners have discovered some audio files related to this event.
While it is too early to predict what exactly will happen, the game developer might use this Fortnite event for Halloween. Furthermore, the cube has made numerous changes to the map, and this may happen during the event as well. It won't be surprising if we get more changes to the map. After all, there has been a lot of talk about a volcano on the island, and the developer could finally decide to add it.