The latest patch for Fallout 76 went live earlier today, bringing the game up to version 1.02. The patch was the largest yet for the game, almost 50 GB in size; a download just a few GB shy of the game's total size (though it was much smaller on PC). Nevertheless, the game is still lacking a fix for a game-breaking Fallout 76 bug which turns players into creepy abominations.
Major Fallout 76 Bug Still Not Fixed in Version 1.02
This particular Fallout 76 bug first surfaced during the game's BETA event. I myself encountered a player unfortunate enough to have been affected by it during the course of the BETA. When the game launched, instances of the problem became much more widespread. The exact causes of the bug aren't completely clear; it seems to be caused when players don power armour, but some have suggested that it's due to players experiencing connectivity issues at the moment in which they put on the armour. Whatever the case, their character models become distended and grotesque, while in some cases, putting on power armour causes them to turn invisible beneath it.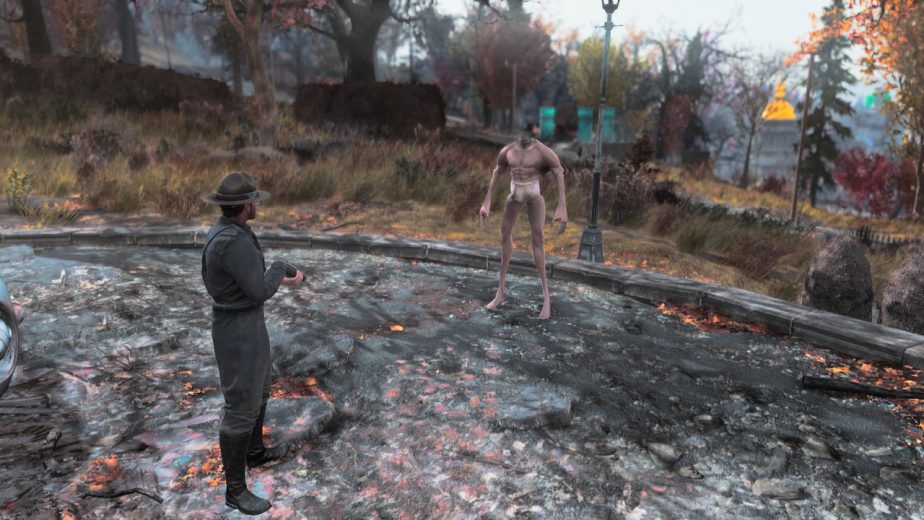 The bug can be game-breaking, with some players reportedly going days stuck in this state. Unfortunately for those hoping for a fix, it doesn't appear that there is one in the version 1.02 update. As one of the most severe Fallout 76 bugs currently affecting players, hopefully Bethesda is working on the issue. The studio has said that certain game adjustments, like a change to the Stash limit, as well as other updates, wouldn't be part of this update. Those things will come in the coming weeks.
For now, players who have been unfortunate enough to encounter this bug will have to hope that Bethesda puts out a fix for this problem soon. Fortunately, the studio has taken a proactive stance in responding quickly to bugs, so it seems likely that a fix will emerge before too long.