During QuakeCon 2018, Bethesda held a panel where Todd Howard and other developers discussed Fallout 76 Perk Cards. The new perk card system is one of the biggest changes coming to the Fallout franchise with Fallout 76. The system replaces the standard skill point mechanics, allowing players to have several active cards for each of their S.P.E.C.I.A.L. abilities. According to Howard, the card packs which players acquire as they level up could include themed packs too.
The Fallout 76 Perk Cards
Howard made the statement during a recent interview with GameInformer. As explained during the QuakeCon presentation, players will gain Fallout 76 Perk Card packs sometimes when they level up. The pack will include a variety of different cards, each of which will grant a different perk. Perks can range from passive bonuses to new abilities and even things like group bonuses shared with other friendly players. Players can assign whichever perks they want, seemingly allowing them to pick and choose their abilities at any given time. There will certainly be no shortage of cards, either.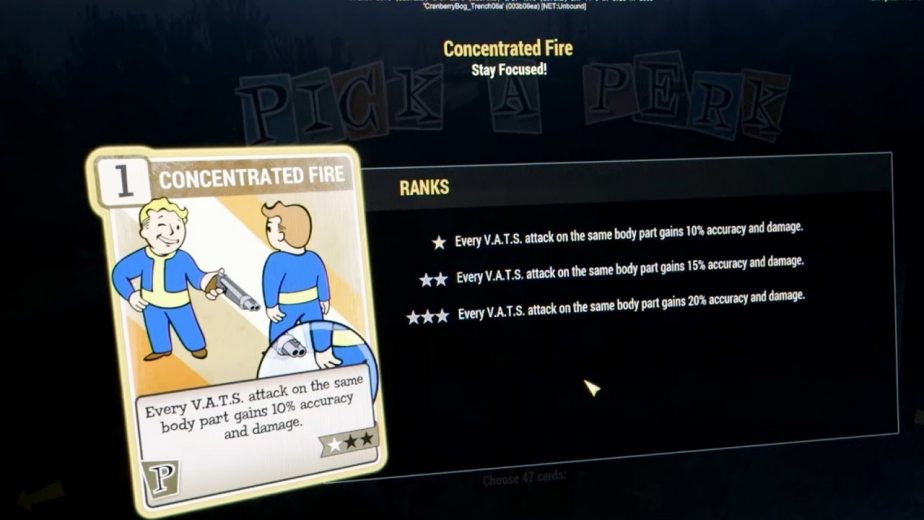 "There are hundreds of cards," explains Howard; "they all rank up, and there are gold versions of each. Fallout 4 and Skyrim's [skill systems] were really great, but when we got into the DLC, we said, 'Let's add skills or perks.' We looked at them, and said, 'Where? The rules are so strict.' The cards allow us to be very flexible moving forward. We can release new perks with events we are doing, and also have themed perks."
Players concerned about the potential for multiplayer shouldn't worry; you won't be able to buy more Perk Card packs via micro-transactions. Fallout 76's micro-transactions will be cosmetic only. Perk Card packs will only be gained by levelling up. It's easy to see how card packs might be themed, however. A card pack might include a set of Perk Cards all themed around a particular place or event, or even a playstyle. With the arrival of DLC, players might also gain DLC-specific perks if they level up while playing DLC content, etc. Ultimately, players will have to wait for the Fallout 76 B.E.T.A. to know for sure how Perk Card packs will work.