The history of Fallout 76 is, even at best, very checkered. Bethesda has gone from controversy to controversy since even before the game's launch last year, and improvements have been slow to come. Although the developers have managed to bring fixes for many of the bugs and exploits which plagued the game at launch, recent news like the delay of the upcoming Wastelanders expansion has brought the game back into the news. (Although not all that news has been correct…) However, earlier today, the studio announced something which has catapulted it back into headlines; Fallout 1st, a new paid subscription service which has provoked widespread condemnation from gamers.
Fallout 1st: The New Fallout 76 Subscription Service
In essence, Fallout 1st is a monthly subscription which costs around $13 per month (or around $99 per year). The price is perhaps the aspect which fans find most egregious. For that cost, players get a unique Ranger Armour outfit, a unique pack of icons and emotes, 1,650 Atoms per month, unlimited crafting material storage, a new Survival Tent, and, most importantly, the ability to play in a private world with up to seven other players. This final feature is something which fans have wanted since well before launch, and have been consistently asking for ever since.
In form, Fallout 1st is clearly modelled after ESO Plus, the subscription service for Elder Scrolls: Online. The cost is similar, and ESO Plus also offers unlimited crafting material storage and 1,650 Crowns per month. However, ESO Plus offers significantly more benefits than Fallout 1st; subscribers get a 10% increase to Gold and XP acquisition, for example, as well as to Crafting Inspiration and Trait Research rates. They also get double bank space, double space for furnishings and collectibles in housing, the ability to dye costumes, and exclusive access to unique deals in the in-game store. Most significantly, they also get free access to all of the game's 16 DLC packs. Ordinarily, players would have to buy each pack separately.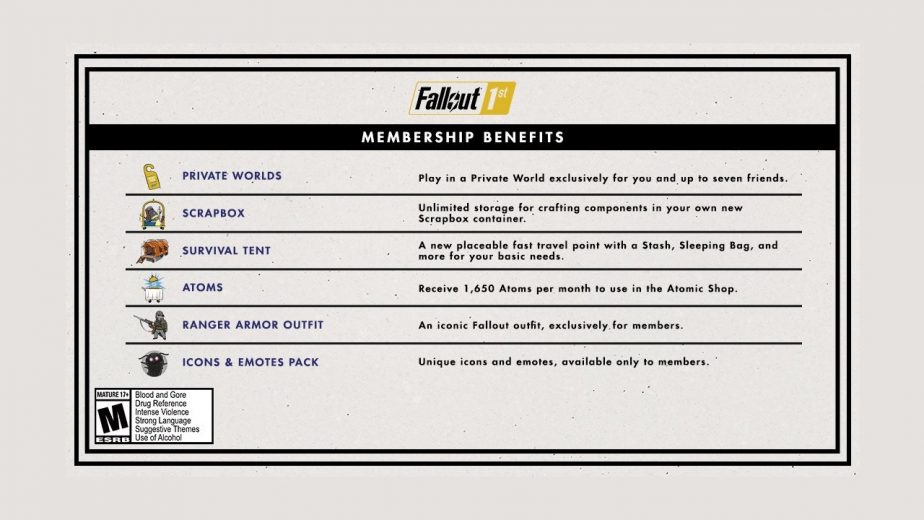 Fallout 1st's announcement has drawn fierce criticism online, especially because players feel that Bethesda, 1; isn't offering enough to justify the cost, and 2; is locking private servers behind an expensive pay wall when they were perhaps the game's most-requested feature. Bethesda has yet to issue any sort of response to the widespread online backlash. However, they will no doubt have to do so soon, simply given the sheer scale of the anger on social media.