Another star-studded lineup of footballers has been revealed in EA's FIFA 20, this time celebrating Ligue 1 players. The newest Team of the Season So Far was introduced on May 28 and features the likes of stars Kylian Mbappe, Neymar Jr., Thiago Silva, and more. We've got a look at the new roster of stars for the FIFA 20 Ligue 1 TOTSSF as well as other content released with them.
Which players made FIFA 20 Ligue 1 TOTSSF?
Each week, EA's FIFA 20 has been bringing out new lineups consisting of the best players from a specific league so far from the past season. It's a Team of the Season "So Far" since many leagues had to suspend play due to the coronavirus pandemic. The previous TOTSSF reveals have included stars such as Lionel Messi, Cristiano Ronaldo, and Robert Lewandowski.
With the new FIFA 20 Ligue 1 TOTSSF reveal, we've got several more of the game's biggest stars. Both Kylian Mbappe and his Paris Saint Germain teammate Neymar get the highest-rated cards with 98 overall. Mbappe has 99 Pace, 98 Dribbling, 97 Shooting, 92 Passing, and 90 Physical attributes. Neymar gets 99 Dribbling, 98 Passing, 98 Pace, and 96 Shooting.
Next in line with upgraded FUT items are AS Monaco striker Ben Yedder with a 97 overall and a third PSG player as Angel Di Maria has a 96 overall. In fact, the starting XI shown below includes six PSG footballers, giving them quite the edge here.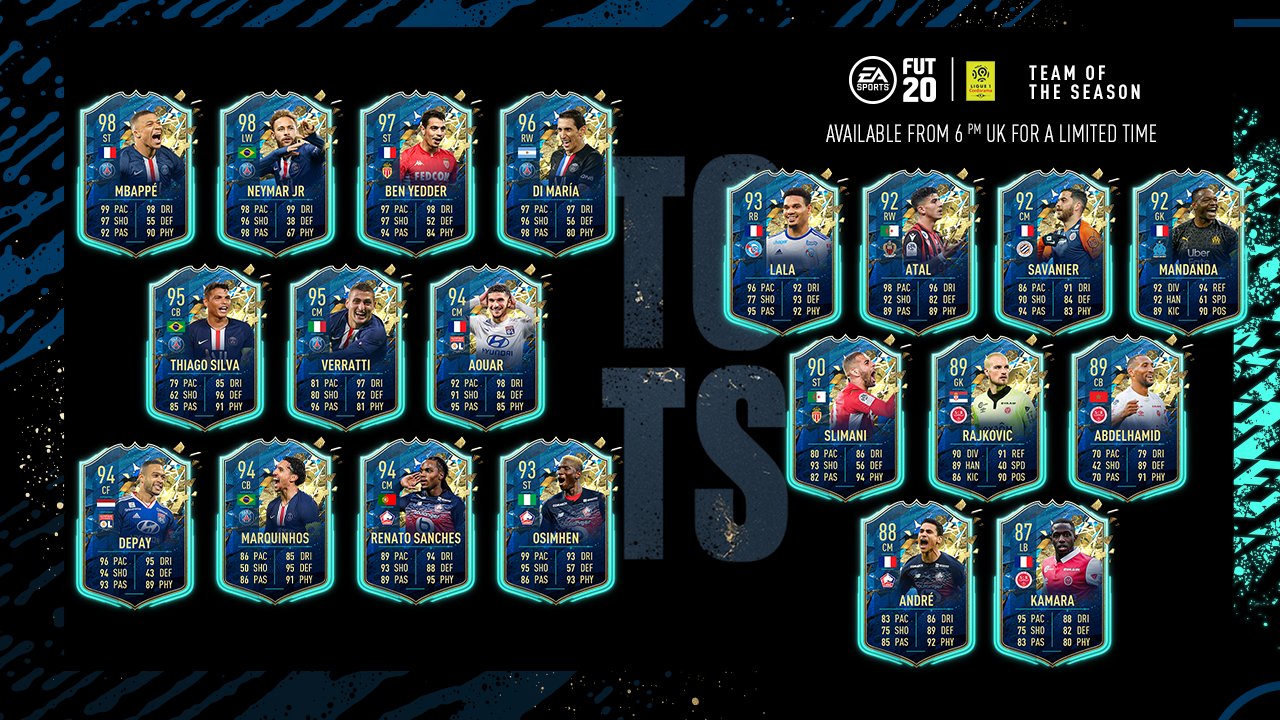 TOTSSF Substitutes and Reserves
In addition to the starting XI, nine players are part of the squad for substitutes and reserves. They hold ratings from 87 overall up to 93 overall. Headlining those players is Olympique Lyonnais CM Houssem Aouar. He's joined by LOSC Lille striker Victor Osimhen and OGC Nice RW Youcef Atal, among others.
CM Houssem Aouar (Olympique Lyonnais) 94 OVR
ST Victor Osimhen (LOSC Lille) 93 OVR
RW Youcef Atal (OGC Nice) 92 OVR
CM Teji Savanier (Montpellier HSC) 92 OVR
ST Islam Slimani (AC Monaco) 90 OVR
GK Predrag Rajkovic (Stade de Reims) 89 OVR
CB Yunis Abdelhamid (Stade de Reims) 89 OVR
CM Benjamin Andre (LOSC Lille) 88 OVR
LB Hassane Kamara (Stade de Reims) 87 OVR
Check out more of the attributes for the players listed above at FUTHEAD's listing for the new Team of the Season.
All of the above players are now available randomly in select FUT packs in Ultimate Team mode. In addition, they'll be up for bids or "buy now" options on the Transfer Market.
Along with the 21 players above, EA also released new SBCs and Objectives for FIFA 20 Ligue 1 TOTSSF. Those went out for Dimitry Payet, Idrissa Gana Gueye, and Aleksandr Golovin. Stay tuned for more details on how to get these players.
Visit our FIFA news page for more of the latest game updates.