When it comes to sports sim video games, it seems of the modes that many gamers always want to be upgraded and improved is Career Mode. That's where gamers can control a customized player or choose a team to guide through seasons. Along the way, they can make adjustments during individual games or to player personnel to try to improve their success. Based on Thursday's FIFA 21 Career Mode trailer and mode details, it appears some new changes will give gamers more of that control.
New FIFA 21 Career Mode trailer debuts
As the buildup towards EA's new FIFA 21 game continues, we've seen quite a few trailers drop to present the various details. We saw cover star Kylian Mbappe and the FIFA Ambassadors in the first official reveal trailer. Then we saw a gameplay trailer, and most recently, the FUT 21 trailer for Ultimate Team.
That brings us to Thursday's newest trailer. The FIFA 21 Career Mode trailer checks in at about two and a half minutes and gives an overview of the "new and improved" aspects of the mode.
When speaking to Goal last week, Nick Wlodyka, vice president and general manager of EA, talked about how the mode one was one of the top priorities for developers in FIFA 21.
"Career Mode is a really important one for this year," Wlodyka told Goal. "We've had so much feedback over the last few years from our players wanting to see more things that they can control within Career Mode. We've listened to what they want to be able to, things that they haven't been able to do in the past."
Interactive Match Sim, Transfer/Contract, and Player Development changes
In FIFA 21 Career Mode, they've added an Interactive Match Simulation for managers to put to use. That means being able to control whether you want to simulate an entire game or jump in at a specific point to play yourself. You can also make player adjustments and other strategic moves using the Sim feature.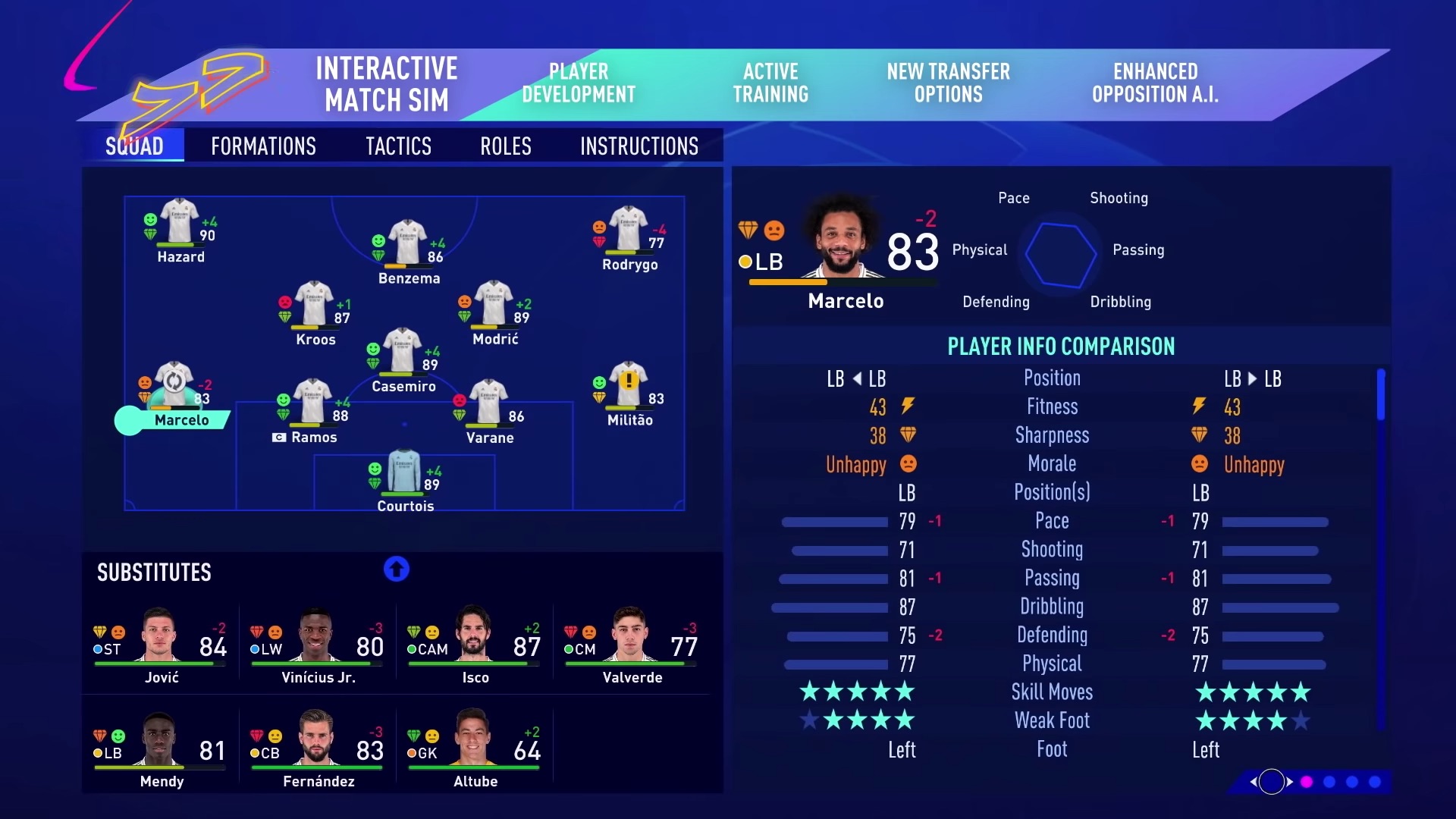 EA mentions new options when it comes to transfers and player contracts:
Enhanced transfer realism provides both human and AI-controlled teams with new ways to sign players. Make Loan to Buy offers with future transfer fees to secure new talent for your team, and respond to AI manager-initiated player swap proposals as you look to bolster your squad each transfer window.
Last but not least, gamers now have more options in terms of their player development including positional training. So if you've become depleted at a certain position on your club's roster, you can begin training a player to fill in there. Additionally, training schedules will allow you to determine when to rest and train each week to "keep your team firing on all cylinders."
Those are several of the major upgrades, but based on the FIFA 21 Career Mode trailer and site notes, others include overhauled AI opponents, along with a new Match Sharpness attribute and Active Training System. See more about the mode updates at EA's website here.
EA's FIFA 21 is currently available for pre-order, with an official Standard Edition release date of Oct. 9. Those who pre-order Champions or Ultimate Edition get to play three days earlier.
See more of the latest FIFA updates including game news and more.