Treyarch has been unreasonably quiet about Call of Duty: Black Ops 4 over the past weeks. However, it all went out as positive since Treyarch has just announced that the Call of Duty: Black Ops 4 Beta will take place in August. This phase will include only the multiplayer mode of the game, with a second one coming in September for Blackout.
Here's how the Call of Duty: Black Ops 4 Beta phase will go down. First of all, this time you'll  be able to play only its multiplayer mode. All consoles will be taking part in the beta, with Playstation 4 getting a week head start before Xbox One.
To put that in numbers, Playstation 4 is getting 10 days of playtime and Xbox One only 3. During that time, the PC is getting their own beta, available for 3 days as well, including the pre-order early access. Here's the timetable: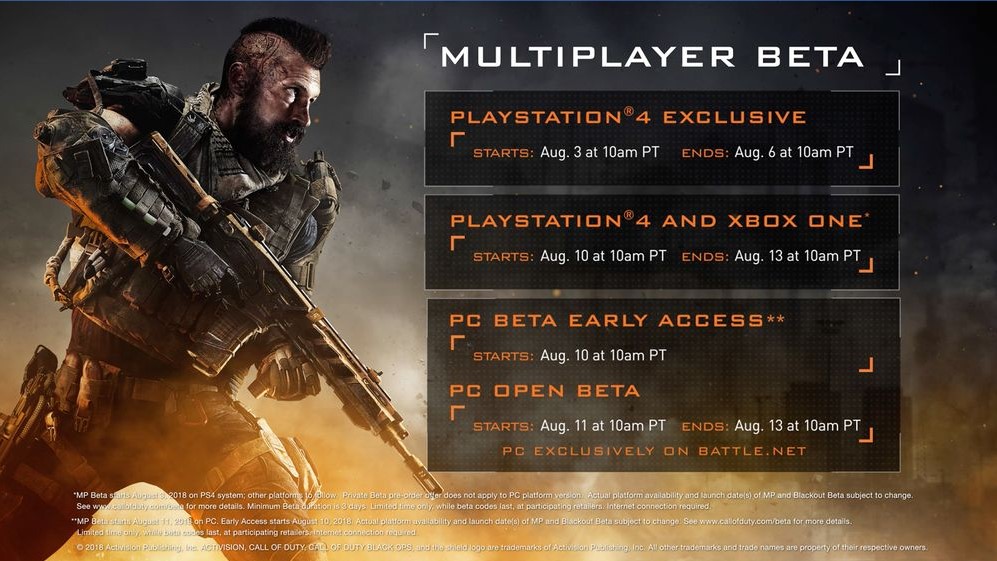 Co-Studio Head Dan Bunting has also shared a heartfelt message for the Call of Duty community, regarding the Call of Duty: Black Ops 4 Beta:
"This is an exciting opportunity for us at Treyarch because – not only are we putting more content into players' hands earlier than ever before – we get to break new ground by hosting two separate Beta experiences".
"Games are better when they're a result of a dialogue with our community. Not only does it improve the game's quality, but it allows us to respond to player feedback and custom-craft the experience to how players engage most with the game. We want launch day to be a celebration that players around the world can enjoy together, and we know it won't stop there – we will always work tirelessly to improve, grow, and evolve the game beyond launch."
Additionally, all participants in the Beta will receive a unique calling card. And for every player that achieves max rank in the Beta, they will earn a Permanent Unlock Token to apply to any piece of Create-a-Class content when the game comes out.