Fortnite Battle Royale has made Epic Games over $1 billion since its release in September 2017. The video game has broken numerous records and its developer has made a lot of money from it. The latest report indicates that Fortnite has made a massive revenue on iOS, despite being out for only 200 days.
At the moment, Fortnite is available on multiple mobile platforms. However, it was first launched for iOS a few months ago, followed by a Nintendo Switch and an Android release. The video game has incredibly successful on all of these devices, and it was recently revealed how much Epic Games has made from the iOS version of it.
Fortnite on iOS is a huge success
Epic Games released the iOS version of Fortnite Battle Royale on March 15, 2018. Since then, the game developer has made over $300 million in revenue, which is a record-breaking number. Not only has Fortnite made so much money, but it has also established itself as the number one iOS game in this period.
According to SensorTower, Fortnite has taken the first place with its $300-million revenue. The second place belongs to Clash Royale with $228 million. The third place was taken by Honor of Kings with $121 million, while Knives Out finished the fourth with $7 million less.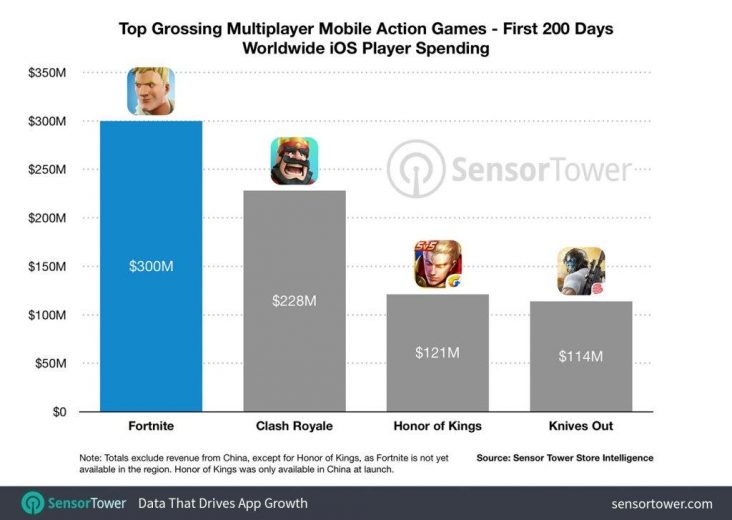 SensorTower has also revealed that 65% of the revenue came from players from the United States. Additionally, Fortnite players have been spending even more money since the release of season 6. Epic Games has made over $20 million from the iOS version since the new season came out. It is estimated that Fortnite players spend an average of $2.5 million per day since season 6 came out.
With Halloween approaching, there is no doubt that Epic Games will make even more money. After all, millions of players want Skull Trooper, and it seems that it will be released to the store.