With the release of Borderlands 3 gameplay, fans are starting to get more information about the four new playable vault hunters; Amara, FL4K, Moze, and Zane. In fact, one new source of information is actually the official Borderlands 3 cosplay guides, which were recently released by Gearbox. Providing detailed notes on each vault hunter's outfit, the guides also give fans some insight into the new protagonists.
The Official Borderlands 3 Cosplay Guides are Now Available
"Wondering how many fingers Zane's gloves have or what colour Moze's shoulder pad is," says the game's official website; "Want to make sure you get FL4K's patches and pins or Amara's belt bag and bandages just right? We got you. If you're a cosplayer looking to recreate a Borderlands 3 Vault Hunter's outfit and accessories, the reference kits released today should prove useful."
Of course, the primary reason for releasing this information is that E3 is just around the corner. Not only is the event a prime opportunity for cosplayers, but Gearbox is actually planning to hold a 'Borderlands 3 Cosplay Tour," which will begin at E3 and presumably extend to further events between E3 and the game's September release date. "We're excited to see your cosplay creations," says Gearbox; "and ready to help you show them off with a unique photo experience that drops you into the middle of beautiful Borderlands 3 locations."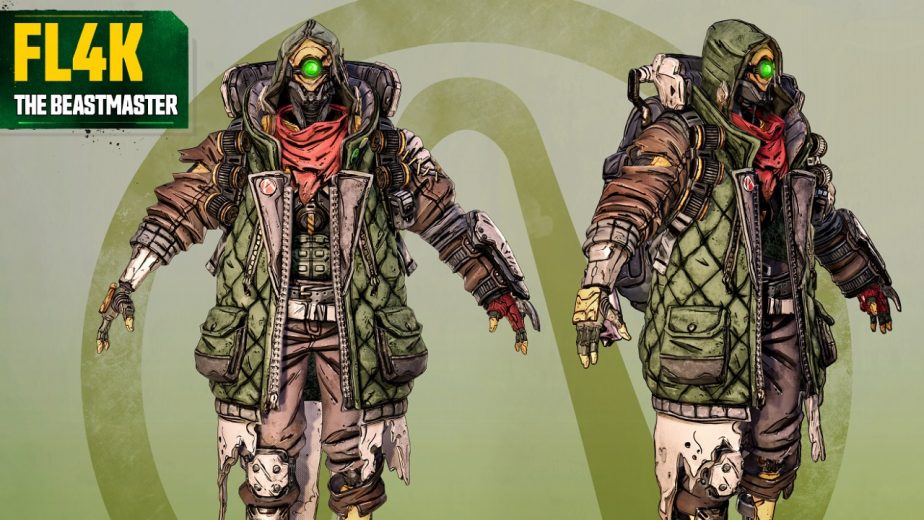 For now, Gearbox has only provided Borderlands 3 cosplay guides for the four new Vault Hunters. However, the studio is planning to release more soon. Certainly, in all likelihood these will cover the main villains, or perhaps some returning characters like Zer0 or Rhys. The cosplay guides are all available on the official Borderlands 3 website. Each guide gives a look at the character in question in the form of a multi-page PDF. Indeed, as you might expect, these documents provide numerous shots of each character from multiple angles; thus ensuring that cosplay enthusiasts can identify all of the details.