Hitman 2 fans already have a lot to look forward to throughout April, including a major Ghost Mode update. However, that's just the start of developer Io Interactive's ambitious 2019 content plans. In a recent post on its website, Io outlined everything Hitman 2 fans can expect throughout 2019.
Hitman 2 2019 Content Roadmap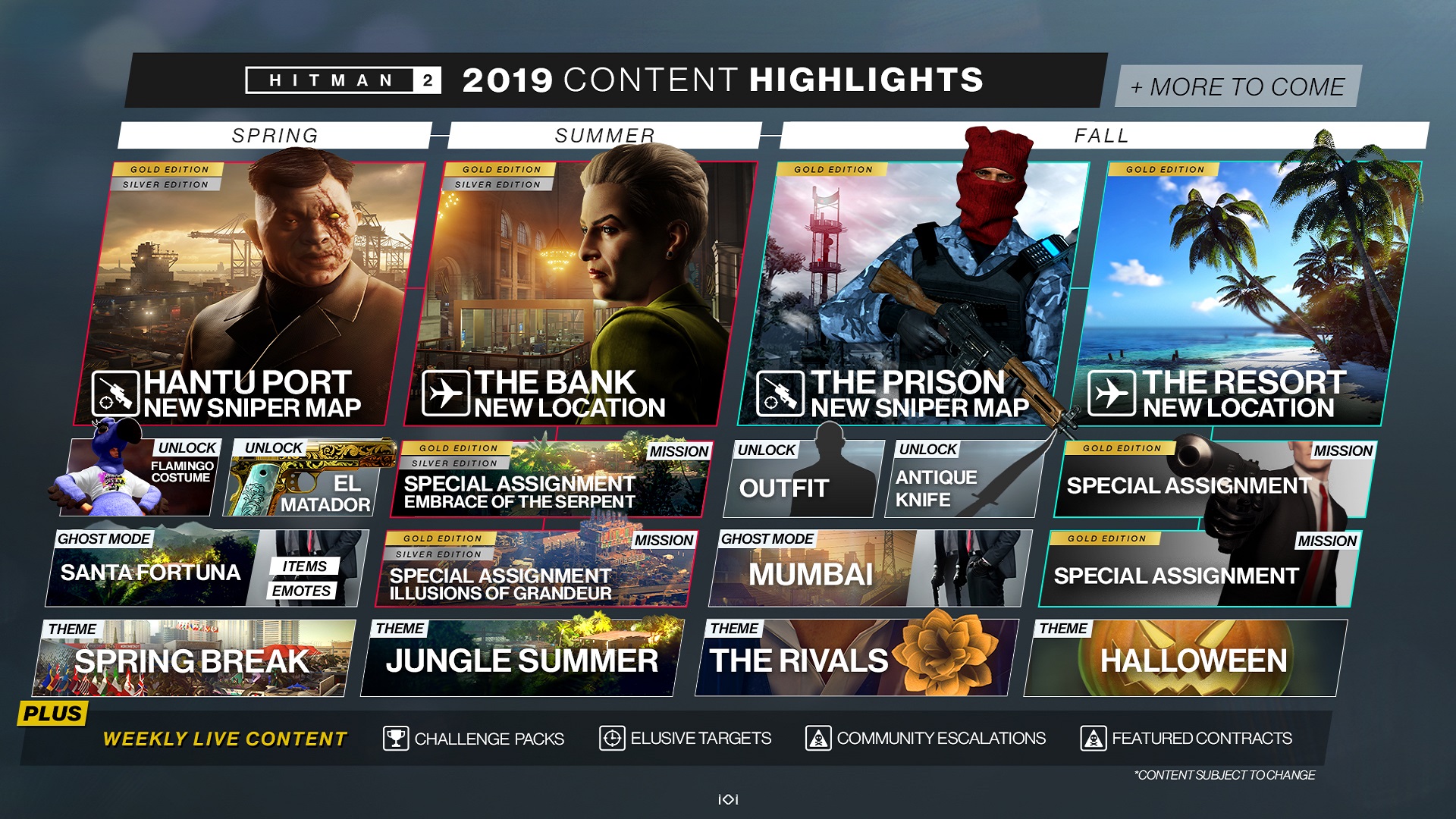 The 2019 content roadmap paints in broad strokes, but it still lists a number of exciting features and upgrades. As the roadmap shows, each "season" of content will have a distinct seasonal theme. For the spring season, that theme is, appropriately enough, labeled as "Spring Break." The Spring Break season includes the previously released Hantu Port Sniper Assassin map, the aforementioned Ghost Mode update, and more.
Throughout the summer, 2019 and fall, 2019 seasons, Hitman 2 will also receive the following content additions:
Three additional seasonal themes: "Jungle Summer," "The Rivals," and "Halloween"
Two new mission locations: The Bank (summer) and The Resort (fall)
A new Sniper Assassin map called The Prison (fall)
A series of 'Special Assignment' missions which come with their own distinct sub-themes
New unlockable outfits and weapons
The Mumbai location for Ghost Mode
Some of the above content (like the new locations Special Assignments) will be locked behind Hitman 2's Expansion Pass. All players, however, will have access to the seasonal themes, Ghost Mode updates, and standalone unlockable items.
Io also clarified that there's much more to come beyond what's detailed in the roadmap. The studio will continue to release new Elusive Targets, challenge packs, Featured Contracts, Escalation Contracts, and more. In short, 2019 should be a very good (and very plentiful) year for Hitman 2 players.
Lastly, Io also teased new weekly live content additions which it will share more about soon. The studio also remains committed to hosting monthly developer livestreams and releasing monthly updates which providing balancing changes and fixes. Meanwhile, fans are already dreaming up what they'd like to see in Hitman 3. Though, given Io's extensive Hitman 2 roadmap, it sounds like those fans have got a long wait ahead of them.