Ever since Hitman 2's launch last year, the game's PvP-centric Ghost Mode hasn't gotten much love. However, that's all going to change later this month when Io Interactive releases some major new updates for the mode. Pretty soon, players will get to go head to head in the game's Santa Fortuna location. Not only that, but new emotes, items, and an unlockable suite will further flesh out the competitive Ghost Mode experience.
Hitman 2 Ghost Mode Enhancements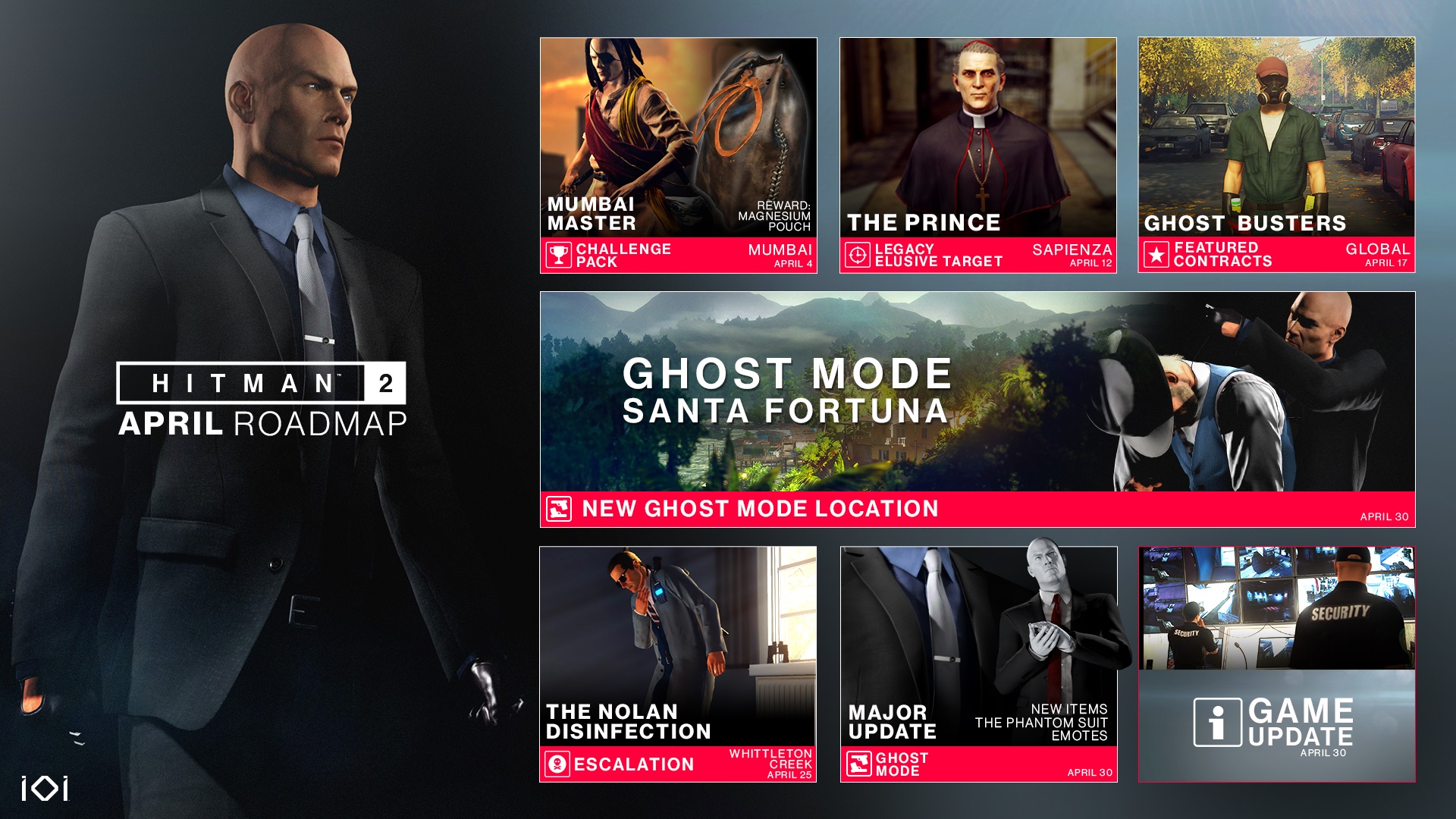 Io Interactive recently laid out Hitman 2's full April roadmap, and it's pretty exhaustive. A new challenge pack, Elusive Target, Escalation Contract, and Featured Contracts set are all set to arrive throughout the month. However, the most exciting part of the April roadmap is undoubtedly the Ghost Mode features expansion.
Starting on April 30, Hitman 2 players can compete in Ghost Mode matches on the game's Santa Fortuna map. Ghost Mode currently only supports the Miami Racetrack map since it's still technically in a beta state. Io has previously stated that the ultimate goal is to eventually bring Ghost Mode to all Hitman 2 maps.
Along with the Santa Fortunate location, Ghost Mode is getting several other upgrades. A new emotes system will allow players to taunt or show off to their enemies during a match. Four new findable items will also allow players to directly attack/disrupt their opponents. The four new items are as follows:
Freeze Grenade – Slows your opponent's movements for several seconds.
Flash Grenade – Blinds and disorients your opponent for several seconds while leaving you unaffected.
Proximity Explosive – A proximity-based explosive which kills your opponent when detonated, forcing them to wait for a respawn.
Outfit Manipulator – A manually-triggered device which swaps both your and your opponent's outfit for a new random outfit.
Lastly, Io is adding a unique new 'Phantom Assassin' challenge to the game's Ghost Mode component. We don't yet know what the Phantom Assassin challenge entails, but completing it unlocks a Phantom Suit for Agent 47.
Io Interactive's efforts to improve Hitman 2 are likely bolstered by their recently-opened new studio in Malmo, Sweden. Meanwhile, fans have been speculating on what they'd like to see in a theoretical third Hitman game.