With Madden 20 Ultimate Team celebrating their 10-year anniversary, they've unveiled a special MUT 10 promotion. During the promotion, a new player is revealed weekly for 10 weeks. These are players who transcend the games and in the first week of the promotion, EA revealed Bo Jackson for Madden 20 Ultimate Team's big MUT 10 event on August 23. Here's how to get the Bo Jackson Madden 20 items in the game for your Ultimate Team.
What are the Bo Jackson items for MUT 10?
Gamers are able to acquire a number of special Bo Jackson Madden 20 items for their Ultimate Team lineup. One of these is a Bo Jackson Power Up Item. The card arrives with a 76 OVR and some great attributes, but gamers can upgrade those stats to make Bo even better. The card (below) is also available for a limited time in the Madden Ultimate Team Packs for those who want to spend for it.
In addition to that item, there's also a MUT10 Token for Halfback which is needed to complete the set for an even better item. You'll need that Token along with the other nine released one-by-one each week of the promotion. Here's the Madden Ultimate Team 10 Completion screen from the game: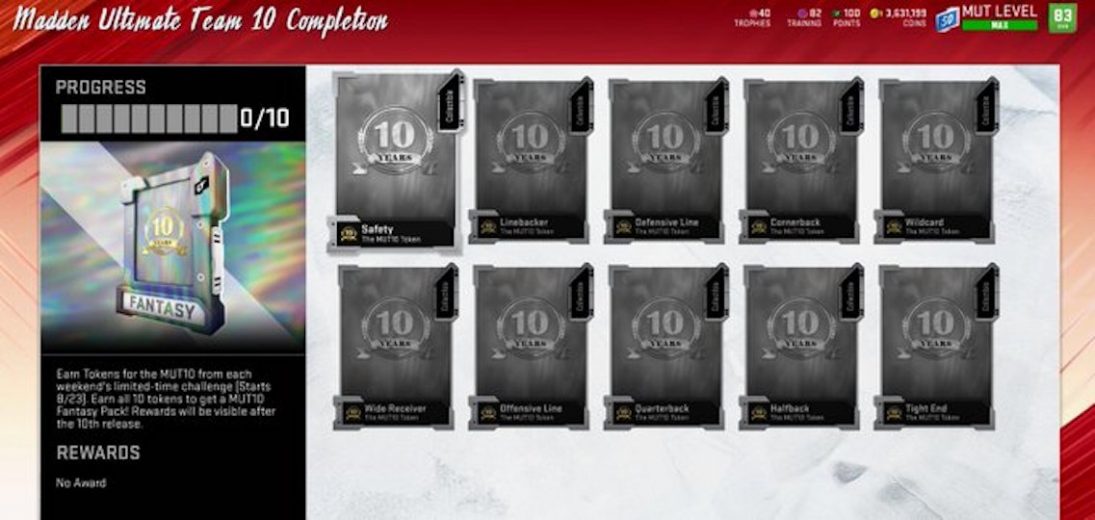 How to get the Bo Jackson Madden 20 Ultimate Team items
So how do you get the two items and eventually get a better Bo Jackson card for your Ultimate Team? Head into Madden 20's Ultimate Team feature on your console and then go to the "Missions" area. Choose the LTD Time Challenge for "Madden Ultimate Team 10." You'll get the Bo Jackson Challenge which features a simple task. You just need to win a game with your Ultimate Team. The good news is, you'll have Bo Jackson as your starting half back!
As you'll also see, you can play the Bo Jackson Madden challenge on different difficulty levels. The easier the level, the fewer Stars you earn. You're going to need to earn at least one Star to get the Bo Jackson Power Up item, and two Stars to get the MUT 10 Token. Here are all the rewards per Stars:
1-Star Bo Jackson Power Up item / 500 Coins
2-Star MUT10 Token: HB / 500 Coins
3-Star: 700 Coins
4-Star: 700 Coins
5-Star: 700 Coins
The good news with that is, even if you play on the Easy level for one Star, there are two bonus Stars available. So make sure to rush 10 or more times using Bo and get at least 100 yards rushing. That should take care of getting three stars and both items!
Once you have both items, you can use the Bo Jackson Madden 20 Power Up within your lineup. Upgrade the item as you see fit. Additionally, you can add the MUT10 Token: HB to your set for the MUT 10 promotion as one of the 10 you'll need. Once you have all 10, trade the set for a MUT 10 NAT Fantasy Pack. With that, you can pick any one of the Madden Ultimate Team 10 NAT players, such as Bo Jackson!
Stay updated with Ultimate Team events. Get more of the latest Madden 20 news here.