The newest Madden Ultimate Team program arrived on Friday with the reveal of Theme Diamond players. There are a total of 32 players, giving one of them for each team. Many of the players are former stars giving a who's who of the NFL. In addition, there's a special Kurt Warner item to be earned. Here are more details on how to get Madden 20 Theme Diamonds and who is available for these new MUT player cards.
What are the Madden 20 Theme Diamonds?
The brand new Ultimate Team program brings valuable players back who some gamers may consider Madden Legends from over the years. As mentioned, there is one player representing each team for the Madden 20 Theme Diamonds. There really are some greats from over the years here.
An early teaser showed off the first four players revealed including the Chicago Bears' Charles Tillman and Green Bay Packers' Donald Driver. Tillman retweeted the Ultimate Team post which also features Deuce McAllister from the New Orleans Saints and Merton Hanks from the 49ers.
The various Madden 20 Theme Diamonds players have OVRs on their cards which are between 85 and 89. Some of the best of the bunch include an 86 OVR Jason Sehorn (Giants), 88 OVR Antwaan Randle El (Steelers), and 89 OVR John Henderson (Jaguars). You can see all of the players available at the Madden Ultimate Team Twitter, or in the video clip below known as "The Madden Minute."
These are all cards which gamers can use a Power Up Pass on to boost to a 90 OVR, so keep that in mind when looking at their specific OVRs. Those OVRs on their cards do correspond with the required cards you'll be assembling for that player's Theme Diamond sets.
How to get cards & unlock Kurt Warner card
To get any of the Madden 20 Theme Diamonds, gamers have to add specific gold and elite level player cards to build a team's set. So for those pursuing Charles Tillman, you'll be assembling a Bears-specific set. For those trying for Jason Sehorn, you'll be working on the Giants-specific set, and so forth. For the most part, these sets consist of anywhere from 24 to 35 player items.
There's always the option to buy Theme Diamonds player cards at the Auction area, but they're carrying some high prices. We've seen some cards as high as 400,000 coins right now in the bidding.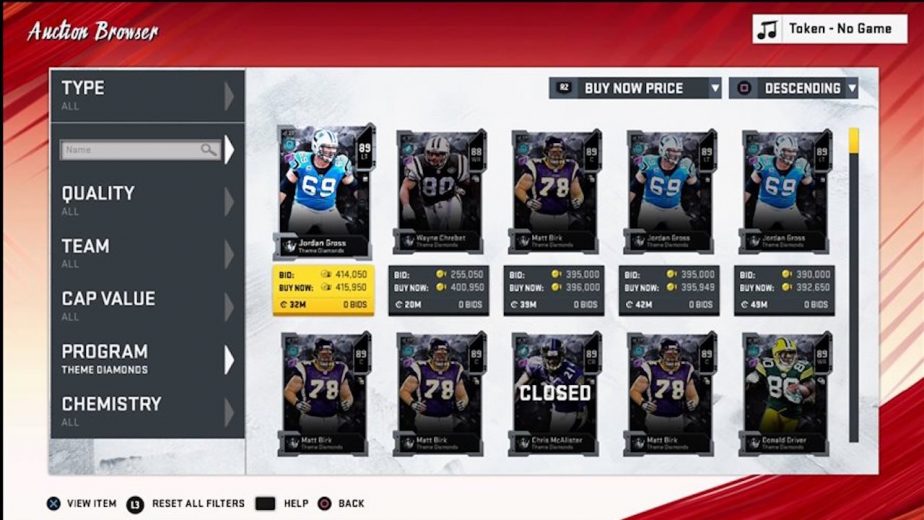 In addition to all 32 of the Madden 20 Theme Diamond players for the teams, there's also a special Kurt Warner card available for the former Los Angeles Rams quarterback. It's a Theme Diamond Master card, and pricey, as it involves collecting all 32 of the Theme Diamonds sets. So you'll be spending a lot of time or currency in order to land this special 93 OVR card.
There are also Theme Diamonds Challenges available for each of the NFL teams. Each challenge has a reward of as much as five stars and up to 800 coins for your troubles. As gamers move through the various milestones, they'll also unlock tier-specific rewards. Here's a look at what rewards arrive for each of the tiers in Ultimate Team:
1 Star: NAT Gold Pack
20 Stars: NAT Gold Pack
45 Stars: 3x NAT Gold Pack
70 Stars: NAT Core Elite Pack
100 Stars: NAT 84+ Pack
130 Stars: NAT Gold Pack
160 Stars: NAT Gold Pack
Get more of the latest news about Ultimate Team at our Madden news page.