Looking for how to use a Power Up Pass with your Madden 20 Ultimate Team? We've got the latest instructions for the brand new EA football game. The Power Up Pass is one of those key items that can really help you take your players to new levels, literally! Here's what they do and exactly how to use the Power Up Pass in MUT 20.
What is the Power Up Pass & how do you get them?
The Power Up Pass is a valuable item you can get in the Madden 20 Ultimate Team mode as it lets you bypass another requirement. In some cases, you may need a particular card to power up one of your MUT players. For example, you may see you need a "Core Elite" player card to move them to the next level. However, the Power Up Pass normally lets you skip needing that card. So you can simply use the Power Up Pass to get to that new level of your player's upgrade.
So far, it hasn't been revealed how gamers will acquire a Power Up Pass in Madden 20. In the past, they were acquired through the level cap rewards gamers achieved or by completing certain Solo Challenges in Ultimate Team. This could remain the same for Madden 20 as they unveil more Ultimate Team content in the coming weeks heading towards NFL season.
How do you use a Power Up Pass in Madden 20 Ultimate Team?
In Madden 20 Ultimate Team, you'll head over to your MUT roster. From there, you're going to find the specific player you want to upgrade. For example, if you want to upgrade that 88 OVR DeAndre Hopkins, or any other player card to a higher level. The player card will need to have that "Power Up" logo on the front, as shown on the Aaron Donald card below.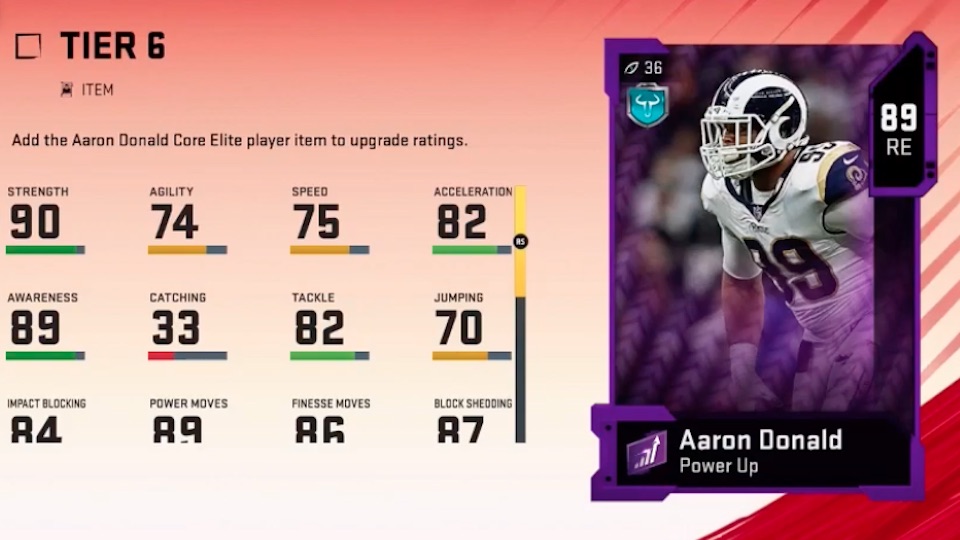 To upgrade player cards, you'll need to spend training points to move players up in terms of their ratings. So you will need to spend a certain amount of Training to get your player to each new level.
After upgrading your player to a certain level, you'll see a "Player Item Required" when you try to upgrade. You'll have the option to "Select From Item Binder" or "Search Auctions." Choose the top option to go to your binder
Once you're in the binder you can select your Madden 20 Power Up Pass. You'll see an "Add to Upgrade" message which says by using that pass, it's gone from your binder for good. Select "Add to Upgrade" to apply the Power Up Pass. You'll see your player reach that next level as his ratings move up! It's a nice way to get your players performing even better without having to pay for special item cards to do it!
For a walkthrough, check out the YouTube video below showing step-by-step for how to use the Power Up Pass.
Check out more of the latest news, information, and how to help at the Madden game section!