In this guide, we'll take a look at the different ways to get Training in Madden 20 Ultimate Team mode. Training is part of your overall in-game "currencies" along with Coins, Trophies, and Points. It appears up in the upper righthand corner of your Ultimate Team screens along with those other currencies. There are several uses for it in Ultimate Team. So let's look at what it's used for and how to get Training in madden 20.
What is Training used for in Madden 20 Ultimate Team?
Training can be used in several ways in the Madden 20 Ultimate Team mode. One of the top ways to use Training points is to upgrade various players on your Ultimate Team. You'll need to spend Training on players who have Power Up potential, and also to equip certain Superstar abilities or unlock chemistries for players. Upgrading a player incrementally costs more Training as you get them to higher levels for their item.
Here's a look at the upgrade screen for a Kyle Fuller Power Up item in Ultimate Team:
In addition, Training acts as a currency at the store. There is a specific part of the Madden 20 Store that only offers items you can buy with your Training points. These include Players and Packs such as the Madden 20 Heavyweights, Flashbacks, and Veterans, among other programs. There are also uniform and arena fantasy packs.
Right now, items cost anywhere from 60 Training for a 77-78 OVR Random player up to 1,780 Training for the Heavyweights or Flashback packs. They can get quite expensive if you're trying to add a certain type of player to your roster through random pack searches.
So Training really has several useful purposes within the Ultimate Team mode to make your roster better. Now let's see the ways to get that Training.
How to get Training in MUT 20 mode
There are really two main ways for how to get Training in the Madden 20 game's Ultimate Team mode. The first one is by completing specific Challenges or Missions that offer Training Points as your reward. In Madden 20's Ultimate Team, these are in the "Ultimate Trainers: Assemble Your Team" area for Challenges.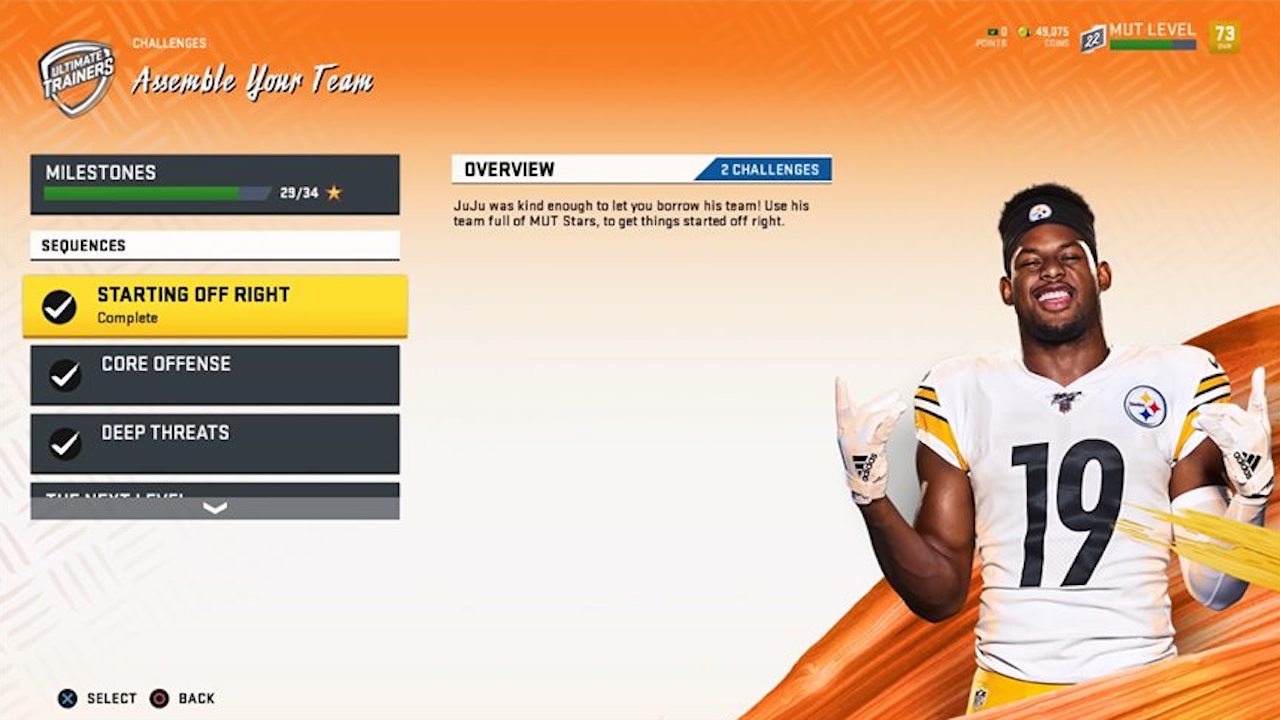 Here's a list of the Solo challenges available to earn Training with:
1 Assemble Your Team: Core Offense, Hot Streak
2 Assemble Your Team: Core Offense, Touchdown
3 Assemble Your Team: Deep Threats, A Single Step
4 Assemble Your Team: Deep Threats, Break it Open
5 Assemble Your Team: Deep Threats, Aerial Threat
6 Assemble Your Team: Deep Threats, This or That
7 Assemble Your Team: Deep Threats, Devastating Combo
8 Assemble Your Team: Deep Threats, Run Up, Throw In
The other way to acquire Training is by selling off different player cards. You'll notice by selecting any Madden 20 Ultimate Team card to view the details, most will have at the bottom "Quicksell for "X amount" of Training." You can select this option on the card to instantly "Quicksell" the card and add Training Points to your total.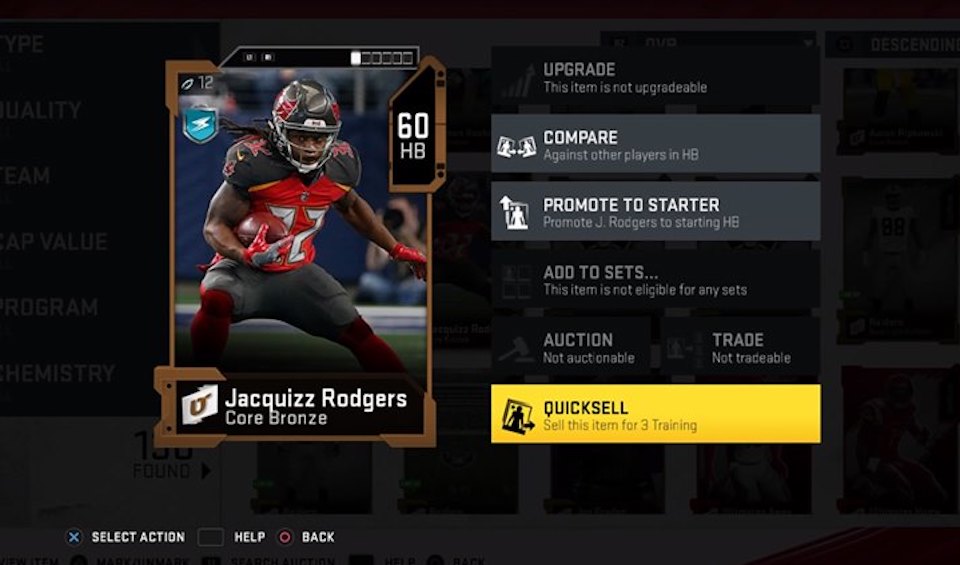 The better the card, the more Training Points it will be worth. So a Bronze or Silver won't Quicksell for nearly as much Training as the NFL Epics Baker Mayfield or another high-quality card in the game. Still, getting rid of those lesser cards to help boost other upgradable players makes a lot of sense sometimes. Sell enough of them and you'll have a better player on your Ultimate Team thanks to upgrades or unlocked Chemistry!
Get more of our information, how-to help, and Madden 20 news here.