The R1 Shadowhunter first launched in Call of Duty: Black Ops Cold War by accident – ahead of schedule – prompting Treyarch to pull the weapon from the game shortly thereafter. (Erasing players' progress towards unlocking it in the process.) Now, the weapon has launched fully, and is available to unlock and use in-game.
Black Ops Cold War New Weapons: The R1 Shadowhunter
The R1 Shadowhunter is the first crossbow to be available for use in Call of Duty: Black Ops Cold War. A new addition to the small Special weapon category, the Shadowhunter can be lethal in the right hands. Plus, it boasts the unique feature that players can pick up bolts from wherever they land, allowing players to restock ammo mid-battle. However, it's not the easiest new weapon to unlock. As per usual, there are two ways to get your hands on the new crossbow. The first is to complete an in-game challenge which focuses on scoring one-shot eliminations.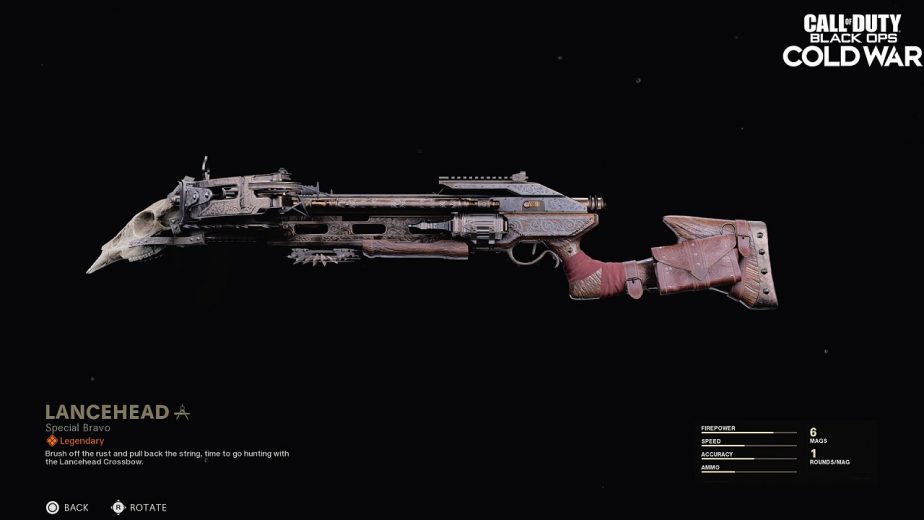 The other is to purchase the "Archaic Range" store bundle. This bundle contains the "Lancehead" – a Legendary Weapon Blueprint for the R1 Shadowhunter. Of course, while acquiring the Lancehead is the easiest way to get access to the crossbow, you'll still need to complete the challenge if you want to level up the weapon and complete its camo challenges.
Like previous challenges to unlock new weapons, the Shadowhunter challenges requires you to complete a certain task in 15 different matches. In this case, that task is to get 3 One Shot, One Kill medals. It's important to note that if you're playing Core multiplayer, some weapons simply cannot earn this medal. You'll want to be using a Shotgun or Sniper Rifle to ensure that you can actually eliminate foes in a single shot. Be sure to fine-tune the attachments on your weapon of choice for maximum damage. Once you've shot dead the necessary 45 unfortunate enemies, you'll unlock the R1 Shadowhunter for you to use in-game.