3D Realms has just announced that their throwback shooter Ion Maiden will be coming to consoles as well as PC. The FPS is the first game to utilize the legendary Build engine in two decades. Gamers of a certain age will of course be quite familiar with the engine. It powered some pretty big name shooters back in the 90's such as Duke Nukem 3D, Blood and Shadow Warrior to name a few.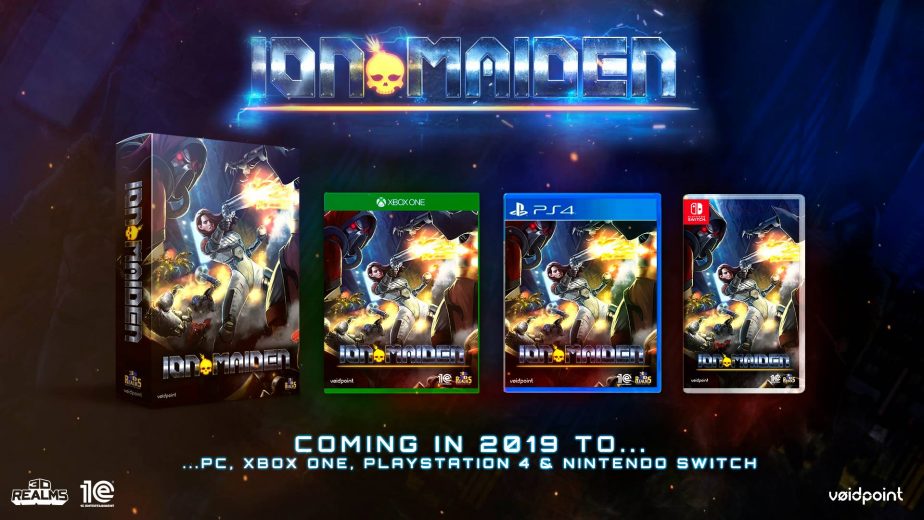 What Is Ion Maiden?
Ion Maiden is a prequel to 3D Realms' game Bombshell, a game which started its life as a Duke Nukem action RPG. However when 3D Realms lost the rights to the IP, they changed it to Bombshell. Bombshell, for those who aren't aware, is a cut character from Duke Nukem Forever. And while her final personality and design is very different from her original designs, she is very much a female ass kicker who can hold her own against most threats.
In Ion Maiden, you play as the badass one-liner queen Shelly "Bombshell" Harrison as she fights an army of evil cyborgs. At your disposal is an arsenal of badass weapons, including her signature bowling bombs. The preview demo has already been available on Steam for a while in Early Access. Those who are interested in checking out the game before release should consider buying the early access version as it includes an exclusive preview campaign that will not be in the final game, and grants access to the final game once it has been released. As far as I know, the preview campaign is only available on PC. You will have to purchase the console releases separately.
When Can We Play It?
The console releases of Ion Maiden will be published by 1C Entertainment in partnership with 3D Realms. Planned release date for both the PC, XBox One, PS4 and Nintendo Switch versions are Q2 2019. Despite using a classic engine, Ion Maiden still features some modern game mechanics such as headshots, physics, more interactivity, widescreen support, controller support and autosaves.
"Presenting games like​ Ion Maiden​ to all of 3D Realms' fans is our number one priority," said Mike Nielsen, CEO of 3D Realms. "Partnering with 1C Entertainment means we can make our dedicated community happier by bringing Shelly to consoles."
"I was always a fan of the old-school classic FPS titles ​Duke Nukem 3D​, ​Blood,​ ​Max Payne​ and Shadow Warrior​, so I am super thrilled to partner with a legendary studio such as 3D Realms," said Nikolay Baryshnikov, CEO of 1C Entertainment. "As a global publisher, our goal is to bring top-quality titles to all the gamers around the world, and our cooperation with 3D Realms is a great addition to our portfolio. For me personally, it's a kid's dream come true."
3D Realms have also released some new screenshots from the current build of the full game. Furthermore, a brand new level from the game will be playable at PAX on the show floor.
How Can I Check This Out?
In the meantime, check out the Early Access preview demo if you want a taste of the action. And while the PC big box edition has been sold out you can get added to the mailing list on the website, where you can also purchase Ion Maiden t-shirts and check out the new screenshots. If you have any questions, 3D Realms' Discord is always open.
And if you are curious about other games 3D Realms have released recently, make sure to check out our reviews of ZIQ and Graveball.