Justin Verlander openly admits he doesn't like pitching against the Detroit Tigers – especially at Comerica Park. Verlander, who spent more than a decade in the Old English D, recently said he gets more nervous heading back "home" (meaning Detroit) than any other city. It just so happens that JV will face his old team today (May 15) in the Motor City. It also just so happens that JV will face former teammate Miguel Cabrera on the latest MLB The Show 19 challenge as well!
Justin Verlander vs. Miguel Cabrera
Talk about beast mode vs beast mode! While Justin Verlander and Miguel Cabrera remain friends off the field, you know that they will be ready for action when they square off on the field. After all, future bragging rights will be at stake!
Most fans agree that both Justin Verlander and Miguel Cabrera are first-round Hall of Fame material. While they both have a bit left in the tank, their personal battles on the field can now be taken out through MLB The Show.
The weekly challenge will seed Verlander, a two-time AL MVP and 2013 World Series champion, against one of the best hitters to ever play the game in Miguel Cabrera. Miggy is an 11-time All-Star. He also won the Triple Crown award back in 2012. In this latest MLB The Show 19 challenge, something has to give!
How to play, what you can win
If you have not scrolled over to the MLB The Show challenge, the question is what are you waiting for? It is simple, easy and fun. And you can win great rewards just for playing.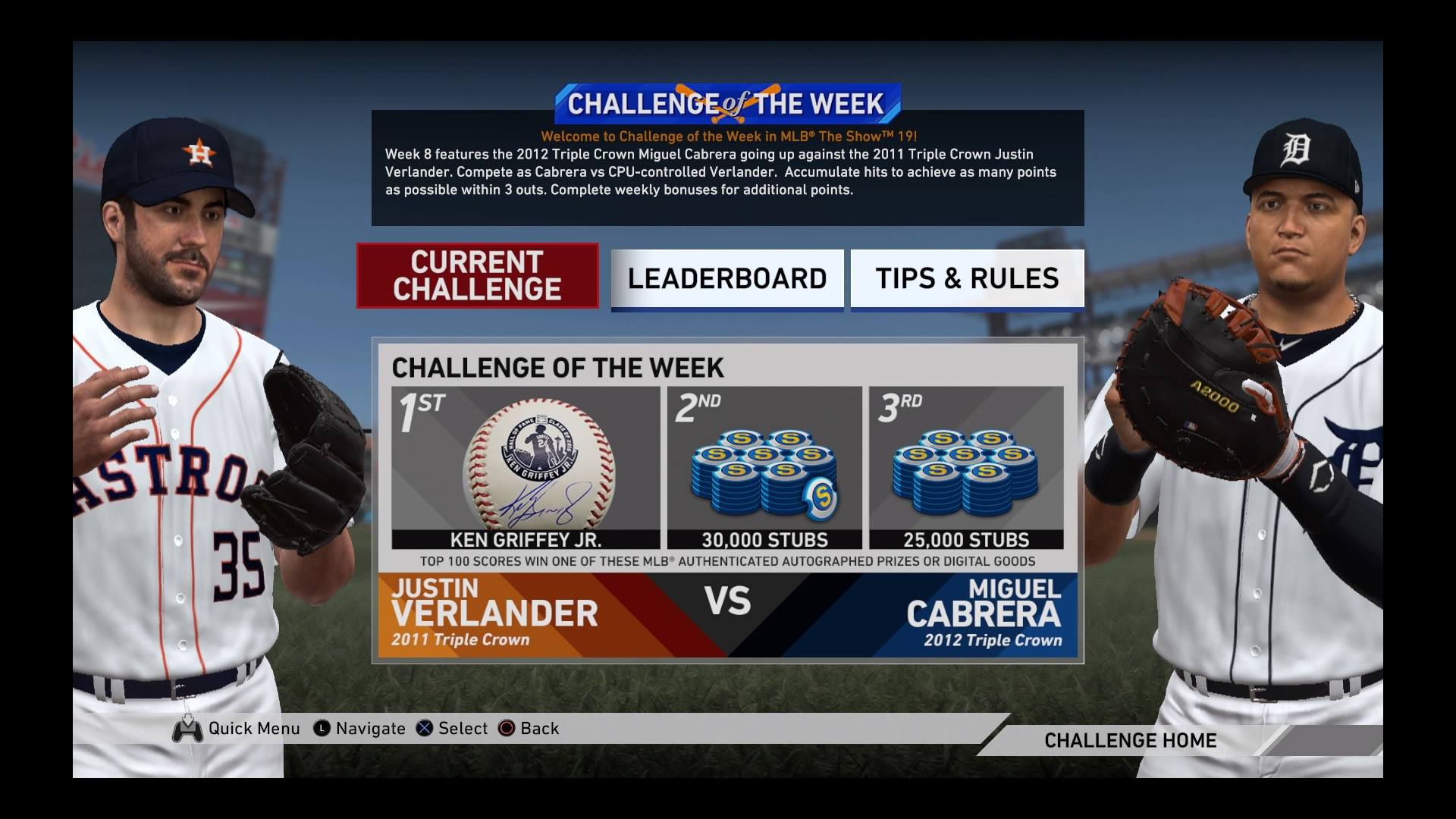 Gamers will be Miguel Cabrera in the latest challenge. You will face Justin Verlander as a CPU pitcher. The goal is to collect as many hits of off Verlander before reaching 3 outs. The top 100 leaders at the end of the challenge will win prizes, including authentic autographs and some awesome MLB The Show rewards.