Julio Teheran is a two-time All-Star who has become a staple in the Atlanta Braves rotation.  Nolan Arenado is a 4-time All-Star and is thought of as one of the best third basemen in the game today. When these two collide, something has to give in this week's MLB The Show 19 challenge!
Teheran up for MLB The Show 19 Challenge
Julio Teheran broke into the major leagues at the tender age of 20 back in 2011. When he is 100%, Teheran is one of the best in the game. In terms of this week's MLB The Show 19 challenge, Teheran will be the enemy for all who enter!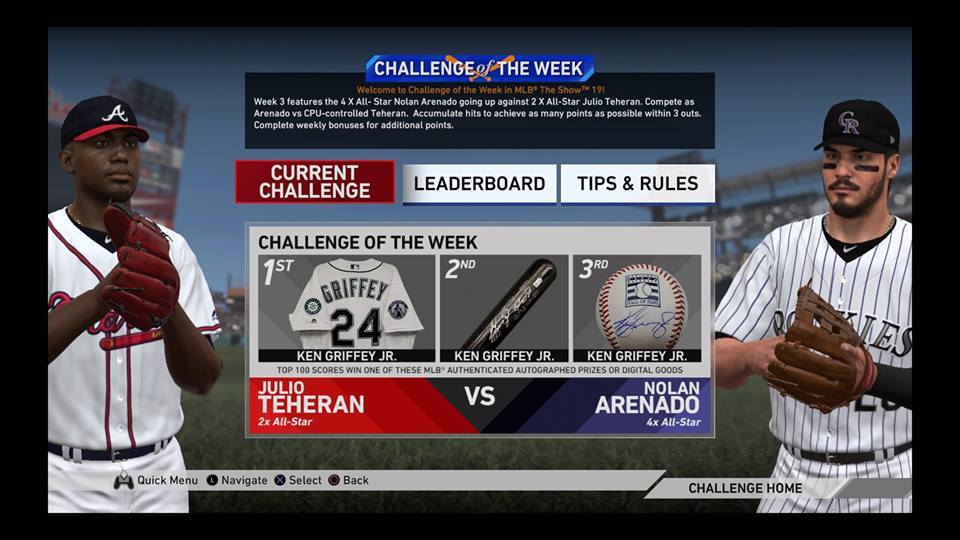 The Braves star will be your opponent when you enter the MLB The Show 19 challenge. The good news when you step to the plate is you will swing as one of the best hitters in all of baseball in Nolan Arenado.
Arenado has averaged 40 home runs per season from 2015-2018. He also drove in 130-plus runs three seasons in a row from 2015-2017.
Those are some serious video game like numbers right there. This week gamers will want to see the best of Arenado as he will be the key for fans to win some cool MLB swag.
How the MLB The Show challenge works
If you have yet to take the MLB The Show 19 challenge, the rules are simple. And the rewards are awesome!
Teheran will pitch (via CPU) against Colorado's Nolan Arenado – and if you have been playing the challenge this year you know that it is all about hitting.
Your goal is to try to accumulate as many hits as you can before reaching three outs. That's it! The top 100 gamers will win authentic MLB autographed prizes or digital goods.
Good luck to all who enter!
Keep up with all of the latest MLB The Show news, rumors and information right here.