Battlefield 5 Chapter 6 may not be as large as War in the Pacific, but that doesn't mean that it won't be bringing any new weapons to the game. In fact, at least five new Battlefield 5 weapons and gadgets will be coming to the game during Into the Jungle, all of which will be available as Chapter Rewards. Notably, these include both a Bazooka and the Lunge Mine, a devastatingly powerful but also extremely risky anti-tank weapon.
The New Battlefield 5 Weapons and Gadgets Coming in Chapter 6
DICE hasn't yet revealed exactly what Chapter Ranks players will need to reach to unlock these new additions. However, they have released details about what the new Battlefield 5 weapons and gadgets will be. They will all be available for either the Assault or Support class, or will be usable by both. As far as weaponry goes, the Support will be getting two new firearms as part of Chapter 6. The Type 11 LMG is a new Japanese machine gun, while the Model 37 Shotgun, also known as the "Ithaca 37," is a US-made pump-action shotgun.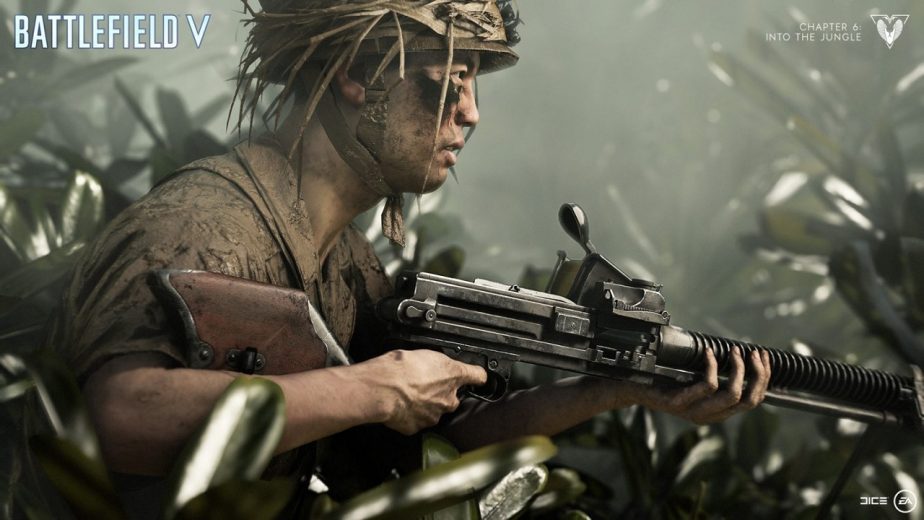 As for the Assault class, they will also be getting a new weapon; the M2 Carbine, a selective-fire variant of the classic American M1 which saw use throughout World War II, the Korean War, and even the Vietnam War. In addition to these new weapons, there will also be two new gadgets added in Chapter 6. Both of these are powerful anti-tank weapons, although with radically different methods of delivery.
Firstly, the Americans will get access to the M1A1 Bazooka, the famous anti-tank rocket which was first used in 1942. The Japanese, on the other hand, will get the Lunge Mine; a uniquely distinctive and destructive weapon. Essentially, the Lunge Mine is an anti-tank explosive strapped to the end of a pole, which a daring (suicidal) wielder can strike into the side of a tank. Needless to say, the resultant explosion tended to have deadly results for both tank and wielder alike. However, it seems as though the Battlefield 5 version may be a bit more forgiving to its user.