Sure, the National Football League may be in the offseason, but that's no excuse not to flex those skills on Madden 19. The EA Madden Ultimate Team mode continues to add brand new content despite the layover. The latest is the Madden 19 NFL Scouting Combine 2019 promo which adds a variety of new challenges, packs, and Standout, Stars, and more to Ultimate Team. It also adds a great 99 OVR card. Here are more details on what we learned on Tuesday afternoon about Madden's new promotional event.
Madden 19 NFL Scouting Combine: Standouts, Stars Cards, & Master CJ2K
A recent Madden Ultimate Team Offseason event brought Team MVPs, Squad Builders, and unique challenges into the game. The newest MUT event brings a new Scouting Combine theme with brand new cards and challenges. On Tuesday, we got the first look at what's available in this exciting new event.
The NFL Scouting Combine helps team scouts evaluate prospective players for their rosters ahead of the NFL Draft. Usually, a variety of events test the college prospects on things such as their speed, power, jumping ability, strength, and other key attributes. As a way to honor some of the recent players who excelled at the Combine, EA Madden unveiled a batch of new player cards on their Twitch channel.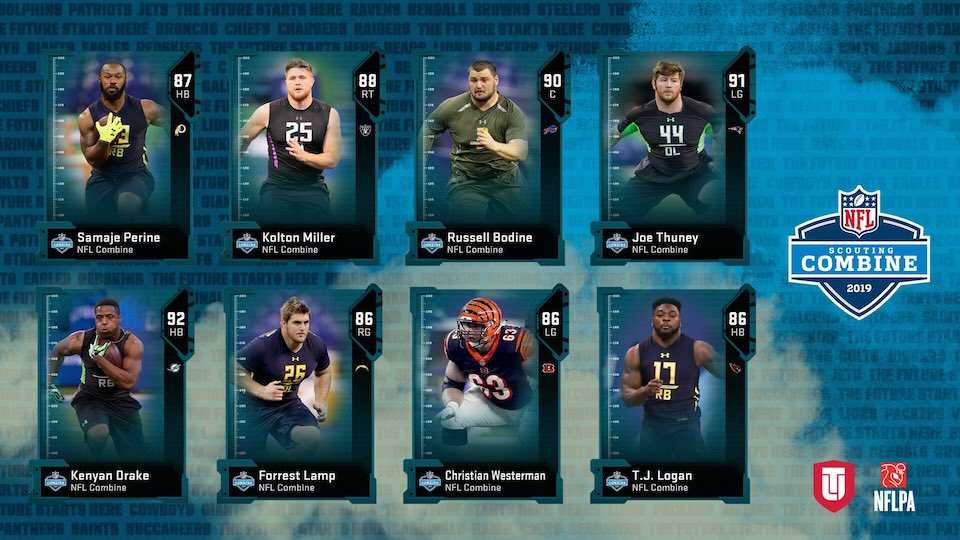 The cards are called Combine Standouts and carry ratings anywhere from the mid-80s to low 90s. They're not upcoming college players or rookies (anymore). These are guys who already earned their spots in the NFL. Among the top cards shown are a 90 Russell Bodine (Bills), 91 Joe Thurney (Patriots), and 92 Kenyan Drake (Dolphins).
Madden 19 NFL Scouting Combine: Stars, Master CJ2K
There are also Combine Stars and an impressive 99 CJ2K Masters Card. These cards bring even higher skills ratings. They include a 97 OVR Christian McCaffrey (Panthers), 97 Tommy Bohanon (Jaguars), and a sweet 99 Chris Johnson (Titans). Check out Johnson's card below complete with 99s for Speed, Elusiveness, and Acceleration, as well as a 98 Agility. Wow!
Gamers will actually get a Chris Johnson card just for signing into Ultimate Team as part of the new Madden Scouting Combine promo event. However, it won't be the 99 card below. Instead, it'll be an 85 OVR Johnson with lower skills ratings. That Johnson card is best to use with a new MUT roster or to quick sell for 120 Scouts currency.

Madden 19 NFL Scouting The Combine, Daily Drills Solo Challenges
Just like other Madden Ultimate Team events, there will be new Scouting Combine 2019 Challenges to help achieve sets, cards, points, currency, or other content. The Madden team revealed details about the "Scouting The Combine" and Daily Drills.
With "Scouting The Combine," there are 20 challenges which will rack up 10K worth of coins along with 1,850 Scouts currency. Gamers also get a special Combine uniform and trophy for completing all of those challenges.
With the Daily Drills, these are daily Solo Challenges which help earn coins, Scouts currency or Combine trophies. The Daily Drills change every 24 hours for the Ultimate Team event. Of course, these are just the basics. It's best to head into the Madden 19 game screens to get more details on how to complete each drill or challenge.
Basically, it's been a busy day for the popular NFL game. Earlier on Tuesday, we reported on the new Madden title update which brings adjustments for catches in traffic, pass coverage, and fixes a few glitches. In addition, we now have brand new Scouting Combine content in Ultimate Team to consume. Despite the NFL offseason, it's always football season in Madden 19!