Gamers have about three months until they can begin playing the new Madden 20 game. However, Madden 19 Ultimate Team is still bringing new content and value. The latest added content includes more 2019 rookies from the later rounds of the recent NFL Draft. Here's a look at who all is now in the game ahead of the 2019 season.
Latest 2019 NFL rookies to join Ultimate Team
When the 2019 NFL Draft arrived last Thursday in Nashville, Madden Ultimate Team had their own draft event going as well. Gamers were able to complete sets of special cards to trade in for this year's new rookies. However, it was only first-round players drafted No. 1 through No. 32. That meant top picks like Kyler Murray, Josh Allen, and Quinnen Williams were available in the promotion, but later picks were not.
That changed on Thursday (May 2) when the Madden Twitch "Daily Drops" crew announced additional rookies. A tweet shows off several of those picks including wide receiver Deebo Samuel (49ers) and quarterback Drew Lock (Broncos).
Both players have 94 ratings and high attributes, which has drawn some disgust from the community. That's because some of an unproven rookie quarterback's stats may be much better than those of a veteran in the league. One gamer even pointed out that Russell Wilson lacks the same skill as Drew Lock.
Wilson received a Ghosts of Madden card during the past months. It featured a 95 OVR but his Throw Power was 93. That's two below what the Broncos rookie QB received on his new card's attribute. Still, this could be a way to test the potential Lock has to become an elite star, until the new Madden 20 game drops.
Full Madden 19 rookies list of new players
The latest draft players arrive from mostly the second and third round of the recent NFL Draft. The additional rookie cards are beneficial for gamers with theme teams. In addition, it's a way to test out that new future star with what could become a similar card they receive at some point in Madden 20.
Among the latest additions are Deebo Samuel, Drew Lock, Zach Allen, and David Montgomery. So Bears fans will get to test out the heir apparent to Jordan Howard if they can get Montgomery's new MUT card. Have a look at the card for the player who may have the coolest name from this year's draft class, Rock Ya-Sin.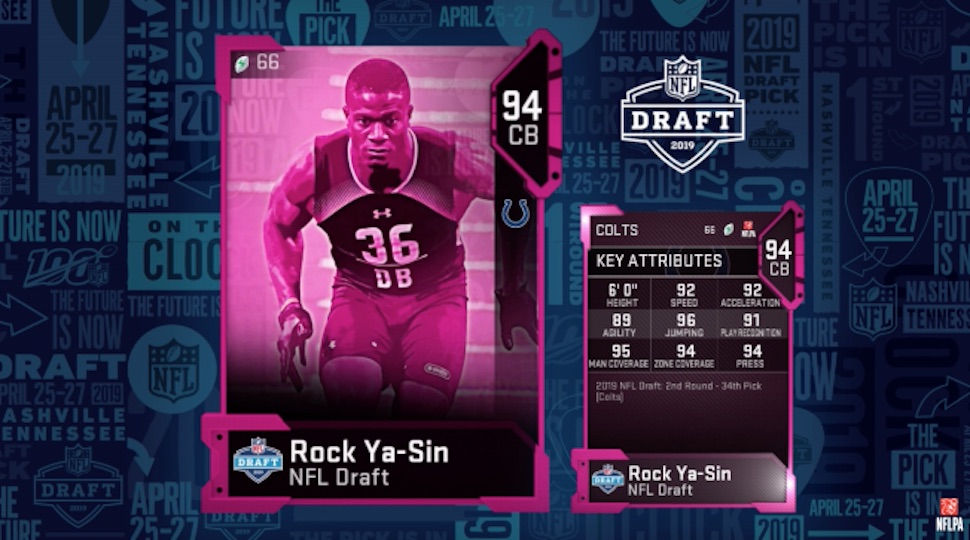 Here's the full list of new rookies available through the Madden draft event.
LG Zach Allen (Cardinals) 92
WR A.J. Brown (Titans) 93
RT Cody Ford (Bills) 94
HB Damien Harris (Patriots) 92
RG Elgton Jenkins (Packers) 94
DT Dre'Mont Jones (Broncos) 92
QB Drew Lock (Broncos) 94
CB Julian Love (Giants) 91
HB David Montgomery (Bears) 92
CB Amani Oruwariye (Lions) 91
LB Jachai Polite (Jets) 92
WR Deebo Samuel (49ers) 94
TE Irv Smith Jr. (Vikings) 93
RT Jawaan Taylor (Jaguars) 94
FS Juan Thornhill (Chiefs) 93
LB Mack Wilson (Browns) 91
CB Rock Ya-Sin (Colts) 94
By the way, another content drop arrives next Tuesday in Ultimate Team. Some fans are still hoping to see the arrival of the Seattle Seahawks rookie DK Metcalf, who recently teased his Madden 20 player.
Madden's Twitch also begins their live stream videos about the new Madden 20 game tonight. Check out the Madden 20 Twitch schedule here.
Get more of the latest information, news, and how-to help at our Madden page.