With the NFL's regular season over for several weeks now, it's now time for the top players of the year to get their recognition in Madden 19. On Monday, EA announced the lineup for their new Madden 19 Ultimate Team of the Year. It's quite stacked as you might expect. Among the stars who are representing for the team are the New Orleans' Saints Drew Brees and Los Angeles Rams' Todd Gurley. Those two players will be involved in an upcoming game, as will several other members of the new MUT TOTY.
Brees, Gurley lead Madden 19 Ultimate Team of the Year
In a shocking reveal, the New Orleans Saints' Drew Brees was named the quarterback for the Madden 19 Ultimate Team of the Year. It's shocking mainly because some may have felt the Kansas City Chiefs' Patrick Mahomes deserved the spot for his body of work. Still, it's hard to ignore what Brees did with the Saints.
He had 3,992 passing yards and threw 32 touchdowns. While that seems to pale in comparison to Mahomes' 50 touchdowns, the Chiefs star was picked off 12 times while Brees was intercepted just five times. That's impressive stuff along with the fact he led the Saints to the No. 1 seed in the NFC. That brings a 97-rated TOTY player card for Brees.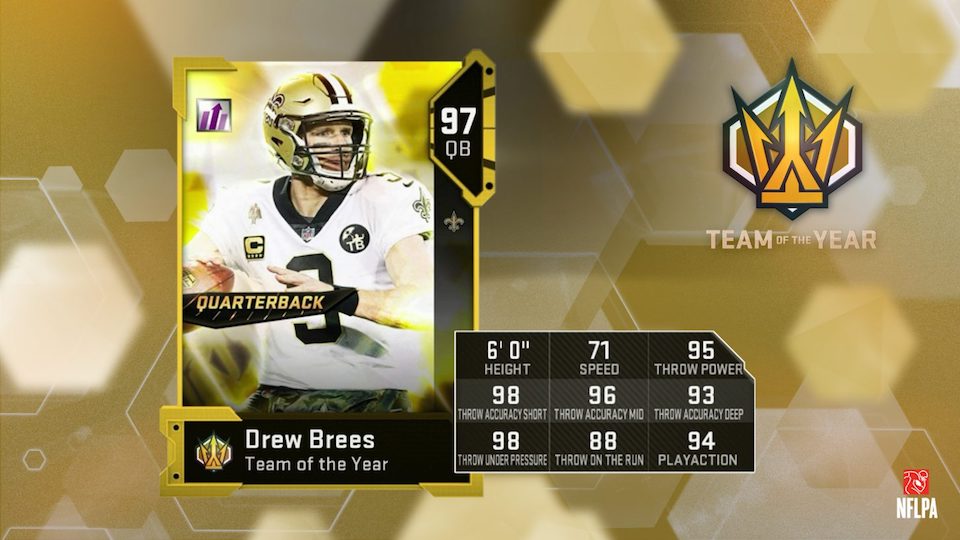 Joining Gurley for the offensive side of things will be Rams running back Todd Gurley III. He was third in the NFL this past season in rushing with 1,251 yards and a league-leading 17 touchdowns. In addition, Gurley's Rams were the No. 2 seed in the NFC. Gurley picks up a 98-rated player card for TOTY which is sure to be a sweet addition to MUT lineups!
Interestingly, these two players will be involved in a huge showdown on Sunday (Jan. 20). Los Angeles will visit New Orleans for the NFC Championship Game involving the Rams and Saints. The winner moves on to the Super Bowl.
Madden 19 Ultimate Team of the Year: Complete lineup, ratings
While those two NFL stars are highlighted above it shouldn't take away from the rest of the lineup. The Madden 19 TOTY gives the necessary respect to each position on their team. That includes the kicker and punter all the way to the left guard, linebackers, and defensive stars. Below are all of the players who made the latest Team of the Year roster.
Adam Thielen, WR, Vikings (96)
Akiem Hicks, LE, Bears (95)
Alex Mack, C, Falcons (95)
Andre Roberts, WR,  Jets (94)
Bobby Wagner, MLB, Seahawks (98)
Brett Kern, P, Titans (96)
Chandler Jones, RE, Cardinals (94)
Chris Jones, RE, Chiefs (95)
Damon Harrison Sr., DT, Lions (96)
Darius Leonard, ROLB, Colts (96)
David Bakhtiari, LT, Packers (95)
Desmond King, CB, Chargers (95)
Drew Brees, QB, Saints (97)
George Kittle, TE, 49ers (95)
Jamal Adams, SS, Jets (94)
James White, HB, Patriots (94)
Joe Schobert, MLB, Browns (94)
JuJu Smith-Schuster, WR, Steelers (95)
Kevin Byard, FS, Titans (95)
Kyle Fuller, CB, Bears (96)
Kyle Juszczyk, FB, 49ers (95)
Leighton Vander Esch, LOLB, Cowboys (96)
Marshal Yanda, RG, Ravens (96)
Myles Garrett, RE, Browns (97)
Quenton Nelson, LG, Colts (96)
Robbie Gould, K, 49ers (96)
Rob Havenstein, RT, Rams (95)
Stephon Gilmore, CB, Patriots (95)
Todd Gurley, HB, Rams (98)
Tyreek Hill, WR, Chiefs (96)
A seen above, everyone has ratings in the mid-to-high 90s for the new TOTY cards. Todd Gurley and Bobby Wagner lead the way with 98s, the highest rating of any players in the lineup. The Cleveland Browns' Myles Garrett joins Drew Brees as the TOTY's only 97-rated players.
Madden 19 Ultimate Team of the Year in-game details
These Team of the Year player cards will be available in Madden 19 through January 23. All gamers will also get a "Welcome Pack" just for signing into Ultimate Team mode. That pack features an 80 overall player card. There will also be a Solo challenge involving Games of the Year to earn one TOTY player. By completing sets, gamers can earn more of the players from this stacked lineup.
Learn how to upgrade Ultimate Team players or check out the MUT NFL Playoffs event for more great stuff in Ultimate Team. Also, visit our Madden page for the latest news and guides on the popular football game.