As of the past few days, Madden 19 Ultimate Team revealed a few new player cards as part of their ongoing playoff performers. The latest cards are comprised of special players from the past year who put in a solid effort to help their team out during the postseason. The latest drop includes two guys who aren't participating this 2019 NFL playoffs but who were contributors in a recent postseason.
Madden 19 Ultimate Team Playoff Performer: Packers' Randall Cobb
Recently, Madden Ultimate Team dropped Playoff Wild Card stars. On Thursday, there are a few brand new MUT Playoffs Performers from the past few years to check the game for. The Madden Daily Drops on Twitch showcased both players in a new video. These are limited availability player cards, but definitely are worth the grab based on their ratings.
First up is Green Bay Packers wide receiver Randall Cobb. The talented Green Bay receiver was part of Packers' playoff runs in 2014, 15, and 16. In his most recent of those (2016), he had 18-of-24 passes for 260 yards and three touchdowns.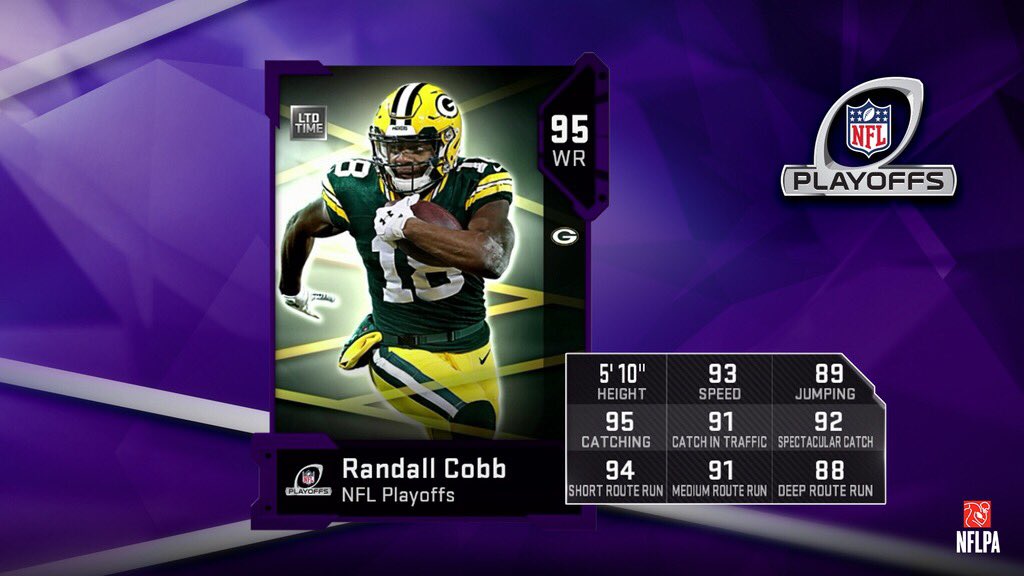 As seen above, Cobb brings a stellar bunch of skills ratings including that 95 Catching, 94 Short Route Run, and the 93 Speed. All of that ends up helping to give him a 95 overall player card. That should give a solid boost to Madden Ultimate Team rosters in need of a steady wide receiver.
Madden 19 Ultimate Team Playoff Performer: Jaguars' Jalen Ramsey
The Jaguars' Jalen Ramsey is another new Ultimate Team Playoff Performer card to look for. The talented corner was a star for the Jacksonville squad that nearly dethroned Tom Brady and the New England Patriots last postseason.
Ramsey appeared in three games during the 2017 NFL Playoffs. He'd end up with an interception and seven solo tackles, as well as an assisted tackle during that time. Having him roaming the field as AFC QBs tried to connect with their receivers was a major help for the Jags' run.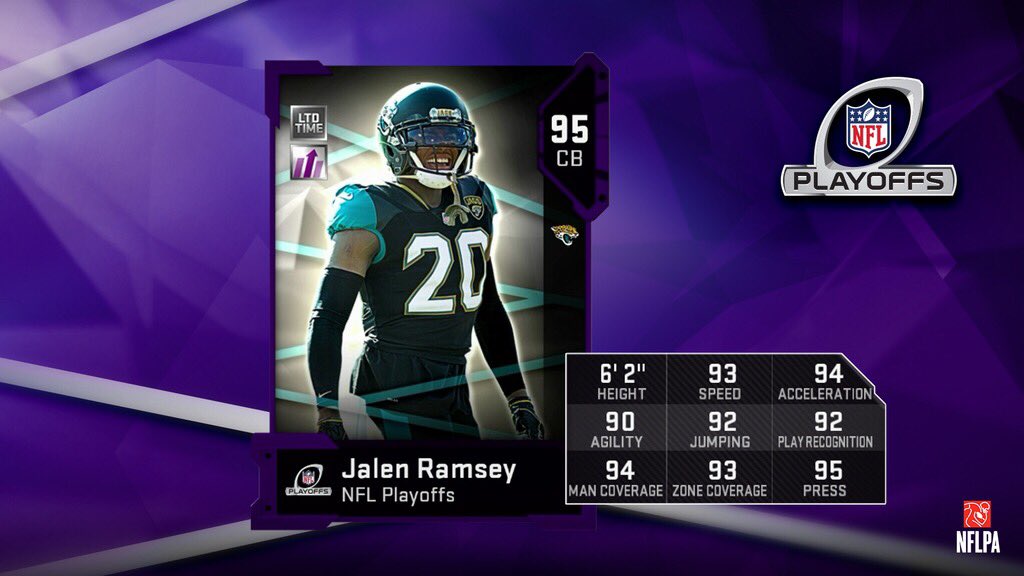 Ramsey also gets a 95 overall player card. It includes 90 ratings across the board too. As seen above, his best skills include a 95 Press, 94 Man Coverage, 94 Acceleration, and 93 Zone Coverage. That's a great addition to your roster if you're trying to prevent those big passing plays down the field.
The Madden Ultimate Team Playoff Performer cards are available for a limited time. However, they join a fun NFL Playoffs event that is ongoing in the game. Gamers can log into Ultimate Team and complete team challenges for NFL Playoff contender teams this postseason to earn great rewards.
Will you be going for the Randall Cobb or Jalen Ramsey card? Check out more of the latest Madden 19 news here.