On Wednesday, a new pair of Madden 20 Heavyweights joined the Ultimate Team program. Over the past several weeks, we've seen Madden reveal a number of these offensive and defensive line star players. The latest duo to join the mix is Jerry Hughes of the Buffalo Bills and Demar Dotson of the Tampa Bay Buccaneers. Here's a look at these new Madden 20 Ultimate Team items and where to find them in the game.
Hughes, Dotson join Madden 20 Heavyweights in Ultimate Team
Defensive end Jerry Hughes has been in the NFL since 2010 now appearing for the Indianapolis Colts in his first three seasons before moving to Buffalo. His career numbers include 48.5 sacks, 226 solo tackles, and two fumble recoveries with one touchdown.
The Bills' right end gets one of the two new 88 OVR cards for Madden 20 Heavyweights. Hughes' card includes a 90 Finesse Moves, 88 Block Shedding, and 87 Play Recognition, amongst his top attributes on the card. Here's a look at Hughes' key attributes for the new Ultimate Team item.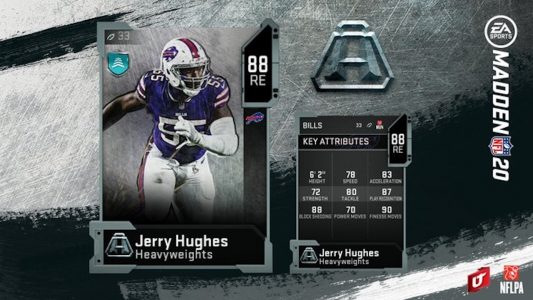 Madden 20 Heavyweights also added right tackle Demar Dotson. He's been a tackle with the Tampa Bay Buccaneers his entire career which began back in 2009. He's been a valuable part of the line too. Dotson's recorded three combined tackles along with two fumble recoveries over the years.
His 88 OVR card includes 89 Pass Block Power, along with 87s on Awareness, Pass Block, and Pass Block Finesse. Check out the key attributes below: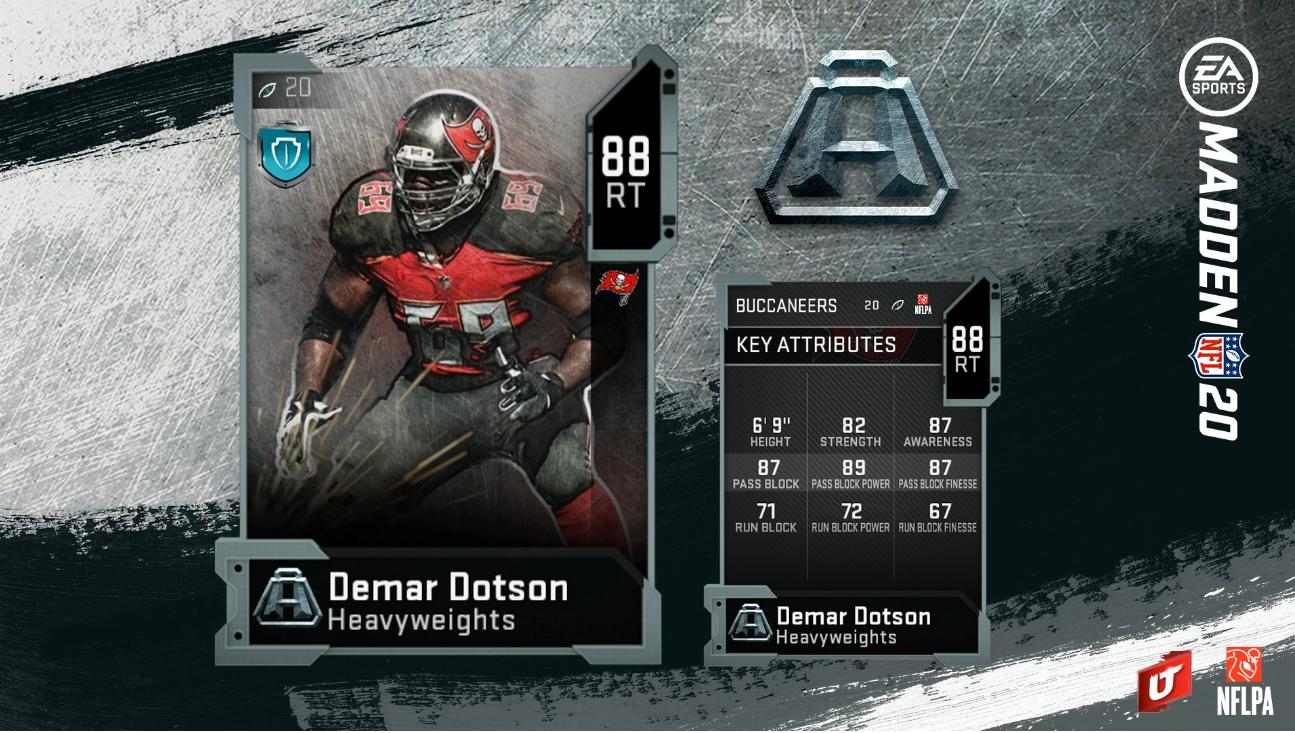 The Madden 20 Heavyweights are available in two ways right now in the game. The first is through the purchase of Heavyweights Packs at the Store. These are only available for Training and currently cost 1,780 of that in-game currency. See our guide for how to get Training in Madden 20 if you need more of it.
The other way to obtain the Madden 20 Heavyweights is through the Auction Browser. Jerry Hughes was recently going for a "Buy Now" as low as 130,000 Coins with bids as low as 123,200 Coins. The Demar Dotson was going for a "Buy Now" of 114,250 Coins with bids starting as low as 113,444 Coins.
Get more of the latest news and information about the game at our Madden page here.