It's the weekend and that means there are new Madden 20 Legends. These are higher-level MUT cards featuring all-time greats from the gridiron. During Madden 19, it included many of the big stars from over the years such as John Elway, Barry Sanders, Dick Butkus, and Dan Marino. Many of the legends are back again for Madden 20, such as last weekend's Jerry Rice and this weekend's group of stars.
Lawrence Taylor, Bruce Matthews back for Madden 20 Legends
LT and Matthews head up a trio of "new" Madden 20 Legends cards. These were unveiled on Saturday, August 10 with a live stream on the EA Madden Twitch channel. They're now officially live in the Madden 20 game. Here's a look at Lawrence Taylor who is one of the 90 OVR cards. The 6-foot-3 defensive great brings an 89 for Power Moves, 87s for Finesse Moves and Acceleration, as well an 84 speed for Key Attributes.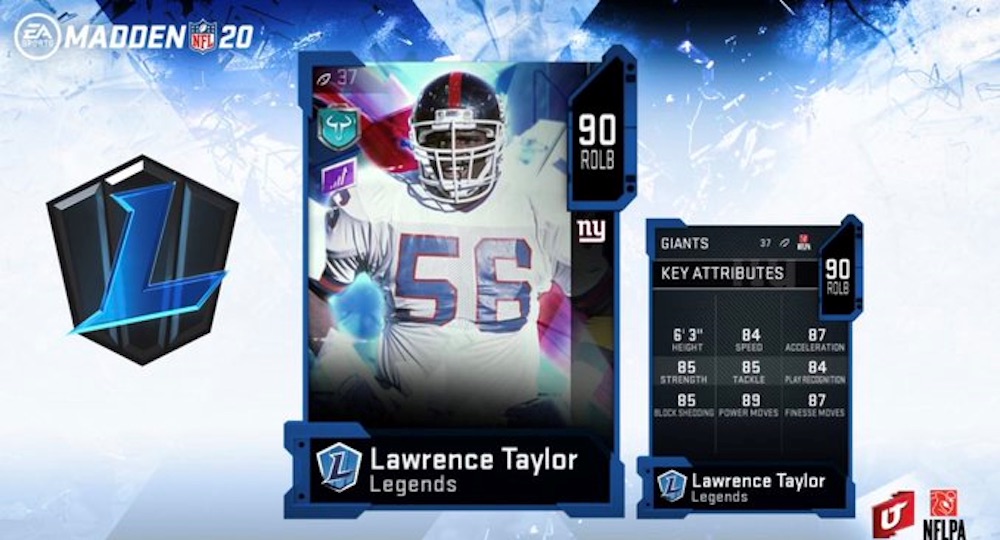 Next up is Bruce Matthews making his return to MUT Legends. The talented left guard starred for the Houston team from 1983 through 1996. That was just before they became the Tennessee Titans in 1997. He ended his legendary career with Tennessee in 2001.
Matthews is also a 90 OVR for Madden 20 Ultimate Team Legends. His Key Attributes include 89s for both Awareness and Run Block Finesse. Matthews also has 88s for Pass Block, Pass Block Pressure, and Run Block, along with a nice 87 for Strength. Oh yea, he's also 6-foot-5 making him a beast of a player out there on your MUT squad.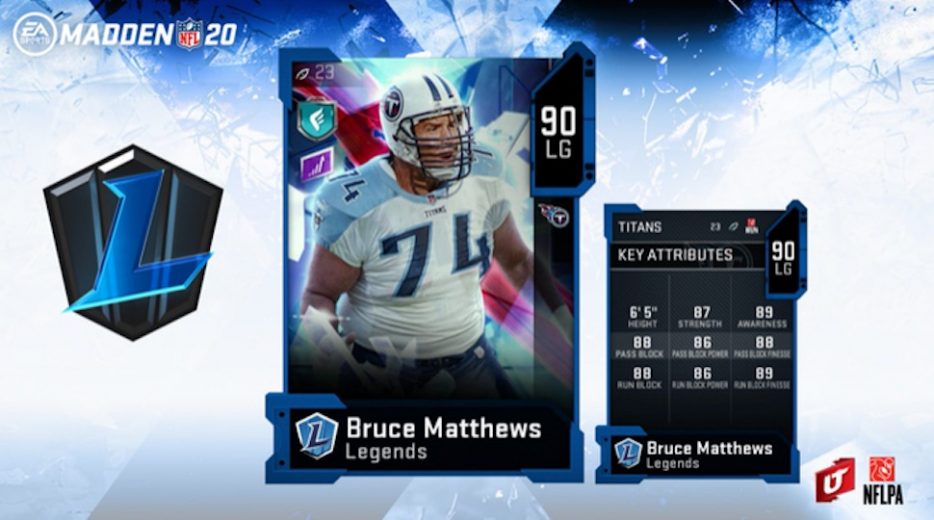 Last but not least is Kellen Winslow with a 91 OVR Legends Boss card. His card is the only of the three that brings any 90 ratings with 91 Short Route Run as well as 90 Catching and 90 Spectacular Catch. He's a 6-foot-5 tight end giving gamers a nice option at that position until a Rob Gronkowski Legends card happens to arrive!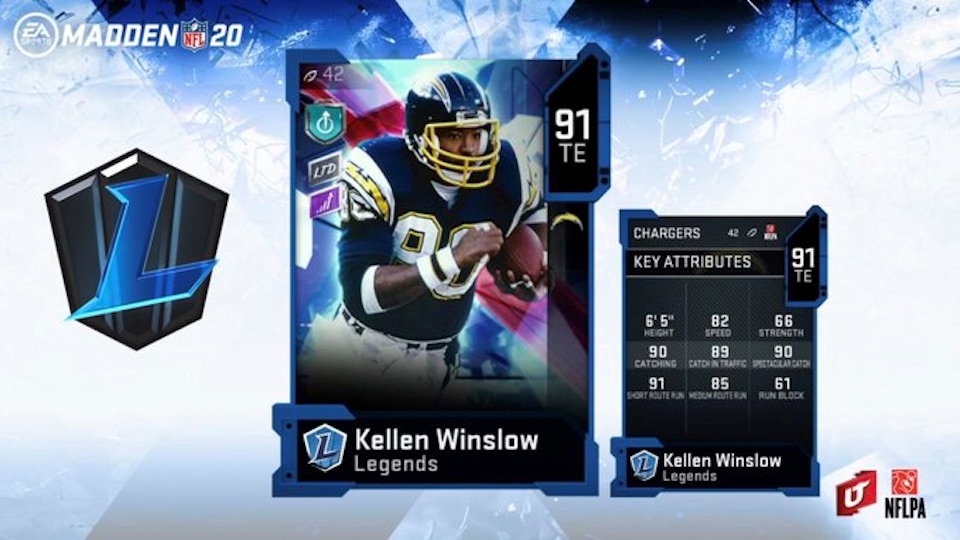 How to get the new Ultimate Team cards
Each of these players has five other cards with an 82, 83, 84, 86, and 88 OVR. There's also a 76 OVR Power Up card for each player. However, to get the player's 90 OVR Legends Boss card you'll need to complete the Legends Set.
That means collecting the specific players' other cards to assemble the set. The cards are available through packs or at the Auction House. Additionally, gamers are able to purchase these Legends Boss cards at the Auction House, for a price.
Each weekend, there will be new Madden 20 Legends coming to Ultimate Team so stay tuned! Get more of the latest updates about the Madden game here.