While the EA Madden morning Twitch streams have been absent the past few days, Ultimate Team content continues to arrive. Yesterday, we saw a brand new pair of Madden Heavyweights players. On Thursday, November 7, two more Madden 20 Signature Series players joined Ultimate Team with Cooper Kupp and Quinton Dunbar now available.
Kupp, Dunbar join Madden 20 Signature Series
Los Angeles Rams wide receiver Cooper Kupp and Washington Redskins cornerback Quinton Dunbar each get 92 overall items for Madden 20 Signature Series. For Kupp, his item includes a Power Up, as well as 91 Catching, 90 Medium Route Run, and 89 Short Route Run, but the 86 Speed may not be ideal for some MUT rosters. Still, Rams theme teams will benefit from having Kupp as part of the receiving group.
As far as Quinton Dunbar's 92 OVR item, it isn't Power Up-enabled, but he brings a 93 Acceleration, 91 Play Recognition, 90 Speed, and 90 Press amongst key attributes. These brand new items are available for a limited time in packs as outlined below.
The two new Madden 20 Signature Series cards are available for just 48 hours. So they'll be randomly found in packs until Sunday, November 9 at 10 a.m. Eastern Time. The players also are available through the Ultimate Team's Auction Browser for varying prices.
As of this report, the Cooper Kupp card's "buy now" prices were from 935,000 to 1.3 million Madden Coins. Quinton Dunbar's item had buy now prices ranging from 414,000 up to 2.5 million at the Auction Browser for PS4. Here's a look at some of the latest auctions for Dunbar from the PlayStation 4: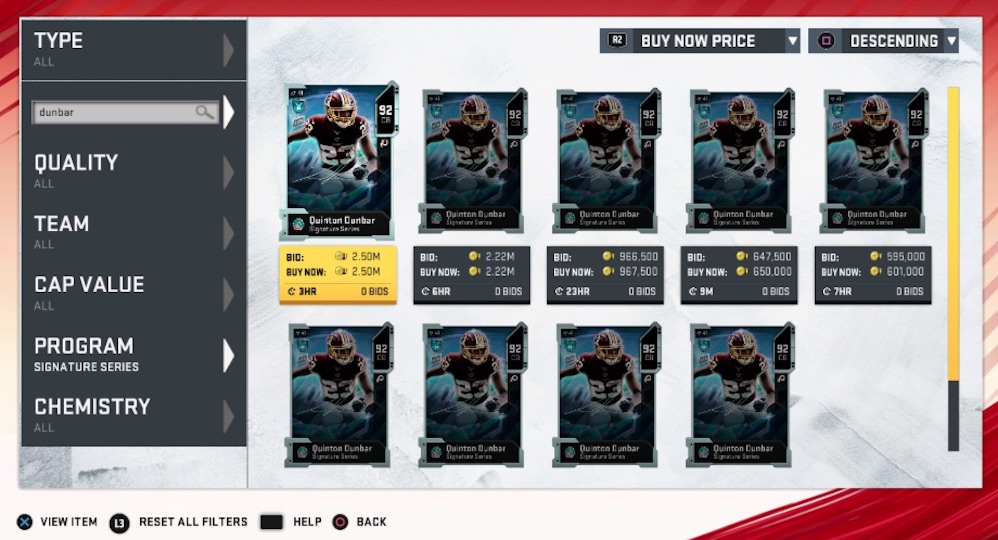 The new Madden 20 Signature Series cards have a quicksell value of 250,000 Madden Coins for gamers who want to sell fast. Previous players released for Signature Series have included Derek Carr, Evan Engram, Jason Kelce, Sony Michel, and Philip Rivers.
Get more of the latest Madden 20 news here including Ultimate Team and other game updates. See more details about Ultimate Team mode on the official EA Madden site.