Two more players have now joined the group of Madden 20 Signature Series upgraded items. On Thursday (Oct. 24), EA revealed the latest player cards as the Oakland Raiders' Derek Carr and the Cleveland Browns' Demarious Randall. Here's a look at what their new cards bring to Ultimate Team rosters as well as how to get them in the game.
Derek Carr & Demarious Randall's new Madden 20 Signature Series items
Oakland Raiders quarterback Derek Carr is the new offensive player for Madden 20 Signature Series with a limited card. In six games this season, Carr has thrown for 1,410 yards and eight touchdowns to lead Oakland to a 3-3 record. He now gets a new LTD item with a sweet 92 overall rating.
Carr's upgraded card also features 92 Throw Accuracy Deep, 91 Throw Accuracy Short, 90 Throw Power, and 90 Play Action. In addition, it has that Oakland Raiders' Chemistry among other options. Carr is a Strong Arm archetype as shown on his new item below.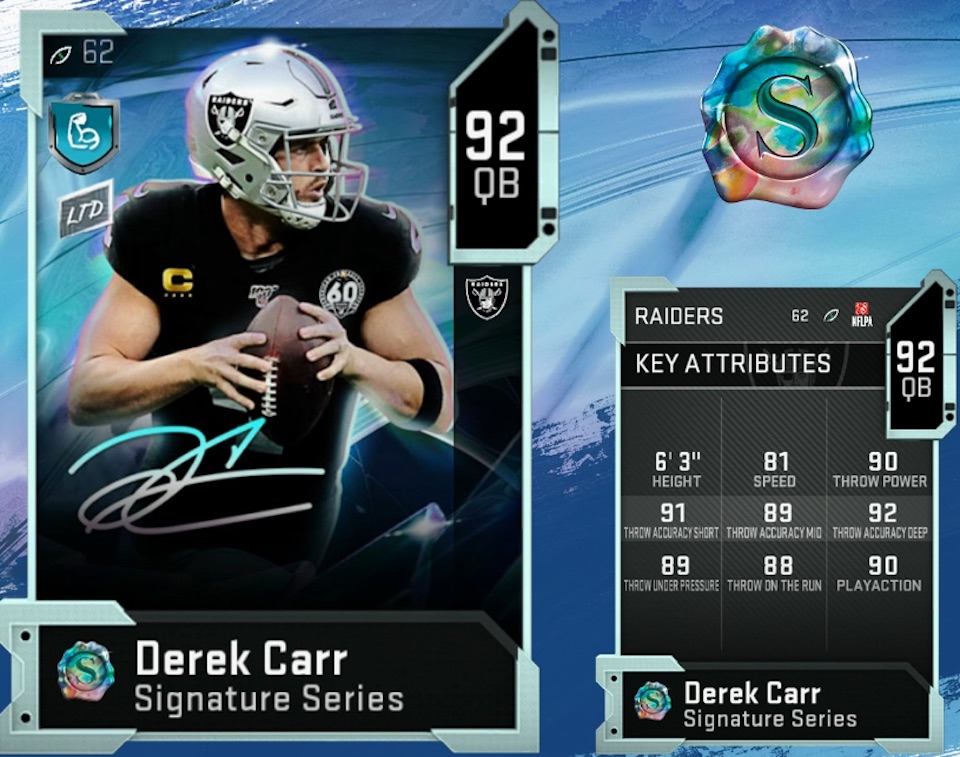 For the defense, Madden 20 Ultimate Team rosters can get the new Demarious Randall as a strong safety option. His 92 OVR item brings a Power Up symbol along with Cleveland Browns Chemistry to boost Randall and MUT rosters. The 5-foot-11 FS has 92 Zone Coverage, 90 Pursuit, 90 Play Recognition, and 89 Acceleration.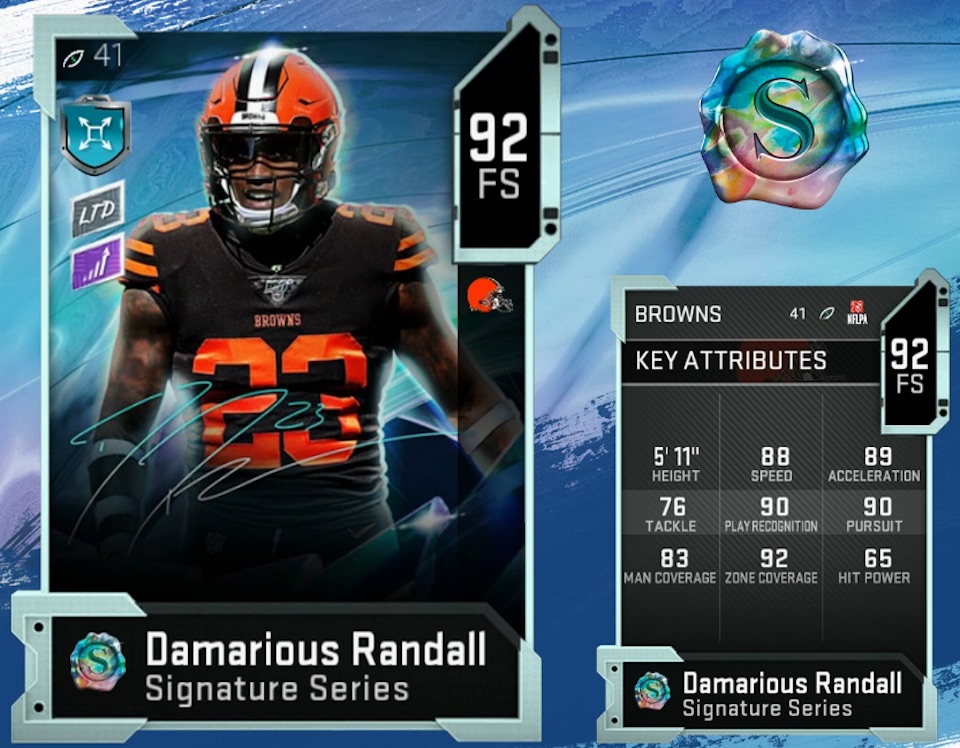 Where to get the player cards in Ultimate Team
Both Derek Carr and Demarious Randall's new Madden 20 Signature Series are now available in Packs, but for a limited time. They'll be in Packs through October 26 at 10 a.m. Eastern Time. There aren't specific Signature Series Packs right now, though. So it may mean spending Coins, Training, or Points to try to randomly land either Carr or Randall.
As with other player items, these will also hit the Auction Browser shortly after they arrive in Ultimate Team. Prices can be high, so make sure you have plenty of Madden 20 Coins in your account to bid or buy if you want a specific player on your squad.
We've already seen one Derek Carr going for 1.75M Coins, as of this report. By the way, his card also has a Quicksell value of 250,000 Coins so keep that in mind if you land the item and need quick currency.
See more of VGR's Madden news including Ultimate Team or other game updates.