As of Friday, February 21, the Madden 20 Theme Builders 2.0 program has officially arrived. It brings a variety of new content into the Ultimate Team mode. That includes Solo Challenges, Store offers, and of course, brand new players' cards. Each team has a variety of new player cards available to help boost the squad's overall ratings. We've got the full list here with more details about the program.
Madden 20 Theme Builders 2.0 players: Offensive & Defensive MVPs
The Madden 20 Theme Builders 2.0 program follows up a TB promotion that arrived months ago. TB2 brings each NFL team a number of upgraded players. However, the best of the bunch is the new Offensive and Defensive MVP player items with 97 overall ratings.
Each team has an Offensive and Defensive MVP player card and they bring two-times Chemistry boosts making them that much better. Gamers can also use Madden Training on these players for other upgrades.
Here's a look at just four of the MVP player cards that were teased by @mut_news1 on Twitter Thursday night. They include Titans quarterback Ryan Tannehill and Cowboys QB Dak Prescott.
Here is the complete list of each team's 97 OVR MVPs.
Bears: Allen Robinson & Kyle Fuller
Bengals: Tyler Boyd & Carlos Dunlap
Bills: John Brown & Jordan Poyer 
Broncos: Courtland Sutton & A.J. Johnson
Browns: Jarvis Landry & Sheldon Richardson 
Buccaneers: Mike Evans & Shaquil Barrett 
Cardinals: Christian Kirk & Jordan Hicks
Chargers: Keenan Allen & Melvin Ingram III
Chiefs: Damien Williams & Frank Clark
Colts: Quenton Nelson & Darius Leonard 
Cowboys: Dak Prescott & DeMarcus Lawrence
Dolphins: Ryan Fitzpatrick & Jerome Baker
Eagles: Carson Wentz & Fletcher Cox
Falcons: Alex Mack & Deion Jones
49ers: Joe Staley & Fred Warner 
Giants: Saquon Barkley & Antoine Bethea
Jaguars: Gardner Minshew II & Yannick Ngakoue
Jets: LeVeon Bell & Brian Poole
Lions: Kenny Golladay & Damon Harrison Sr
Packers: Aaron Jones & Kenny Clark
Panthers: D.J. Moore & Shaq Thompson
Patriots: James White & Devin McCourty 
Raiders: Darren Waller & Tahir Whitehead
Rams: Cooper Kupp & Michael Brockers 
Ravens: Mark Ingram II & Earl Thomas III
Redskins: Brandon Scherff & Quinton Dunbar
Saints: Ryan Ramczyk & Cameron Jordan
Seahawks: Tyler Lockett & K.J. Wright
Steelers: Alejandro Villanueva & T.J. Watt
Texans: Laremy Tunsil & Justin Reid 
Titans: Ryan Tannehill & Jurrell Casey
Vikings: Dalvin Cook & Eric Kendricks
How to get the Offensive and Defensive MVPs
The 97 overall players up above are pretty impressive in terms of attribute ratings. Adding them to your team involves assembling a set of other Theme Builders 2.0 players. So for example, to get Bears Offensive MVP Allen Robinson, you'll need five other Bears Theme Builders cards for the set. We have that example in the screenshot below.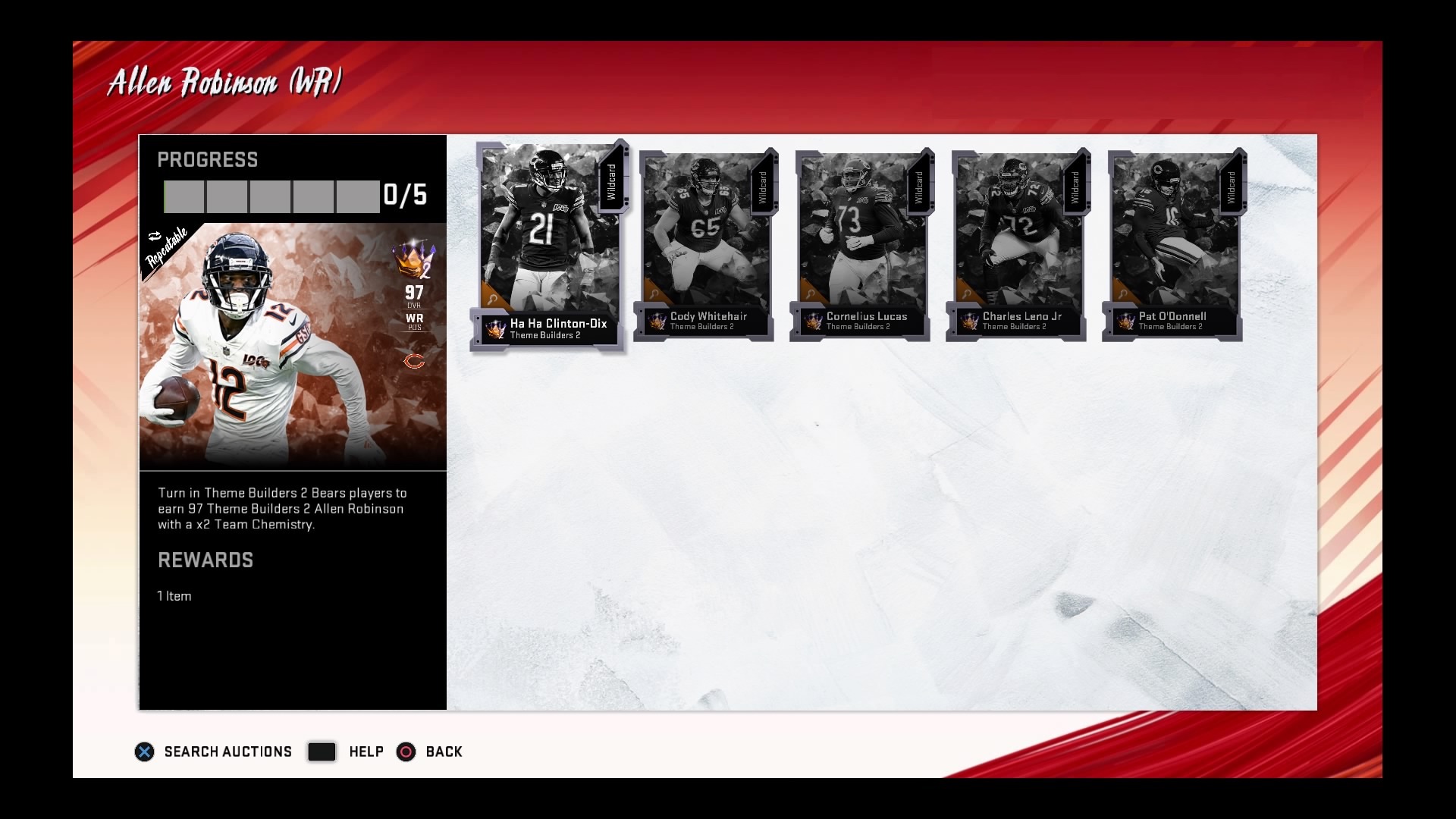 You can find all of the sets by going into Ultimate Team and scrolling to the "Team" menu up top. Choose "Sets" and then "Theme Builders" followed by the Theme Builders 2 option. There you'll see options for Offense and Defense to show the different sets necessary to get the MVPs. You can also check out MUTHEAD's post here which features a great set of links to all of the players.
To get the necessary players for the sets, gamers can purchase packs or Store Offers to try to randomly acquire them. There are also new Solo Challenges to help earn Theme Builders 2 players. There's also the Auction House.
On another note, you can also exchange any seven 85 to 87 OVR Theme Builders 2 players for a random 90 to 95 OVR Theme Builders 2 player.
Once you complete a set of the five players' cards, it becomes permanently exchanged for the particular Madden 20 Theme Builders 2 MVP. You won't get back any of the cards that you put into that set.
Early on, it looks like the Cowboys' DeMarcus Lawrence and Giants' Saquon Barkley are popular items at the Auction Browser. We've seen the 97 OVR MVP player item listings in a range of 330,000 to over 730,000 Madden Coins per this report.
Visit our Madden news page for more of the latest details for Ultimate Team and other game updates.