On August 12, Madden Ultimate Team added more content with the first group of Madden 20 Veterans. There's no major surprise with regards to what the program consists of, as it features veteran NFL players. Among the first players revealed were quarterback Ryan Fitzpatrick and halfback Frank Gore. Here are more details about the latest Madden 20 Ultimate Team program.
Ryan Fitzpatrick, Frank Gore amongst Madden 20 Veterans
Veterans arrived in the form of several Hall of Fame MUT 20 Legends this past weekend. On Monday, the EA Madden Twitch stream presented the first eight of the Madden 20 Veterans. What makes these particular cards unique is their lack of a specific team chemistry. So far, these are the only player cards in Madden Ultimate Team which will allow you to use the players for chemistry on multiple teams.
So for example, journeyman quarterback Ryan Fitzpatrick played for eight different teams. His card shows him on the Miami Dolphins, his most recent team. However, he played for the Buccaneers, Jets, Texans, Titans, Bills, Bengals, and Rams during his career.
So gamers who have their Madden Ultimate Team based on any of these teams can gain chemistry with Fitzpatrick's Veterans card. Check out the Fiztpatrick card below which brought the "oohs" and "aah" during the EA Madden Twitch stream.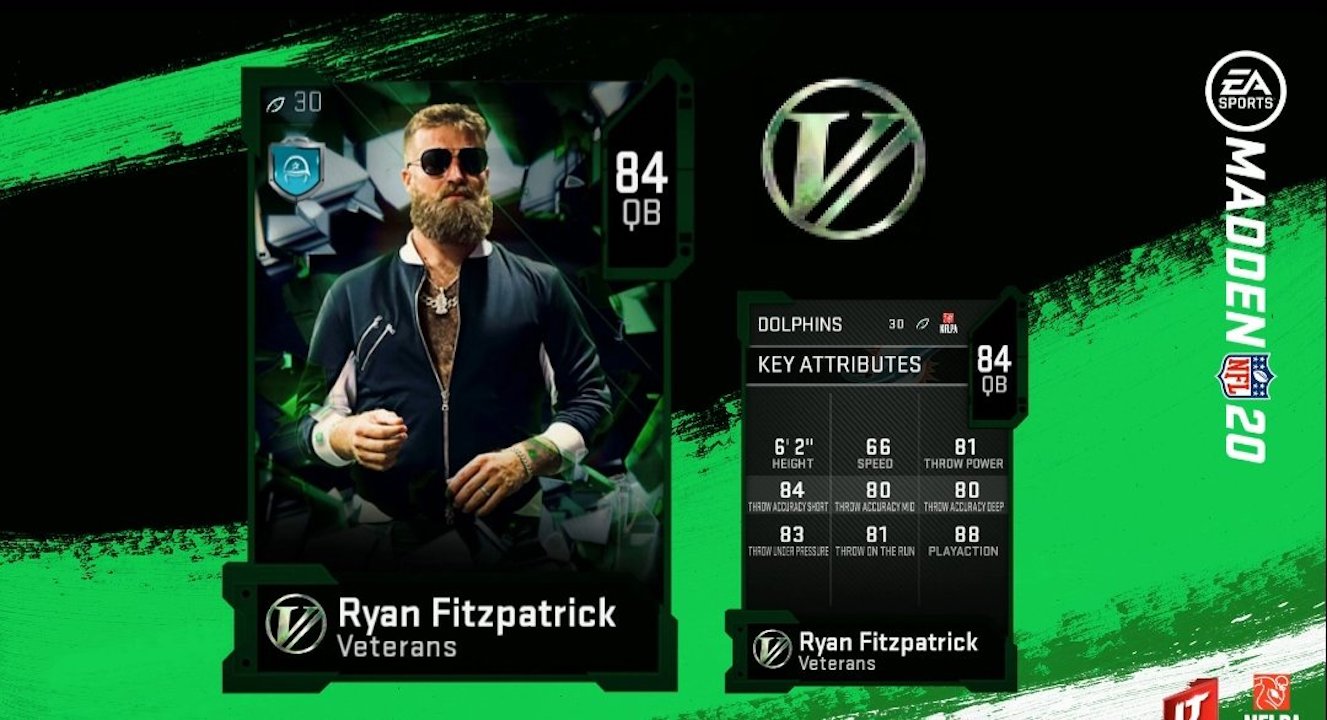 Here's a look at all eight of the Madden 20 Veterans cards unveiled on Madden including Hall of Fame halfback Frank Gore, Chicago Bears defensive star Prince Amukamara, and wide receiver Brandon Marshall. Interestingly, only the Patriots' Michael Bennett has the Madden Power Up symbol on his card.
Here's the full list of Madden 20 Veterans that dropped today:
ROLB Lorenzo Alexander (Bills) 84
CB Prince Amukamara (Bears) 84
LE Michael Bennett (Patriots) 85
QB Michael Fitzpatrick (Dolphins) 84
HB Frank Gore (Dolphins) 85
WR Brandon Marshall (Free Agents) 85
C John Sullivan (Rams) 84
FS Eric Weddle (Rams) 85
In addition to the reveal of these new Madden Ultimate Team players, there are also a few other updates. Weekend League and Solo Battles are suspended this week due to server disconnect issues. There's a title update coming to address some of the issues this week, but they're still waiting on some approvals for the update from Microsoft and Sony.
In the meantime, gamers will be playing the House Rules until the return of these other features. Get more of the latest Madden 20 news here.