We're up to Madden's ninth installment in the Ultimate Team Legend series with two more players now available. For this weekend's player items, gamers will find offensive threat Edgerrin James and defensive great Deacon Jones. Both players will have high-rated Boss and LTD cards along with lower-rated items and Power Ups. There are also brand new Ultimate Team challenges to go with them.
New Madden 21 Legends Deacon Jones and Edgerrin James
Deacon Jones enjoyed a career that lasted 14 years in the NFL and earned him a spot in the Hall of Fame. The bulk of his playing days were with the Rams, but he also had stints with Washington and San Diego. During his time on the field, Jones played in 191 games, had two interceptions, and 15 fumble recoveries along with two safeties.
He gets a new 93 overall LTD card as part of Madden 21 Legends Group 9. It features 93 Power Moves, 92 Play Recognition, 90 Tackling, 89 Block Shedding, and 89 Strength as key attributes. Jones will also have a new Boss Legends card and Power Up item that gamers can acquire to boost up in ratings.
Joining Mr. Jones is former Indianapolis Colts halfback Edgerrin James. Also a Hall of Famer, James was selected to four Pro Bowls and one All-Pro team in his career. He racked up 12,246 yards and 80 touchdowns due to his ground game. The majority of those yards came with the Colts, but he played three seasons in Arizona and then his final one with the Seahawks in 2009.
His 93 OVR card has a blazing fast 91 Speed, 92 Change of Direction, 92 Acceleration, 91 Break Tackle, 91 Agility, and 90 Carrying amongst his attributes.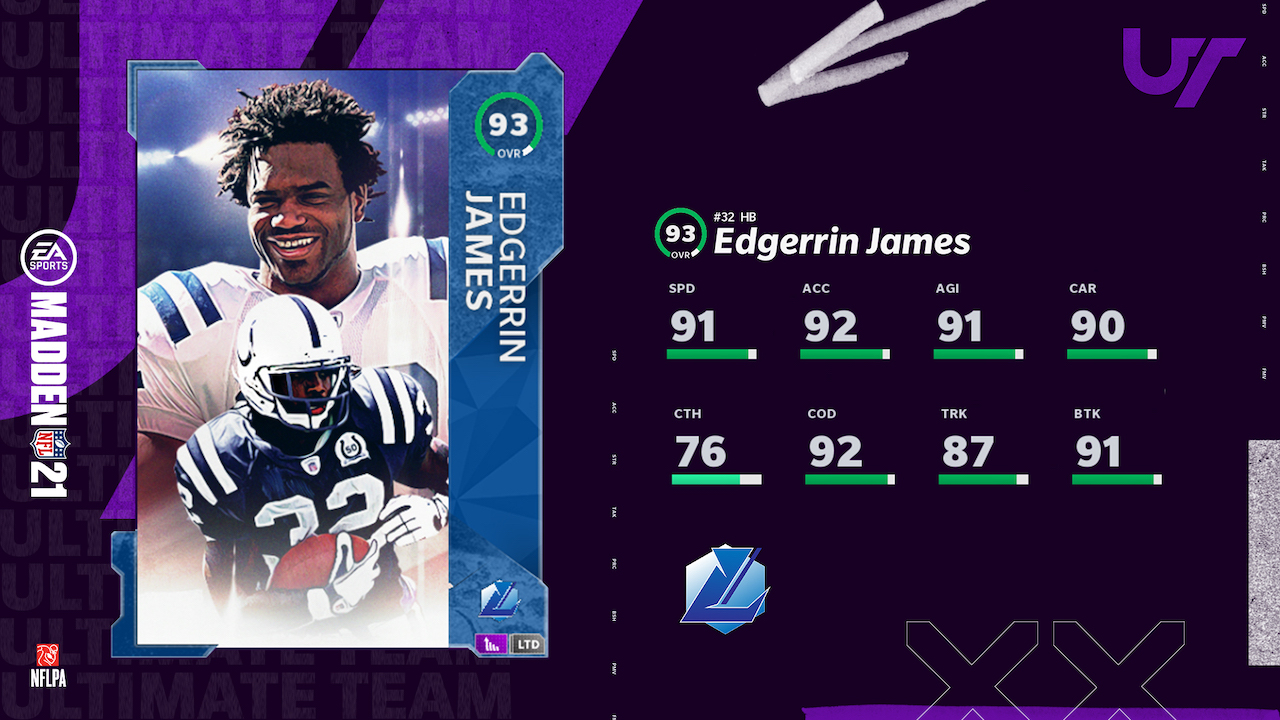 Jones and James' other items, MUT challenges
The top Madden 21 Legends Group 9 items are Jones and James' Boss and LTD items. The LTD cards are available only through packs for a limited time of about two days. They can also be purchased at the Madden Auction House for a high price.
The Boss Legends cards are available in several ways. Gamers can purchase them outright at the Auction House through bidding or a "Buy Now." The Boss Legends cards are also available through an exchange set. To get Deacon Jones or Edgerrin James, gamers need to assemble a set of the player's five other non-Boss Legends cards with lower ratings.
Last but not least, the new Legends players have Power Up items available through their new Ultimate Team challenges. The Power Ups can be given a boost using Madden Training and various player items.
In addition, one other new Challenge is available to earn a special Legends Token. By collecting a certain number of these tokens, gamers can exchange a set for a NAT Boss Legends player item.
For more how-to help and news updates, visit our Madden page here.