Just weeks prior to the release of Metro Exodus, publisher Deep Silver made a very controversial decision; to make the game exclusive to the Epic Games Store on PC. The game had already been available to pre-order on Steam, and so the decision prompted widespread anger from PC gamers. The Metro series was review-bombed on Steam, and although Deep Silver did honour existing Steam pre-orders, it is no longer possible to purchase the game on the platform; only those who pre-ordered are able to play Metro Exodus on Steam. However, in a strange turn of events, the game appears to be getting hundreds of positive reviews. All is not quite as it seems, unfortunately.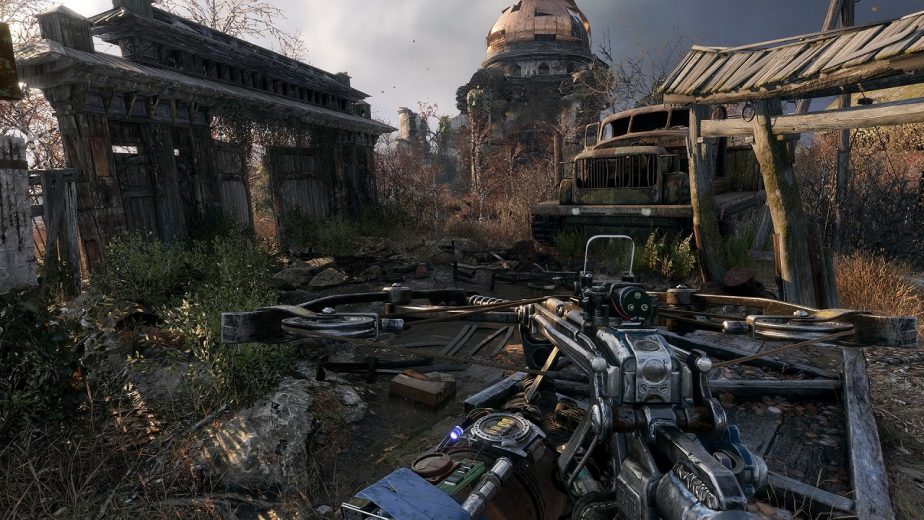 "Anti"-Review-Bombing of the Metro Exodus Steam Version
Given the widespread outrage at Deep Silver's decision, and the review-bombing of the Metro series which followed; it seemed almost guaranteed that Metro Exodus would get the same treatment. The game appears to be performing very well thus far; it has received positive reviews from most critics (at present, it holds an average score of 81.6 on Metacritic) and launch week retail sales in the UK were over 50% higher than those of Metro: Last Light. However, some gamers evidently feel that review-bombing on platforms like Steam and Metacritic is one way of noting their discontent; review-bombing has become an increasingly common phenomenon in recent years.
Nonetheless, and somewhat surprisingly, Metro Exodus actually has a "Very Positive" user review score on Steam. In fact, it already has over one thousand reviews  with such a rating. It almost seems to be the reverse effect of review-bombing, although there do appear to be mixed reasons behind the move. Certainly, many gamers are legitimately praising the quality of Metro Exodus. However, some appear to be using the review system as a somewhat roundabout way to criticise the Epic Games Store. Among the many reviews praising the qualities of Metro Exodus are some "very positive" reviews which include no text save for criticism or insults directed at EGS.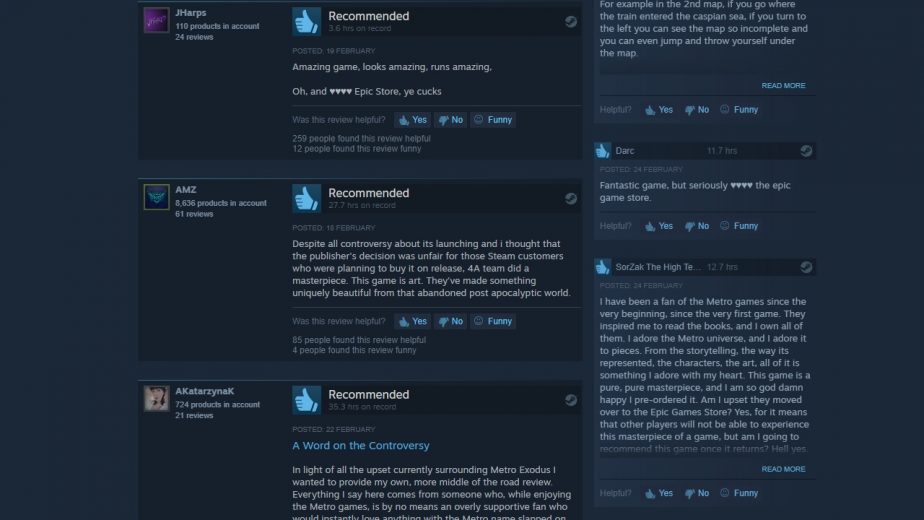 It's worth noting that Steam users cannot submit reviews unless they actually own a copy of the game in question. As such, this recent trend is solely the work of Steam users who pre-ordered and now own the Metro Exodus Steam version. Were the review forum open to all, reviews might be substantially more negative. Fortunately, it seems that hundreds of gamers are genuinely enjoying Metro Exodus on Steam, regardless of the exclusivity announcement; a fact which does speak highly of the quality of the game.