Just yesterday, we got a look at brand new NBA 2K19 Playoffs Moments cards for this past Sunday's Game 7 stars. A day later, a trio of all-time greats from the hardwood arrives in the NBA 2K19 Playoffs Throwback Moments packs. They include former NBA MVPs Steve Nash and Dirk Nowitzki, as well as "The Dream." One card stands above the other two, and it's clear why.
Steve Nash headlines NBA 2K19 Playoffs Throwback Moments packs
Yesterday, there were big Playoffs Moments cards for CJ McCollum and Kawhi Leonard. The crown jewel of today's cards is the Phoenix Suns' Steve Nash. The former MVP brings the new Galaxy Opal card to the offerings available in packs. He's joined by a pair of 98-rated Pink Diamond player cards for his former teammate and friend Dirk Nowitzki, as well as former Rockets legend Hakeem "The Dream" Olajuwon.
The Nash card brings a number of attributes with 98 ratings including standing/driving layup, shot close, contested shot mid-range, and free throws. Nash was known for a high-level facilitator in his days, so naturally he's got the 99s across the board for his Passing attributes too.
How to get Playoffs Throwback Moments cards
Each of these cards is available through the Playoffs Throwback Moments packs at the MyTeam Market. Prices begin at just 7,500 Virtual Currency or 10,500 MT for a single pack of five cards. That gives one guaranteed player and a "chance" at pulling a second player, or possibly a limited-time Throwback Playoffs Moments card like those shown above. It's also possible to purchase 10 packs for 67,500 VC, or 20 packs at 135,000 VC. That gives many more chances to land the Nash, Nowitzki, or Olajuwon.
All three of these new Throwback cards are up for auction too. As seen below, that Steve Nash Galaxy Opal is a coveted asset, fetching a high bid of over 350,000 MT right now.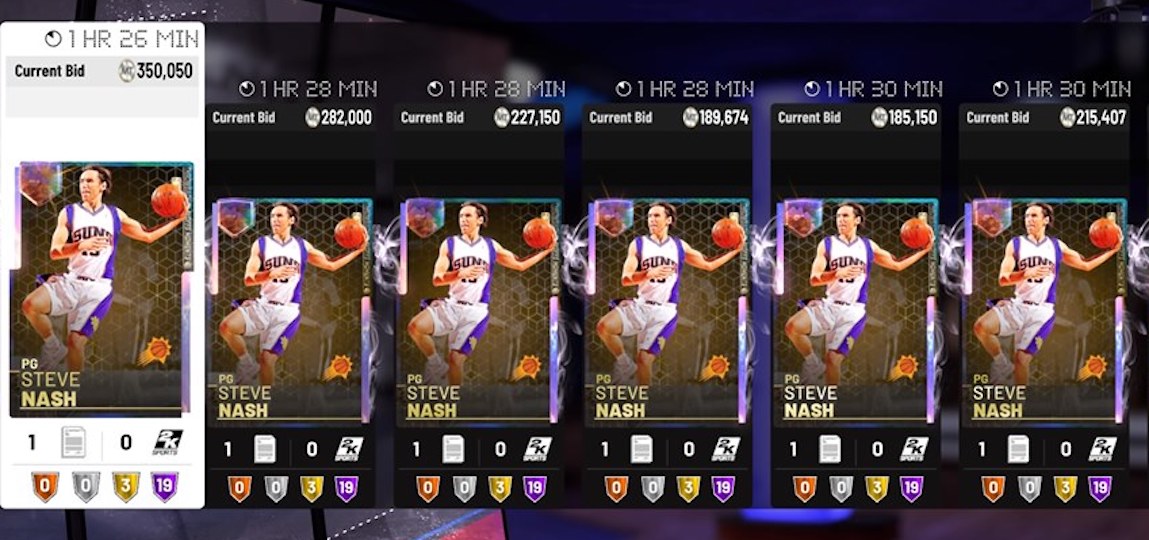 Bids for Hakeem Olajuwon are hitting over 276,000 MT. The Dirk Nowitzki is getting 133,000 or so, as of this report. With over an hour left, that could go a bit higher. Still, it shows where the interest lies so far with these new cards. The Nash Galaxy Opal is the prize.
Which of the new NBA 2K19 cards are you trying to acquire, or have you already pulled one from packs?