It's hard to believe but many NBA teams have already played 30 or more of their 82 games for the 2019-20 season. Each week, more players put on impressive performances on the court, leading to the reveal of new "Moments" items for NBA 2K20. The new NBA 2K20 Moments of the Week 9 players were revealed Monday and include Raptors star Kyle Lowry as well as Celtics star Jayson Tatum.
NBA 2K20 Moments of the Week 9 players now available in MyTeam
Three player cards in the new NBA 2K20 Moments of the Week 9 release are Diamond quality. They are a 95 Jayson Tatum, 95 Kyle Lowry, and 94 Spencer Dinwiddie.
The Celtics' Jayson Tatum put up a new career-high this past weekend as he posted 39 points and 12 rebounds against the Hornets. Further adding to his stat line, Tatum blocked three shots, gave out two assists, and recorded a steal.
The Nets' Spencer Dinwiddie had a 39-point performance on December 21, but just two days before that he had a 41-point game. With Kyrie Irving sidelined, Dinwiddie has been stepping up and could in consideration for an All-Star spot.
As for Kyle Lowry, his resume speaks volumes. He's an NBA Champion as of last season and a five-time All-Star. Lowry had a near-triple-double in his team's recent win against the Dallas Mavericks. The Raptors guard scored 32 points, dished out 10 assists, and grabbed eight boards to help lead the way.
NBA 2K20 Moments of the Week 9 players:
Kyle Lowry (Diamond) 95 OVR
Jayson Tatum (Diamond) 95 OVR
Spencer Dinwiddie (Diamond) 94 OVR
Hassan Whiteside (Amethyst) 92 OVR
Rudy Gobert (Amethyst) 92 OVR
Dennis Schroder (Amethyst) 91 OVR
Jamal Murray (Ruby) 89 OVR
Jordan Clarkson (Ruby) 88 OVR
Patrick Mills (Ruby) 88 OVR
The latest Collector Reward for collecting all of these Moments cards is 100 Tokens. Player cards are available through the League Moments and Heat Check packs at the MyTeam Market. They are also up for bids at the Auctions area of the game with a look at Tatum card listings below.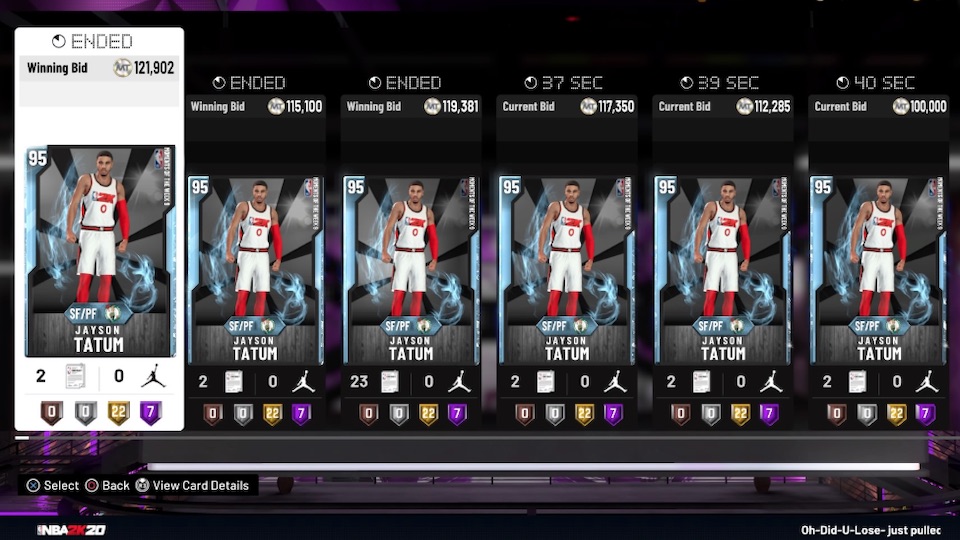 Check out the NBA 2K20 MOTW 8 players including Kemba Walker and Joel Embiid.
See more of our NBA 2K news here for more updates about the game.