With the arrival of 2K Sports' NBA 2K22 video game, fans have been anticipating when they could finally get their faces scanned into MyCareer mode. As of Thursday, the wait has finally ended with the official release of the NBA 2K22 mobile app. The MyNBA 2K22 app is now available for iOS and Android devices, giving gamers many options and helpful functions. Here's where to get it and how to use it.
2K unveils NBA 2K22 Mobile app
With NBA 2K22's release date happening about a week ago, fans were starting to get impatient when it came to their MyPlayer having a realistic likeness. That was due to the fact there wasn't an NBA 2K22 mobile app available to use for face scanning. As of Thursday, September 16, the MyNBA 2K22 app has arrived.
The @NBA2K Twitter shared a video to let fans know about the app, complete with links for where to download it. In the video (below), @YoungKeas explains what to use the app for.
The mobile app is a brand new version just for 2K22. Many users discovered they couldn't rely on the MyNBA 2K21 app to scan their faces and send the images to the game. Luckily, they now have that option available, with other features.
How to install MyNBA 2K22 app and use it
Gamers will need to have an iOS or Android mobile device as well as a copy of the new NBA 2K22 game. You can download the new MyNBA 2K22 app at the links below:
MyNBA 2K22 app for iOS at Apple App Store
MyNBA 2K22 app for Android at Google Play Store
Once the NBA 2K22 mobile app is downloaded and installed on your device, it's time to launch it, accept the terms, and connect your appropriate gaming account.
The app works with Steam, PlayStation, Xbox, and Nintendo Switch accounts, so make sure you log in with the one you're using for NBA 2K22. Make sure to also select your appropriate region whether Asia, East, Europe, or West to get the latest event updates.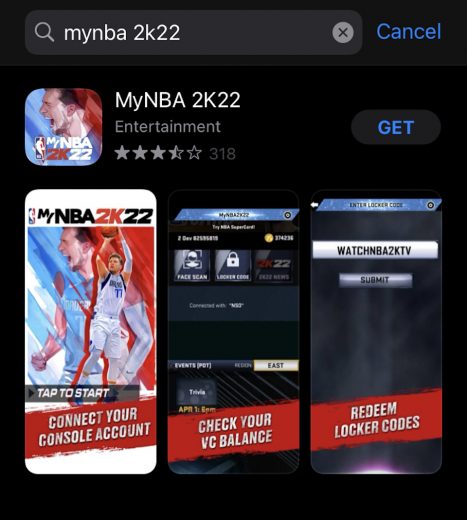 After you're logged in, you can proceed to the main menu screen which gives you several options. The new NBA 2K22 app will allow you to check on your virtual currency and enter 2K22 Locker Codes. In addition, you can get your face scanned for MyPlayer. Check out our how-to guide to scan your face for NBA 2K22 for more details.
Along with those features, the app will also provide a schedule of upcoming 2K22 events based on your region, and a clickable "2K22 News" symbol to get the latest updates about the game.
Visit VGR's NBA 2K page to find out more information about the new 2K game.