Having NBA 2K22 Virtual Currency is helpful in the game, as it allows for purchasing many things. Unfortunately, it's a bit trickier to rack up VC compared to MT. For example, they don't give away VC much at all in MyTeam mode, whereas MT is readily available. In this guide, we'll present several ways for how to get VC in NBA 2K22 besides just paying for it.
What is NBA 2K22 Virtual Currency?
In most sports simulation video games, there are different currencies available in-game. With NBA 2K22, they have Tokens, MT, and VC. NBA 2K22 Virtual Currency (VC) allows gamers to purchase packs or boxes in MyTeam. In other modes, such as MyCareer, it can be used to upgrade your MyPlayer.
Some of the things you can purchase for your NBA 2K22 MyPlayer include clothing, accessories, vehicles, and other items. However, it also allows for upgrading your MyPlayer's attributes to make them better in certain areas on the virtual hardwood.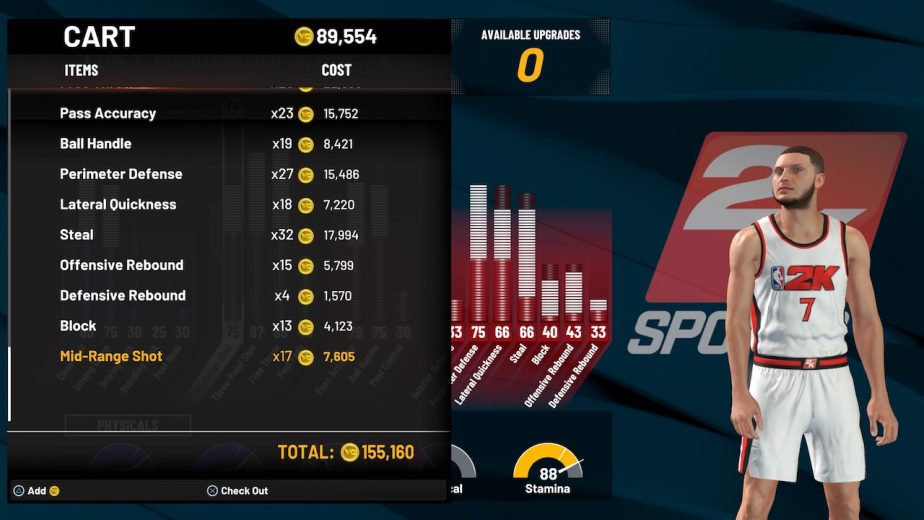 You can see your Virtual Currency in the upper right-hand corner of the screen. Additionally, you can download the NBA 2K22 mobile app to keep track of it.
Buying Virtual Currency in the game
The quickest way to get NBA 2K22 Virtual Currency is by purchasing it in the game or elsewhere. In the game's MyTeam mode, you can find it in the Pack Market area. Navigate down to the "Get VC" option.
Some places such as Microsoft or PlayStation Store, GameStop, and even places with gift cards may also have NBA 2K22 VC for sale.
We've listed the latest in-game prices (as of 10/4/21) below:
5,000 VC – $1.99
15,000 VC Pack – $4.99
35,000 VC Pack – $9.99
75,000 VC Pack – $19.99
200,000 VC Pack – $49.99
450,000 VC Pack – $99.99
As you can see, that's an easy way to get Virtual Currency but involves your hard-earned real-world money. While prices get cheaper with the various packs, the costs can still add up. Sometimes, 2K may offer sales promotions so keep an eye on it.
If you don't want to spend, read on for some ways to get VC in NBA 2K22 without opening your wallet.
Get VC by watching 2KTV Videos in-game
One of the easiest ways to get VC in NBA 2K22 is by watching the NBA 2KTV videos that are released each week. These videos are available on the main screen where you see 2KTV on top menu. They're typically a half-hour in length or less and play as you wait for games to load.
As you watch the 2KTV video, different multiple-choice questions appear on the screen. You use the controller to choose your answer. Some are trivia with a correct reply, while others are poll-style questions.
You'll typically get 100 or 200 VC for every question you answer correctly (or answer if it's just a poll question).
Earn VC in MyCareer games, sponsorships
The place to go to earn VC the most often is through MyCareer mode. By playing in the MyCareer games, you'll earn NBA 2K22 Virtual Currency. The VC is rewarded based on your points, rebounds, assists, and forced turnovers during a game. The better you do, the more VC you'll earn. To access these, use the MyCareer main menu where it says "Play Next Game" up top.
Another thing to consider is your MyPlayer's Draft stock and how it helps earn more VC. You can improve your draft position by playing through College and then the G League. By doing this, you'll get the maximum per game salary of 750 VC for each game you play. That can add up quickly.
Once you've boosted your MyPlayer to a higher level, you'll also get an agent and can get sponsorship deals. These will help to earn more VC as you play. Your agent options are Archie Baldwin and Harper Dell. Of the two choices, Archie Baldwin may take longer to get to rewarding VC sponsorships. Choose Harper to get access to these opportunities quicker, if you're OK earning a bit less.
Earn VC in The City or Neighborhood
If you don't want to play games for the story right away, you can venture into The City or Neighborhood. In these modes, you'll be able to get into games with online competitors. You'll earn VC by playing in these games as well.
There are also Quests available in the mode which require performing certain tasks or achieving stats. See available and expired Quests in MyCareer by selecting "Quests" and then "Quest Journal" from the mode's main screen.
Some quests are simple, while others take more work. As an example, you could earn 25 VC just by using your noise-canceling headphones in the Neighborhood. As shown below, you could earn 1,500 VC by recording 50 Layups or Dunks.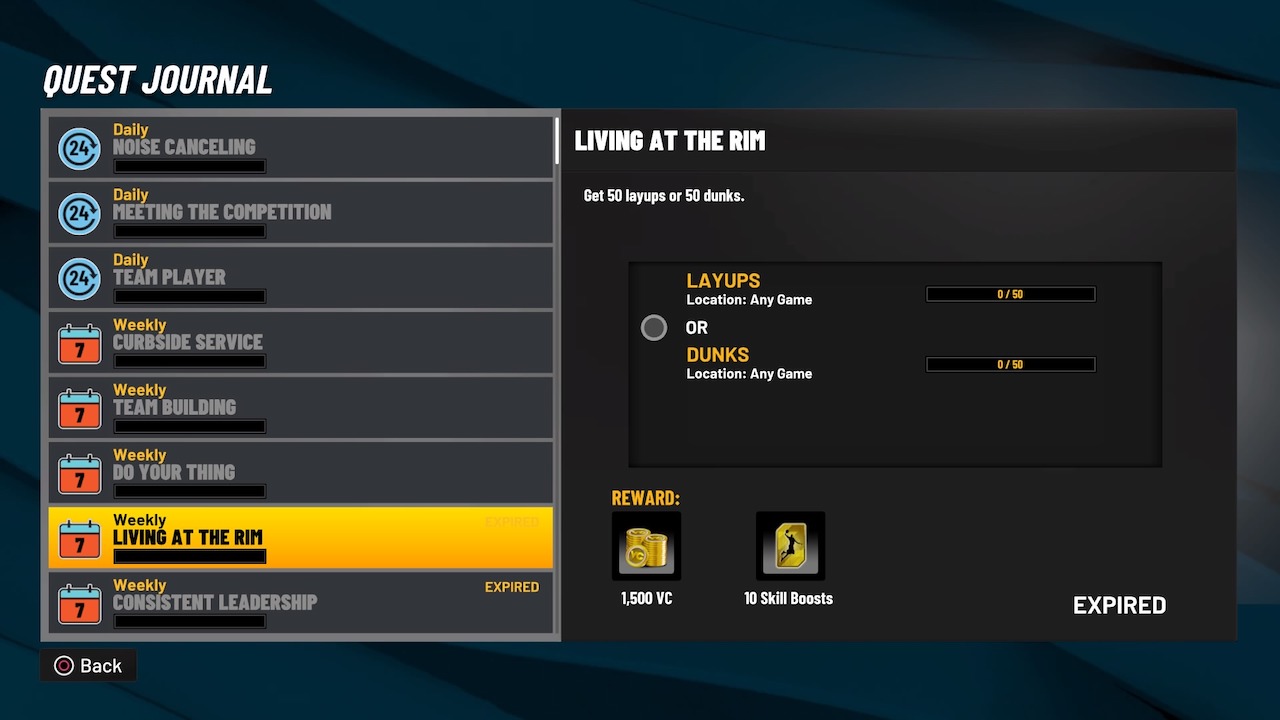 Each of the Quests has time limits before expiration, so keep an eye on that. However, they could provide some easy ways to rack up VC on a daily, weekly, and monthly basis. There's even a Quest that involves winning a weekly race that could get you 1,000,000 VC!
Last but not least, make sure you take advantage of the Daily Pick 'Em game. This is a mini-game you can participate in during the NBA season in The City or Neighborhood. With this, you'll make predictions for the NBA games. As you get results right, you'll earn VC. The NBA 2021 season is on the way, so that will be another great way to rack up the currency!
Visit VGR's NBA 2K page for more how-to guides and stories about the game.