The 2019 NBA Playoffs continue to provide exciting moments and big performances. A number of those performances are leading way to players seeing their stocks rising or falling within the video game world. In a new NBA Live 19 player ratings update, that included DJ Augustin and Kyle Lowry. Those two playoff stars are on opposite ends of the spectrum, though. In fact, several All-Star players actually dropped a bit but they should bounce back.
DJ Augustin rises in NBA Live 19 Player ratings update
A recent tweet from EA Sports NBA Live tells the story of some of the early stars in the NBA Playoffs. Among those stars is Orlando Magic guard DJ Augustin. This isn't his first rodeo in the NBA as he's played for several other teams. However, he came up big in his latest team's upset win against the Toronto Raptors.
Augustin finished Game 1 with 25 points and a huge three-pointer to help his team get the 104-101 victory. His performance in that game, including the game-winning shot, persuaded the EA NBA Live crew to bump his rating by three points.
Joining Mr. Augustin for the ratings bumps are Damian Lillard of the Portland Trail Blazers and Lou Williams of the Los Angeles Clippers. The Blazers are up 2-0 on the Oklahoma City Thunder in their series so far. Lillard led the way in the Game 1 win with 30 points, four boards, four assists, and three steals. So he's received a one-point boost to become a 93 OVR.
Williams helped his team pull off the historic comeback win against the No. 1 seed Golden State Warriors. He's now moved up to an 86 OVR in the game as the man who should claim another Sixth Man of the Year Award is helping his team quite a lot.
Kyle Lowry slides in latest NBA Live 19 update
The ratings adjustments aren't always kind when it comes to sports games. If a player isn't performing up to par, he will usually see their numbers drop. That's the case for NBA All-Star Kyle Lowry.
The EA NBA Live folks decided to drop Lowry by two points down to an 86, putting him right there with Lou Williams. Keep in mind, Williams wasn't selected for the 2019 NBA All-Star Game. Even so, Lowry bounced back with 22 points, seven assists, four boards, and two steals in Game 2. So don't expect his slump to continue too long.
Also on the downward path are the Sixers' Ben Simmons (87), Warriors' Kevin Durant (94). Each of these All-Star players dropped by a point after disappointing performances. However, just like Lowry, KD and Ben seem to have turned things around in recent playoff games. A look at all of the players with numbers changes is shown below.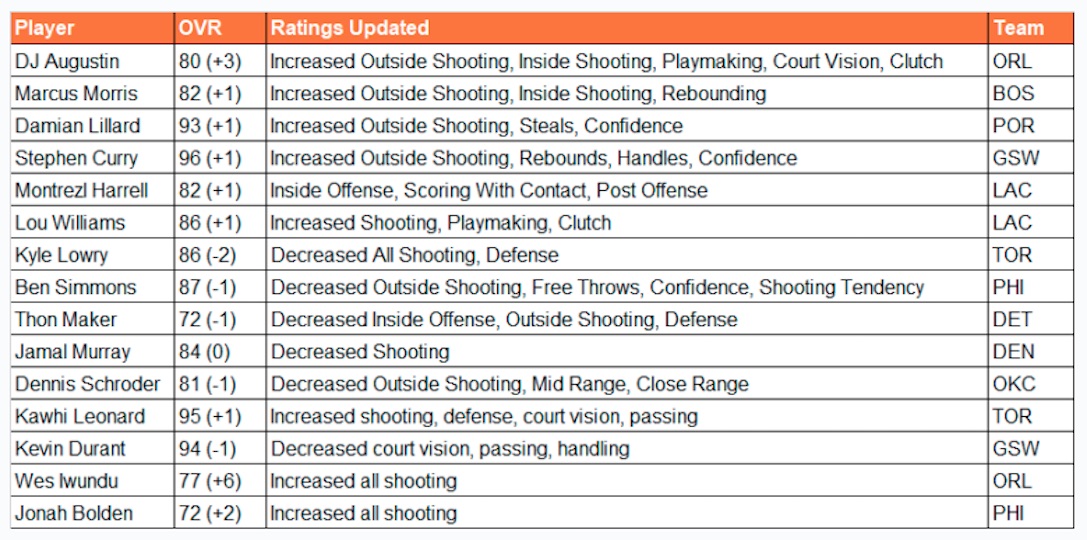 The latest NBA Live 19 player ratings update comes as part of a brand new content update in the game. There are also new team color gear updates for a bunch of the teams, new One Court logos, and more. Check out the EA forum post here for all the details.
Get more news, information, and help for the game at VGR's NBA Live page.