As of May 2, NBA Live 19 unveiled a new content update including adjustments for player ratings. There is just a select group of players included such as playoff All-Stars Kevin Durant and Kyrie Irving. However, one player has moved ahead of other popular stars as Kawhi Leonard is playing well lately. Here is the latest on what all received an update in the NBA Live 19 playoffs ratings boost.
NBA Live update adjusts Playoff stars' ratings
In a previous player ratings update, the Toronto Raptors' star Kyle Lowry slid a bit. In this newest update, Kawhi Leonard was amongst the current All-Stars who received a boost. Leonard torched the Sixers in Game 1 of their series for 45 points while also hauling in 11 boards. Game 2 went to Philly, but Leonard still achieved 35 points on 54.2 percent field goal shooting.
Kawhi's boost to 96 OVR is certainly deserved. He's now ahead of Kevin Durant and Kyrie Irving by a point. However, each of them also got one point boosts from 94 to 95. In addition, Kawhi's scoring, rebounding, and "on-ball" defense are all increased.
Joining Kawhi and KD in the ratings update are eight other players including two of Leonard's teammates. Pascal Siakam is up a point to an 85, but Marc Gasol has slid down a point to 87 OVR. These all can change based on each players' future performance in the postseason.
Gasol has been slumping as he's scored single digits in the 2019 NBA Playoffs so far. He also shot just 16.7 percent in the recent loss, so this slide could continue a bit further.
Other players with boosts include Nikola Jokic (92), Al Horford (88), Enes Kanter (85), and Eric Gordon (83). Houston's Clint Capela joins Gasol as the other player listed for a decline in ratings. Capela is now down a point to 85. Will Pascal Siakam move past the Rockets star?
NBA Live 19 Store brings back bestsellers
The NBA Live 19 Store also reintroduced some of the most popular content for gamers. Among the highest priced items is the Air Jordan XI Space Jam 2016 (100,000) and the Air Jordan IV Black Cat shoes (150,000). Some of the top-selling Jordans are shown via the image below. There are also less expensive items to pick up such as the Stance 24Karat Socks or White Sweater for 30,000.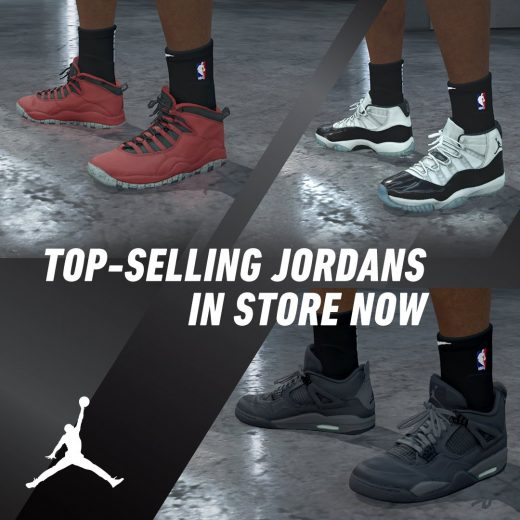 There are also some popular retro items for teams such as the 1994 Bulls, 1993 Magic, and 1986 Hawks. In addition, NBA Live has brought back four different player jerseys: Nikola Jokic, Jimmy Butler, Al Horford, and Kevin Durant. These each cost 50,000 from your account. See more of what items are available here at EA's forum post.
What are you copping from the latest NBA Live 19 store update? Any player ratings that need adjustments soon based on recent playoff performances?