DICE has now confirmed when the next major Battlefield 5 update will be coming to the game. Although some fans may be frustrated with bugs, they won't have to wait especially long. The next Battlefield 5 update will release in less than two weeks' time, and it's being timed to coincide with the start of Tides of War.
When the Next Battlefield 5 Update is Coming Out
According to DICE Producer Jaqub Ajmal, the next Battlefield 5 update will release on the 4th of December. While some fans are calling for fixes to certain bugs as soon as possible, Ajmal explains why the studio can't simply release every fix as soon as it's done; "We've been working on a new update coming right out of the Battlefield V 11-14-2018 update," he says; "released the day before Deluxe Edition launch. There's always a need to measure the risk of adding more to an update that is being worked on. For example, we could already be in the test verification phase of an upcoming update when a new issue is found by the players and adding more fixes to it might invalidate previous testing…"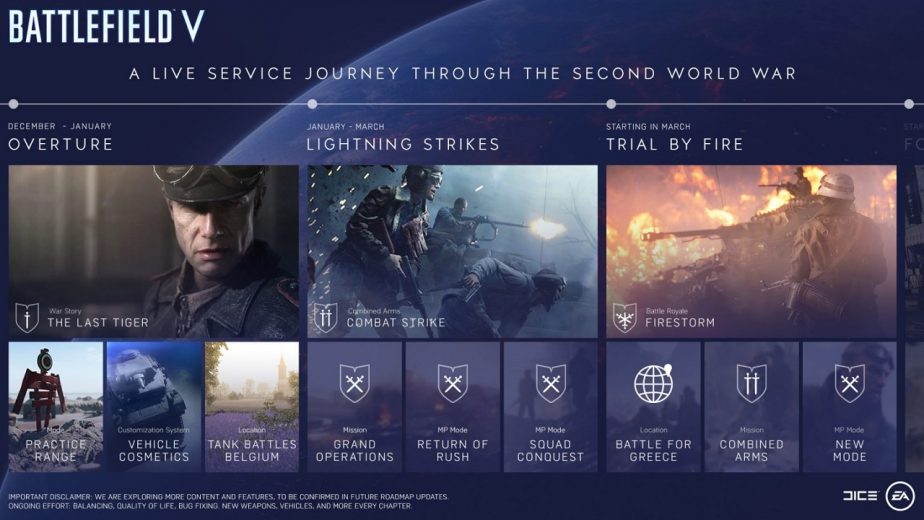 As a result, rather than pushing out updates prematurely, the developers will be launching a larger update on the 4th of December. The date coincides with the launch of the first Tides of War chapter; Overture. The Tides of War chapter 1 content release is set to deliver a number of things to the game. The headline piece of content is the game's fourth and final War Story; The Last Tiger. The chapter will also add a new map, Panzerstorm, as well as the Practice Range game mode. Additionally, it will add vehicle cosmetic customisation options.
Hopefully the upcoming update will also address some of Battlefield 5's more serious bugs and balancing issue. Although, that being said, the game is not having nearly as much trouble as some others. Clearly, delaying the launch date by a month gave the developers plenty of time to smooth out problems ahead of the game's release.